Want A Simple Way To Increase Revenue Growth? Forrester Says Invest In Customer Service
Silicon Valley sees a lot of trends– some pan out, others don't. One that is here to stay, though, is emphasizing customer happiness. Turns out it's not just a trend: it's an intelligent business strategy.
In Forrester's Business Case report in The Customer Experience Ecosystem Playbook For 2016 they found that "superior CX drives superior revenue growth in industries where customers are free to switch business and competitors deliver a differentiated customer experience". In other words, if a customer can, they will choose the company with the best customer service. This directly impacts companies' bottom lines.
Forrester compared five pairs of publically traded companies, one of each pair with a significantly higher customer experience index score. They then analyzed financial data from the companies' SEC filings. They wanted to make sure that they could isolate revenue gained from customer experience, though, to eliminate correlation and isolate causation. Forrester focused on revenue that could be traced directly to consumer behavior, and then used it to build models that calculated the compound annual growth rates (CAGR) of the ten companies. They found that not only do companies with superior CX see increased revenue growth, they also see an increased customer base.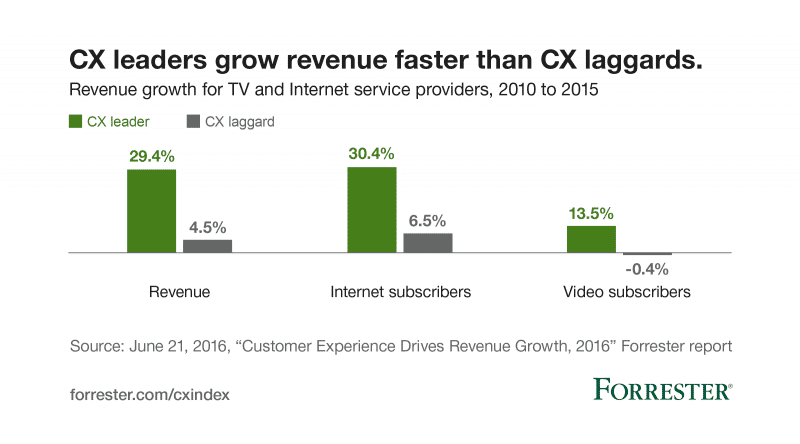 This report comes out on the heels of another Forrester analysis, which found that customers self-serve as a first point of contact for customer service. "For the second year running, survey respondents reported using web or mobile self-service more than speaking with an agent over the phone. Use of help or FAQs on a company's website increased from 67% in 2012 to 81% in 2015 among US online adults."
We're just connecting dots here, but if superior service drives revenue growth and customers report that they prefer self-service on web or mobile, then a simple way to drive revenue is through superior self-service.
In fact, customers prefer to self-serve over any form of live communication, according to yet another study. Web and mobile self-service interactions exceeded interactions over live-assist channels in 2015. "Customers don't want to wade through a laundry list of answers," wrote Kate Leggett, Forrester Analyst. "They want self-service sites to serve up the one right answer to their question. To do this, organizations must strengthen the foundations of their knowledge management programs so that content is easily findable and contextualized to the customer's situation. They must use modern knowledge solutions with learning and analytics to measure and optimize the value of content."
This could all be a win-win for consumers and brands. Create a symbiotic relationship with your customer: give them the service they want, enjoy the revenue growth you get.