A service-level agreement is a formal contract between a service provider and a customer. It lays out the various aspects of the service the customer can and cannot expect, and what the responsibilities of the service provider are. Service-level agreements detail for the customer what to expect from a service provider, in particular in terms of support. Service-level agreements are also known as SLAs.
Why Do Service-Level Agreements Matter in Customer Service?
Service-level agreements are critical to customer-service organizations because they establish clear expectations with your customers. At the same time they allow you to evaluate your support team against a defined set of metrics.The better your service-level agreement is designed up front, the more clear the outcome will be.
The Top 5 Benefits of Service-Level Agreements
Setting and managing customer expectations with well-defined parameters for customer support
Creating consistent customer experience
Setting and managing agent expectations so your team knows which benchmarks they must meet and can prioritize work appropriately
Measuring performance of your customer-service team against those established benchmarks
Giving context for growth — knowing when to scale the team depends upon being able to do some simple math around the volume of incoming requests and the turnaround expectations upon agents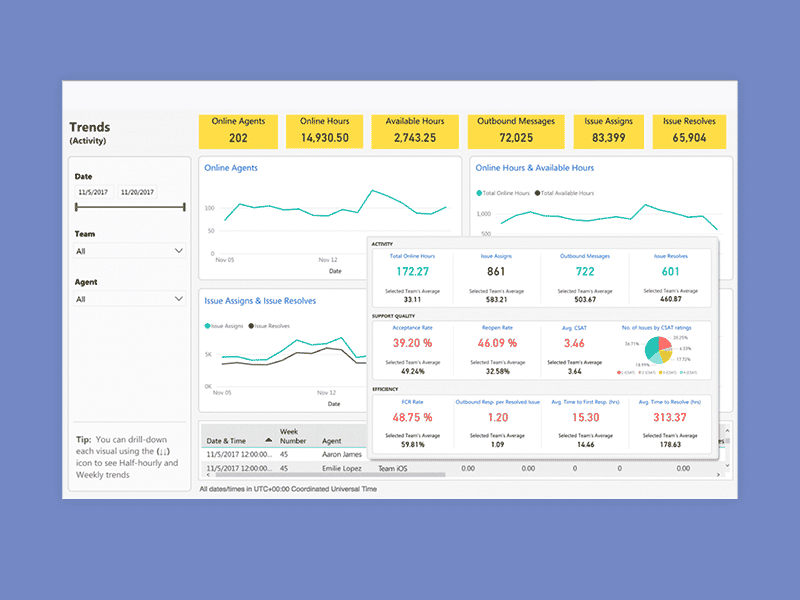 How Helpshift Improves Upon Service-Level Agreements
Helpshift-embedded BI and agent-analytics capabilities allow for service-level agreements to be created based on metrics such as time to first response, issue resolution time, CSAT, etc. The ability to use Helpshift to observe CSAT and other metrics helps your customer service organization to address concerns and elevate overall performance.
With Helpshift, organizations are able to automatically classify tickets as low/normal/high/urgent and route them accordingly using AI and automation. You can sort issues in your Helpshift Dashboard by Queue Priority or Wait Time, and if you choose the latter, you can review issues that have been waiting for attention longer than your SLAs allow. This capability dramatically increases the likelihood of service-level agreement attainment for both response time and resolution time.
In addition, Helpshift's agent analytics allows you to monitor and evaluate the performance of your agents and your overall team, assessing activity, efficiency, productivity, and quality of support. The Helpshift dashboard makes it easy to view all analytics in one place. You can also create custom reports with self-service tools.
Additional information Around Service-Level Agreements