Helpshift Moves Into New San Francisco Office Space to Accommodate Accelerated Growth — and More Community Events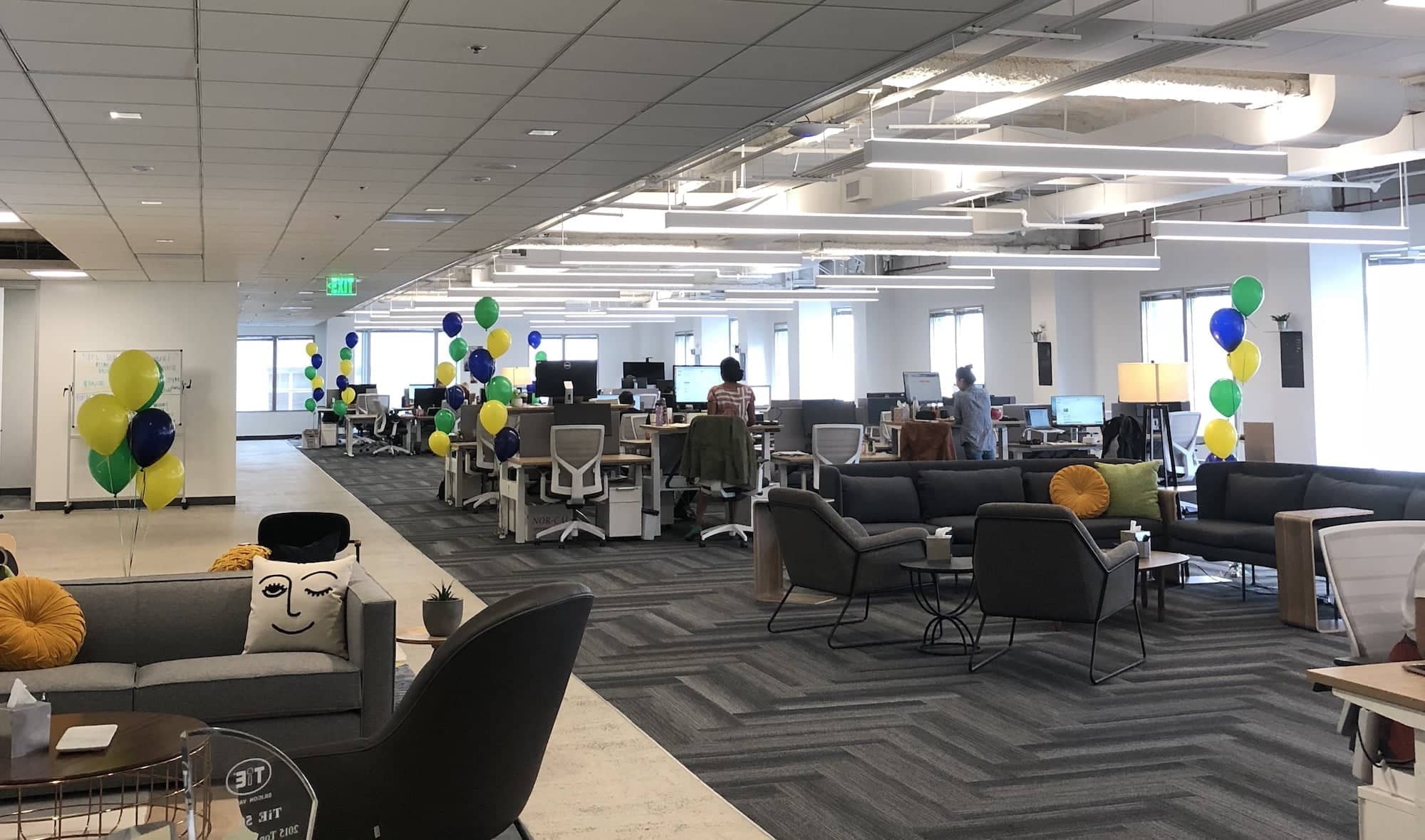 New Space Will Foster a Highly Collaborative Environment, Make Room For New Hires and Provide a Rooftop Venue for Social Events
July 24, 2018 09:00 AM Eastern Daylight Time
SAN FRANCISCO–(BUSINESS WIRE)–Helpshift, the company revolutionizing the customer service industry through its AI-powered conversational messaging platform, today announced that it has moved into a new office space in the heart of San Francisco's financial district. The new office will provide the company with space for its continued expansion, a more collaborative environment, and a rooftop venue with a peekaboo view of the San Francisco Bay for hosting staff happy hours — or as the team calls them: wine downs — and other social events."Six months from now, I want to look back and be astounded by how much we have grown and accomplished," said Brenda Campbell, Vice President of People and Places.
"I started at Helpshift nearly three years ago as employee number 18, and it's been incredible to watch the growth of the team; we're at more than 150 employees now. This space will be a testament to what we've accomplished so far and a tremendous place for us to grow — both internally and externally."
This move follows a year of rapid expansion for Helpshift. In the past four months alone, the company has landed global enterprise brands, launched SensAI — the first artificial intelligence natively built for customer service — and made key executive hires including Vice President of Sales Scott Edmonds and Vice President of Customer Success Jeff Saenger.
"We are thrilled to be growing at a rate that demands a space of this size and are looking forward to making this Helpshift's new Bay Area home for the foreseeable future," said Helpshift CEO Linda Crawford. "This is such an exciting time for our industry and our company, and our successful SensAI adoption is proof that AI and conversational messaging are what today's customers want. We are also rapidly expanding our development headquarters in Pune, India, so we can continue to lead the customer service market in AI innovation."
Helpshift is currently looking to hire additional team members in sales, marketing and customer success in San Francisco, and engineering and data science team members in Pune, India. The company is also hiring for remote positions.
About Helpshift
Helpshift bridges the disconnect between conventional customer service channels—like email and phone support—and a growing consumer base that does more on mobile phones and has a strong preference for messaging as the primary mode of communication. Through Helpshift's AI-powered support platform, companies can resolve issues more efficiently, boosting customer satisfaction in the process. Companies such as Xfinity Home, Virgin Media, Zynga, Viacom, and hundreds of other leading brands use the Helpshift platform to provide messaging-first customer support. Helpshift is installed on two billion devices worldwide and serves more than 130 million active consumers monthly. To learn more about Helpshift, visit helpshift.com and follow @helpshift on Twitter.
CONTACTS
for Helpshift
Stacey Grimsrud, 415-271-1028