Designing for Virality: a Complete Guide to Making a Viral App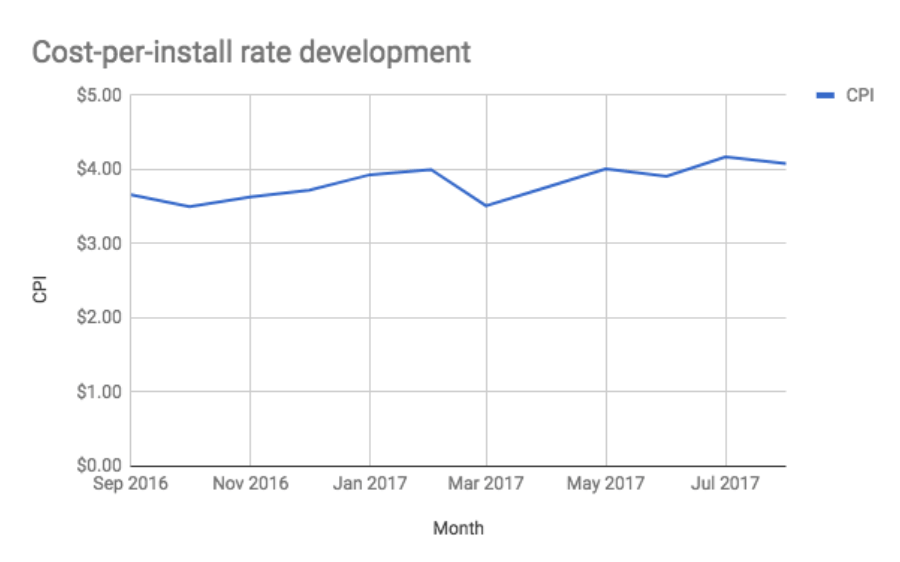 When it comes to apps, you either become a part of your user's break time or you lose them in just 3 months from the point of acquisition. The primary reason behind this churn is the lack of a viral loop implemented in the app design that could keep a user engaged throughout.
The mobile app market is estimated to reach $407.31 billion by 2026, growing at a rate of 18.4%, as forecast by the Mobile Application Market by Marketplace and App Category report. Even as of now, there are 1.8 million mobile apps available to download on various iOS devices and 2.5 million apps in the Google Play Store, with games being the most popular app category.
This is good news for all those who enjoy playing different games on their phone or exploring different apps. But the bad news is for the developers as most of these apps and games are experiencing higher churn rates than ever.
A lot of apps that enter any of the popular app markets are failing like the dotcoms. The average retention rate is merely 20% by the third month from the point of acquisition.
The app discovery is broken
No matter how much you optimize your app store description for the right keywords, there is always an app that will beat you at user acquisition. When it comes to social media, the state is no better. Even top-grossing titles take a hit due to the ever-changing market conditions.
For example, let's take one of the big names in the gaming industry – Rovio. Its shares crashed by 19% after the Angry Birds maker's disappointing first post IPO earnings. The company blamed the increase in user acquisition costs for a dip in their profits. And they're not the only ones.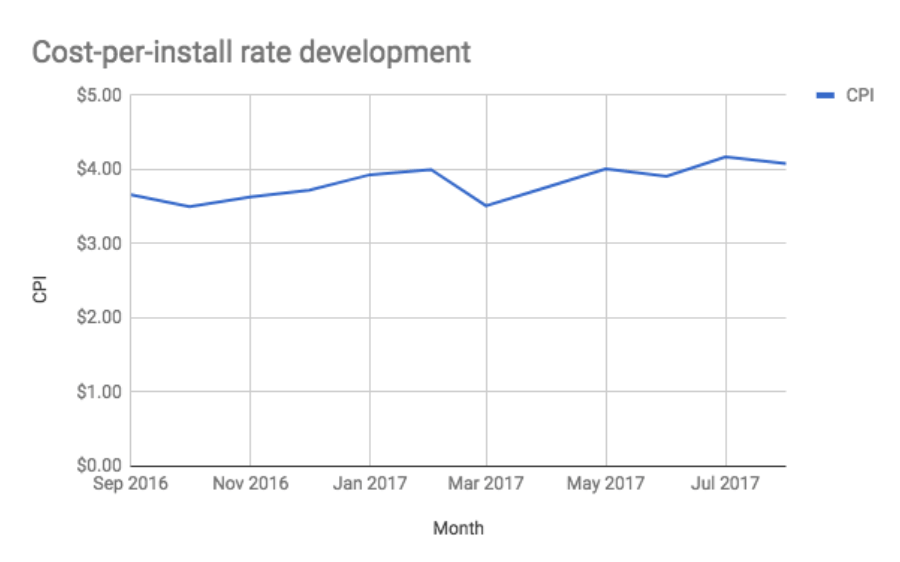 Glu Mobile spent $13.9 million on marketing Design Home in Q2 for a single title in the gaming market. Now imagine the overall cost they set aside for user acquisition, for all their titles.
The cost per install isn't dipping any time soon and this is only for the US market. The user acquisition costs continue to skyrocket even across other locations.
So how do you counter a high user acquisition cost to ensure your profits don't take a hit?
Is 'featured app' the growth hack?
One of the most common tactics that we hear from indie game developers to bring down their acquisition costs, is getting their title featured. While they're not wrong about the fact that a weeks' feature can bring them more users than any social advertisement, it's just not that easy.
During the first quarter of 2020, the number of apps submitted to the Apple App Store has increased by 0.44%. To get your title featured, you need to make investments – it doesn't really come free. You need to invest in your relationship with Apple, incorporate the changes they suggest into your product, and at the same time, your own growth plan.
So what are the chances that your app will stand out and you'll be able to acquire as many users as you think during that period? Honestly, we wouldn't rely on it completely.
The virality hack that works: Referral Marketing
Take it from the top-grossing apps that became a benchmark for many in the industry, referral marketing is what works. In fact, according to a study by Nielsen, 92% of users trust recommendations coming from friends and family. Not advertisements and not even their own search results!
An apt example here would be Candy Crush. A daily active player would send out invites on a daily basis to continue progressing in the game. Now while this resulted in endless invitation notifications for many on Facebook, it also boosted the brand's awareness in the market. Even if 'irritated' by the notifications, users did go on to see what the game was all about and it resulted in many of them joining the existing players.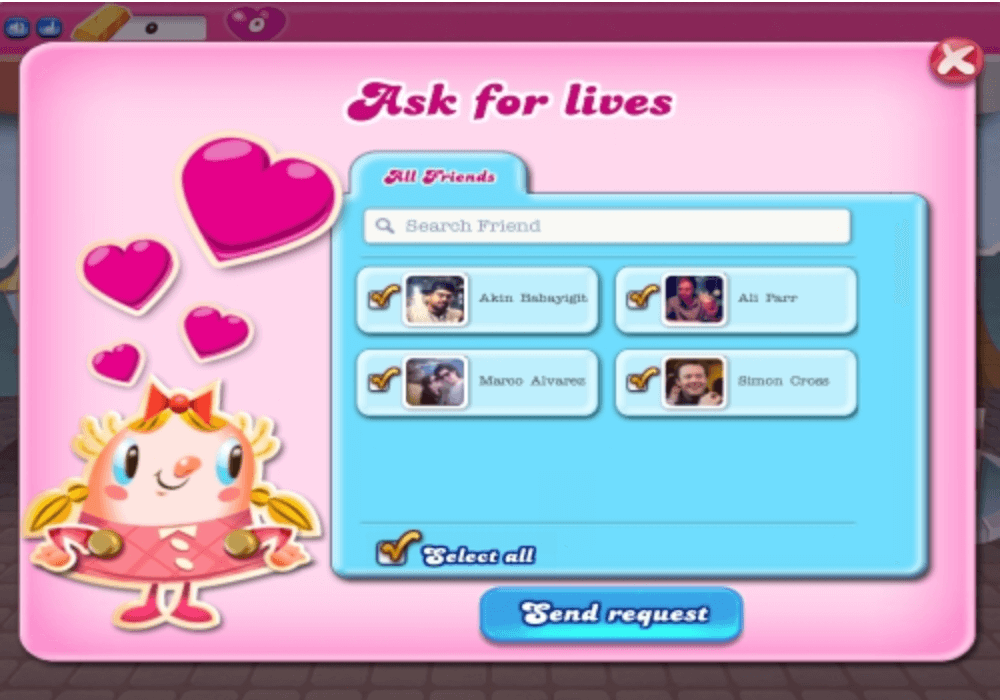 Why did it work?
Even though Candy Crush started getting a bad name amongst those who weren't gaming enthusiasts, it actually worked for the brand in boosting their user acquisition strategy. All by using one simple logic – tapping into the human need of sharing information.You don't make something viral, it goes viral because it is interesting. It does that on its own! – Jeroen Bouwman, CEO at GetSocialCLICK TO TWEET
When you present a user with something that is interesting based on their behavior or when you create a scenario where sharing of information leads them to something more valuable, you see higher participation. There are plenty of other games and apps that have gone viral due to this user behavior, without even strategizing for it.
Designing your app for virality
Instead of letting users take their time to 'feel the need to share your app', why not make it a part of your design to harness their need to socialise?
Yes, we're talking about working on the viral coefficient (K-factor) of your app, right from the beginning.
The viral coefficient or virality is the number that tells you how many users are your existing set of users bringing in to the app, on an average. For instance, if your viral coefficient is 2, your current users are sending invites to their friends. But out of these friends, only 2 join the app.
Viral app coefficient (k-factor) = i*c
So the virality of your app depends on the following two metrics:
– The number of invites sent by each user (i)
– % of conversions on invites (c)
Virality allows the app to achieve a qualitatively new level of promotion, which is much more efficient than any form of paid advertising. For example, the developers of Pokemon GO, one of the most famous viral games of 2016, managed to achieve incredible results by adding elements of gamification and augmented reality. According to a report by Comscore, the number of app users has grown from zero to 28.5 million per day in less than a month. That's how virality works.
Virality and Psychological Aspect
It is easy to guess that virality is based on the psychological aspect. If you manage to cause strong or even conflicting emotions, users are more likely to want to share the app with their social circle. Another option is to make them proud of their achievements. Then hundreds of enthusiastic posts on social media are guaranteed.
Psychologist and entrepreneur Nir Eyal developed the "Hook Model", reflecting the principles of the new habit formation. The model consists of four key elements that form the habit of using a product or service:
1. Trigger – the reason for a certain action. The causes may be internal or external. Internal causes are those that come from ourselves: a feeling of hunger, uncertainty, loneliness, interest, etc. External ones are formed by the environment: the arrival of a new message, an incoming call, advertising, etc.
2. Action – the action performed by the user: following the link, reading an article, watching a video, passing the level, etc. It must be both motivated and achievable.
3. Reward – an uncertain, but useful and desired result of the action. Random wins on reaching the level, proposed friends, news – in all cases we know that we will get something, but we don't know what exactly.
4. Investment – encouraging the user to further and deeper use the functionality of a product or service, performing actions, or creating values. Writing a post, publishing a photo, leaving a comment, inviting friends and getting bonuses, trying new functionality for free, etc. Investments close the cycle, becoming triggers again.
Let's take Facebook as an example:
Trigger – a feeling of loneliness, asociality (internal), event alerts (external);
Action – seeing posts and comments, sharing;
Reward – a sense of sociality, social unity, communication with friends, receiving information about them;
Investment – publishing a photo, comment, post, creating a trigger for others (to view some content) and for yourself (check feedback and likes).
Now let's talk about the key components that a viral app should contain.
What will increase your app's virality?
1. Uniqueness
If you want your app to become viral, make sure that it either brings great benefits to users or is something unusual. If it does not have any of these characteristics, then it's unlikely that somebody will actively share it on social media or recommend it to friends. Therefore, the best advice is to create something unique that completely captures the attention of users.
For example, the core idea behind Nimses, the famous viral app of 2017, is truly revolutionary. The app converts every minute of your life into a virtual currency, which in itself sounds like a science fiction movie script.
You can also add some unpredictable, "uncertain" elements to your app. As we know, uncertainty mobilizes our attention much more than a routine operation. For example, in Uber, there is no need to show the driver's car on the map in real-time. It is enough for the user to know the place and time of arrival. However, monitoring the car movement creates this uncertainty: "Will it go down this street or this one?", "Why did it stop?", "Why did it turn around here?". Push notifications, to some extent, are also a mechanism for achieving uncertainty, especially when they are small enough not to annoy.
2. Ease of use
The worst thing that can happen is an app with a great idea spoiled by an awkward interface. For better virality, it's crucial to build an easy sharing mechanism. All of us tend to skip a task if it involves too much effort. The same is true for a user who is thinking of inviting their friends. The easier your sharing mechanism is, the greater are the number of invites (i) they want to send.
Here are a few ground rules to follow if you want to increase the average number of invites that your users are sending:
– Make the referral program easy to find
– Keep the invite mechanism out of all menus
– Create multiple paths to sending an invite and make them all easy
– Explain the benefits of inviting friends
Here are some placements used by popular games to increase the number of invites:
Visibility is one aspect of a referral campaign. The next is how easy it is to share the invite with friends. There are 3 ways that most apps use to invite their circle: native sharing, unique codes and incentivised sharing.
The only way to find out which mechanism works for you the best is to test and constantly monitor your user's journey.
The tactic that we see working the best across all types of games, is incentivised sharing. In this app referral marketing program, the user is rewarded in some way for inviting his friends. For instance, when a user can successfully get 5 of his friends to the app, he gets access to a new character in the game. The more valuable the incentive is, the greater is the participation.
3. Gamification and rewards
Users are more likely to perform the actions that you expect from them when they have a certain motivation. 84% of app users prefer to use reward apps rather than apps with ads.
Rewards can be various, including extended functionality, badges for performing certain actions, temporary access to the premium mode, etc. In this case, the gamification elements will maintain the interest of users in the app itself, and the rewards will stimulate the necessary actions.
Almost any action can be turned into a game, and it'll be much more interesting for the user to take part in this game than just to perform actions separately. For example, DropBox turned getting an additional 250MB of disk space into a quest game
The users need to install DropBox on another device, invite someone from their friends, and go further down the list. Throughout the process, users can get titles, medals, badges, etc.
4. Social features
Virality is not just about getting more users by sending an increasing amount of invites to their friends. It's what you do after the referred user accepts the invite, that keeps the loop going. You need to ensure that this user experiences exactly what they expect from the recommendation.
An app developer needs to ensure a smooth onboarding process to increase conversions (c). The process should not just cover all important features in the app, but also instill instant gamification between the new user and the one that invited him. This will ensure that the new player gets hooked to the app immediately.
For example, FaceUp has a smart referral program in place. The user can share a Smart Invite with their friends via any of the social channels or chat apps that they use. On receiving the invite, the referred person can simply click the link. The Smart Link passes custom data to the referred user, enabling them to join their friend at the same point in the app.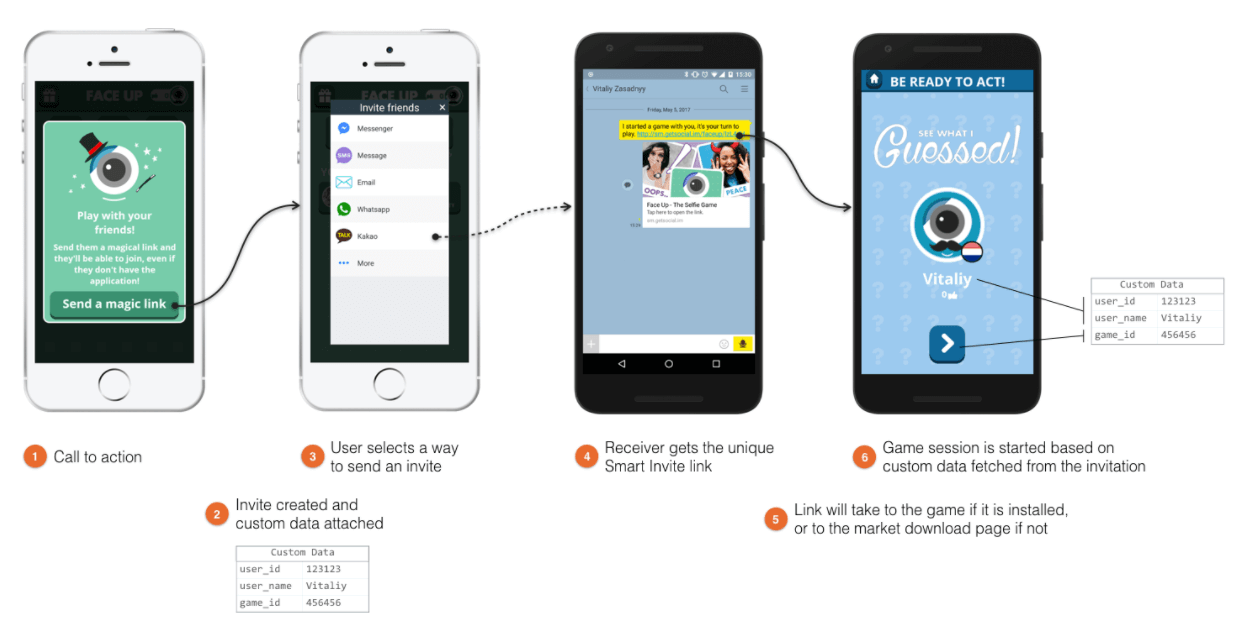 Additionally, for a referral program to be successful, you need to time it right. You cannot just expect a new user to invite their friends to the app when they haven't experienced what it has to offer. The right time to ask for a referral is when you create a WOW moment for the user or give them an interesting piece of information to share.
A good example here would be Doomsday Clicker. It nudges its players to share their in-game progress with their friends. So when a level is completed, a small nudge asking them to 'share their chaos' pops up on the screen right before they move to the next level. This placement and timing make it natural for the user to share the news with their friends.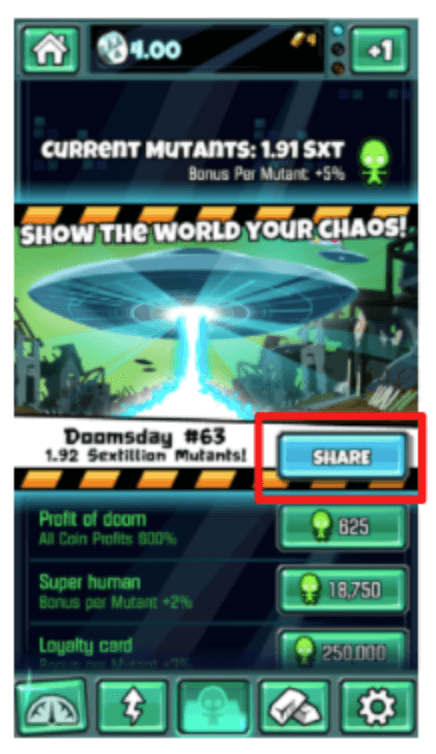 5. Ongoing optimization
You can never perfect an app referral marketing campaign if you don't test and optimize it on an ongoing basis. The best way to understand if your referral campaign is going to succeed is to keep a close watch on how your existing, potential, and new users are interacting with:
– The message
– The incentive
– The button placement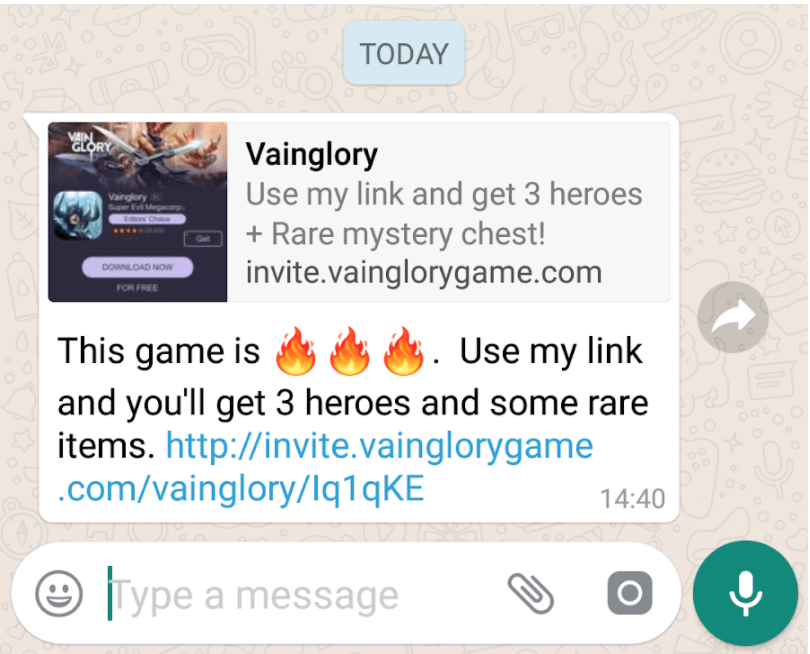 Another good metric to measure at the same time is re-engagement. This will let you know how willing a user is to invite more of their friends and family to the app, and how you can nudge them to do so.
The viral cycle time refers to the first time that a user logs in to your app, completes a session, sends an invite to their friends, and the invitees become users. The shorter you're able to make the cycle, the greater are the chances of conversions on your app referral marketing program.
And the only way to ensure that your viral cycle time remains short is to follow some of the golden rules as seen in the top-grossing apps:
Make sharing of invites easy across all channels
Include WhatsApp in your referral marketing campaign
Use Smart Invites and Smart Links to create instant gamification for the referred user
Implement personalized onboarding
Use Smart Targeting to re-engage your users and encourage more sharing
Test every aspect of a referral campaign – text, placement, channels, image
Monitor and optimize your referral campaign on an ongoing basis
The Bottom Line
With millions of apps on the market, it's not enough just to create an app, upload it to the store, and wait until it gets thousands of users. You need to apply extra effort to make your app go viral. However, proper tools will help you to repeat the virality cycle on an ongoing basis, acquiring more and more users. We at GetSocial are ready to help you create a viral app and keep your users constantly engaged.