Escalation management is a process put in place to deal with incidents and problem management within a system, ensuring problems get resolved and issues are addressed at the right level. Typically, an organization will have a set of procedures in place to deal with escalation management under a variety of circumstances.
What is an escalation?
In customer service, the term escalation refers to the action whereby the contact details of a customer are sent on to a more experienced or skilled agent.
Escalation tends to occur when the original agent dealing with the issue finds that they lack the required knowledge or authorization to handle the issue to the customer's satisfaction. It might also happen if a customer is unhappy, and has requested that the matter is dealt with by the agent's manager or supervisor.
Escalation isn't always a bad thing. It might occur because an agent is relatively new, and therefore doesn't have the required experience to handle a certain issue. Sometimes it occurs because authorisation must be granted before the issue can be resolved, and that can only be done by specific teams such as finance departments for example.
It's a good idea to minimize escalations as much as possible, as they don't tend to improve the customer experience. Too many escalations can lead to an experience that feels disjointed, which sometimes leaves a customer with a negative feeling overall. So, it's worth putting a plan in place to reduce the number of escalations within your team, ensuring that all team members are well aware of your escalation management processes.
What does an escalation manager do?
Some companies employ professional escalation managers, who are specifically tasked with managing escalation procedures and improving customer satisfaction through great customer service.
Escalation managers tend to be well versed in customer service skills. They pride themselves on their ability to resolve complex issues in a timely and efficient manner. These agents specialise in problem management and are therefore incredibly competent when it comes to dealing with issues that others might have found difficult to resolve.
An escalation manager will ensure that problems are always addressed by agents at the correct authorisation level, by helping to direct different issues to the teams with the right skills for the job.
Why Does Escalation Management Matter in Customer Service
No matter how airtight your customer service, you cannot please everyone all the time. It's a fact of customer service that occasionally, customers will become stressed, irate, or "demand to speak to a manager!" When the current customer service agent simply can't solve the problem, escalation management comes into play.
For this reason, it's critical that customer service employees be trained on proper escalation management procedures. You must have an escalation management workflow in place that steps customer service agents through the actions to take.
It's also important to hire customer service leaders with a strong ability to handle escalation management. As automation and AI take care of more and more of the straightforward customer service issues, the "tougher" issues will fall into the hands of humans and their managers. The ability to diffuse tense situations is especially important in an era when frustrated customers have an instant outlet on social media. With the ease and accessibility that exists today when it comes to customers venting their frustration, brands can't afford to risk a bad outcome. It's on customer service managers to have the skills to de-escalate situations with proper escalation management before they become PR dings.
It's equally important that any automated technology you use is designed to take escalation management incidents into account. How do you currently manage escalations for your customers?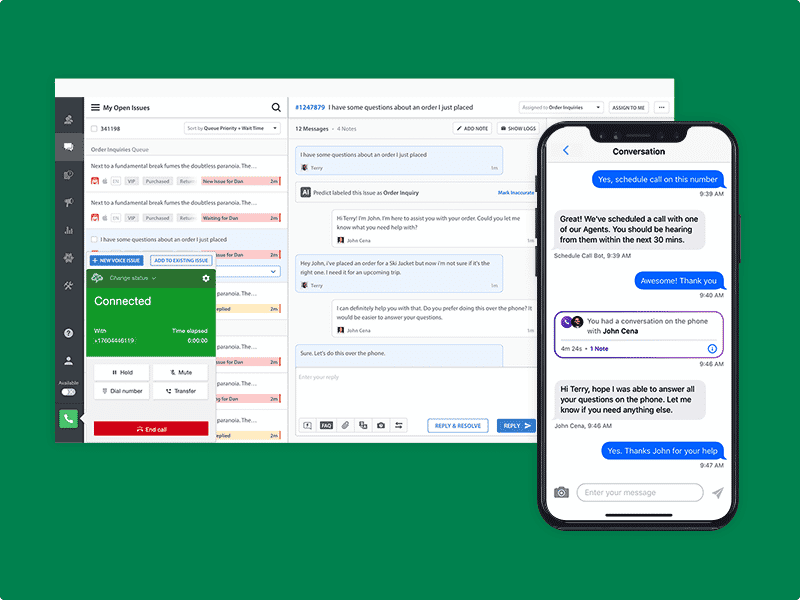 How Helpshift Supports Escalation Management
If you already have a specific escalation management process you follow where issues must be replied to within a certain timeframe or managed by certain team members, you can automate this process using the advanced workflow features of Helpshift.
You can also automatically route issues to specific queues in order to filter issues that require escalation management into a unique queue which specialized agents can work out of.
With the Helpshift solution Connected Customer Conversations, you can route more customers to messaging formats and reserve high-priority escalations for phone communication. You can reduce hold time by using "call customers back" functionality for agents, eliminating some of the friction that can lead to escalation management situations.
Conclusion
Great customer service means having a plan of action for every stage of customer escalation. This means knowing how to effectively solve your customer's problems whether they are entering escalation or needing more strategic diffusing.
Helpshift can automate your customer escalation for a seamless experience for your customers which will;
Reduce hold time
Reserve phone communication for higher escalations
Effectively filter customers without agitation
Additional information About Escalation Management