Knowledge Management describes the methodology and tools used to manage the handling of information with an organization. It's the systematic management of all knowledge assets.
Gartner's often widely accepted definition of knowledge management is: "a discipline that promotes an integrated approach to identifying, capturing, evaluating, retrieving, and sharing all of an enterprise's information assets. These assets may include databases, documents, policies, procedures, and previously un-captured expertise and experience in individual workers."
However, Gartner's definition is limited to internal information used within a company to train and educate employees. Today, knowledge management more broadly includes the information and content a company might offer the public in terms of technical documentation, support content, developer documentation, and any other content that might help the customer use the technology or service.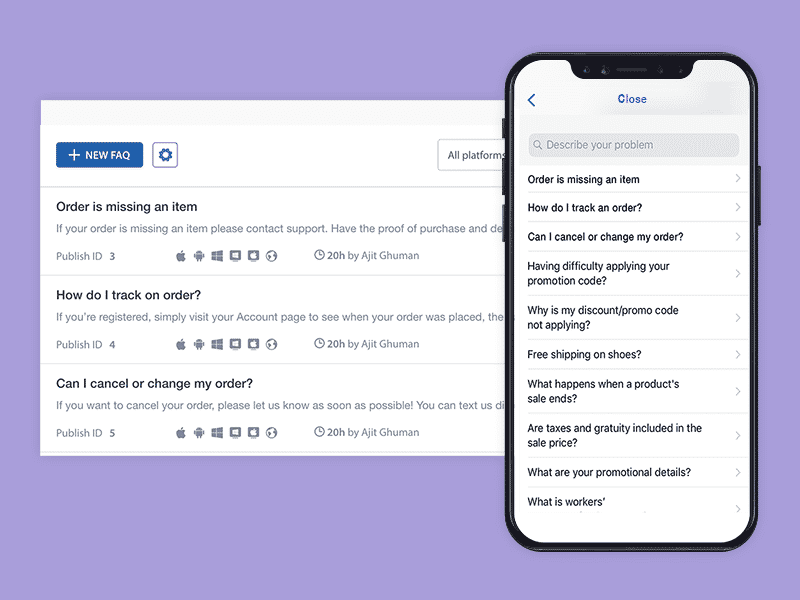 Why Does Knowledge Management Matter in Customer Service
Specifically, in a customer service context, knowledge management refers to the data companies collect about customer accounts, issues, buying preferences, and purchase histories, which is essential to customer experience efforts. When a bot or customer service rep can pull up information about a customer's account quickly, it aids in serving the customer more efficiently and successfully. Search time is reduced, and points of contact can be integrated.
For companies using technology-enhanced customer service — and that's most companies today — knowledge management is critical because it connects both customer service team members and customers with the content and information they need in the moment. Ideally, knowledge management is platform agnostic and enables people to find what they need quickly, with powerful search, on any device and under any circumstance.
How Helpshift Supports Knowledge Management
Helpshift's machine-learning engine learns from customer queries and connects them to your knowledge-base articles. Building on this, the AI-powered QuickSearch Bot delivers fast and accurate responses to customers and can hand off complex issues seamlessly to live human agents. Helpshift can also simplify your in-app service by delivering knowledge-based content and FAQs across your specific web and mobile platforms and apps. Articles are queued up ready for viewing, with a powerful search engine that auto-populates user queries.
Helpshift's agent desktop is a unified dashboard that gives customer-service workers access to customer info and interaction history in a visual thread that keeps conversations in context and allows agents to pick up where others left off. Helpshift's customer view puts complete, contextual, up-to-the-minute customer information at every agent's fingertips. In addition, Helpshift's case management capabilities allow you to streamline workflows and unify tickets across channels. Agents and bots collaborate to accelerate resolutions.

Additional Information About Knowledge Management