Webchat is a format that allows customers to communicate directly with brands online, often on their websites and in real time. The web chat window pops up as an overlay of the website page in the browser, allowing the user to type messages directly into a text field, and often attach images and other files as well.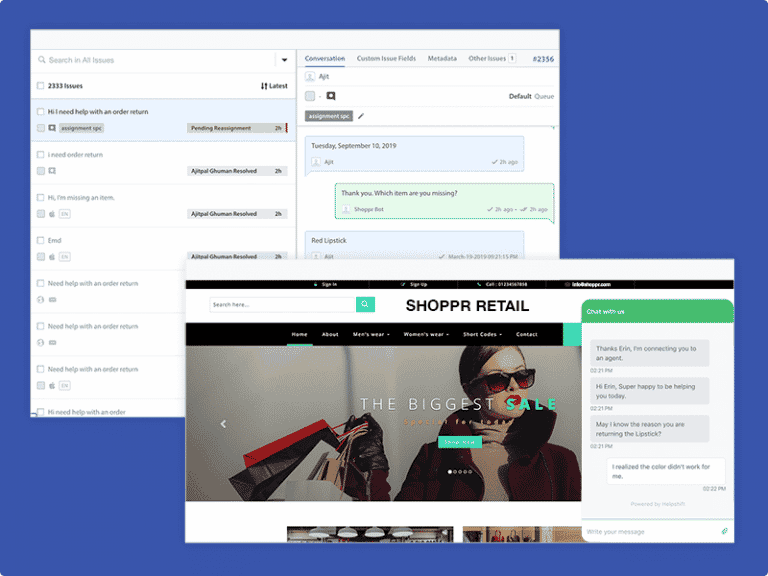 Web Chat and Customer Service
"Chatting, by definition, is meaningless, trivial talk – but web 'chatting' is anything but; it is starting to transform digital customer experiences. And it works."
— Kate Leggett, Vice President, Principal Analyst, Forrester
The simplicity and accessibility of webchat make it an excellent customer-service format, allowing brands to interact with customers easily. It does not require the customer to download any special software or install and use a specific web chat app, because webchat takes place directly within the web browser the customer is already using.
How is Web Chat Useful?
Webchat enables two crucial functions in customer service:
It puts customers at ease within a comfortable conversational webchat interface so they can get questions answered about products before they commit to a purchase decision.
Webchat also gives customers a convenient and efficient method of solving customer service issues once they've made a purchase.

Forrester stats hold webchat in a glowing light: Website visitors who use a web chat app are 2.8x more likely to convert than those that don't. And 70 percent of Americans say they've been successful in resolving issues without requiring calls or emails to customer support agents.
How Helpshift Supports Web Chat
Helpshift's webchat widget allows you to easily embed a web chat app experience right on your website. With one line of code, you can connect agents to customers directly via a web chat app interface. It's a fast, direct, highly visual, unobtrusive way for customers to connect with brands, in a format they're comfortable with.
 Webchat can also incorporate webchat bots with Helpshift. Chatbots, or QuickSearch Bots, can automate repetitive tasks such as collecting issue-type and user-related information. Automating such common tasks increases agent efficiency and frees up agents to support multiple customers simultaneously and process more issues at a time. For customers, this means faster service and much easier resolution.
How do we Make it Better?
Webchat on its own, however, is not enough. In 2018, Helpshift data showed that roughly 54 percent of web visitors who had sent a message to customer service did not see a reply. Generally, this was because the user left the webchat window before an agent could assist. Sometimes, "live web chat" is just a little too live. If the customer must be present continually to have the conversation, there's a barrier to success.
For this reason, Helpshift supports asynchronous messaging. Async messaging enables conversations to occur over time. The customer can send a message via a web chat app, close the browser, and return later — or on another channel — to continue the conversation. Much like the cadence of text messaging or email, async messaging is an organic way for a conversation to unfold over time, in a way that's natural and convenient for the customer.
Additional Information About Web Chat