Introducing Agent Nicknames and Branded Emails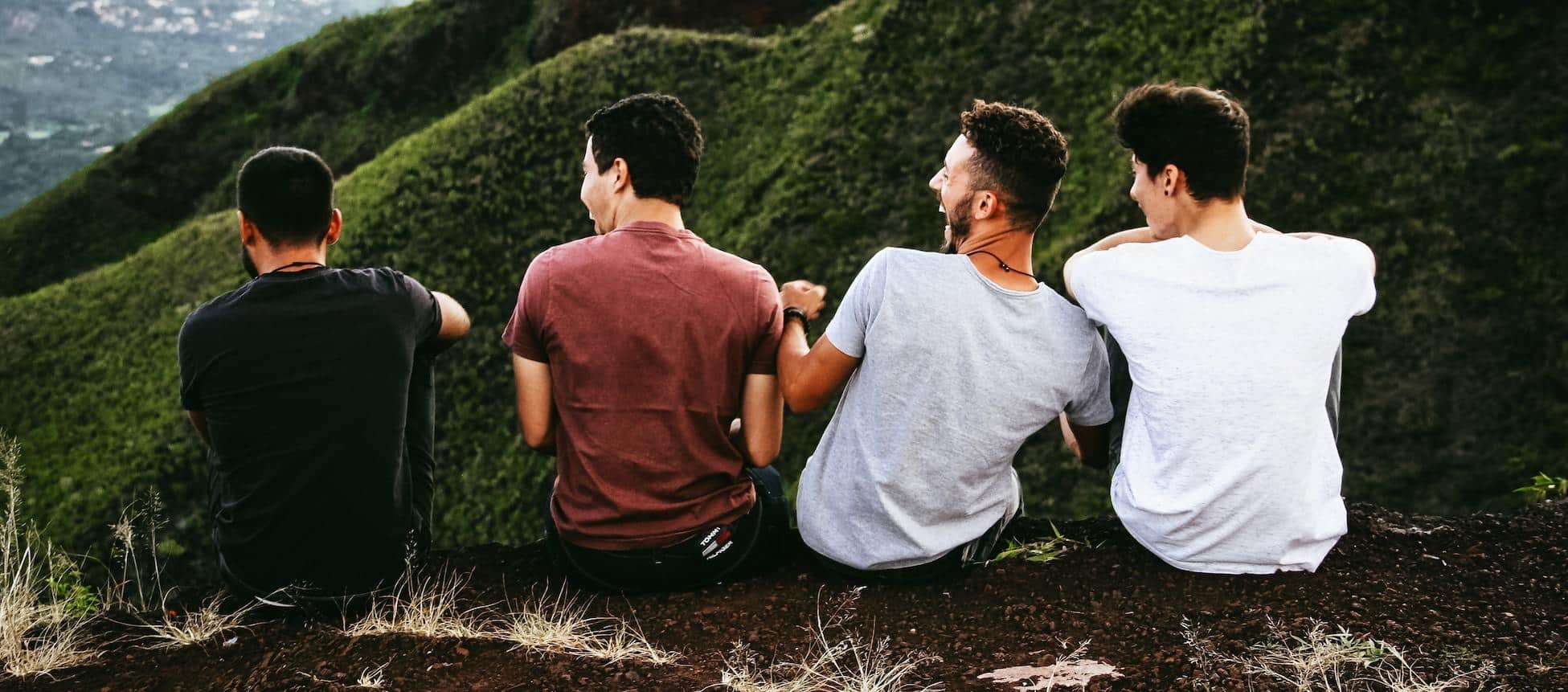 Today we are bringing you Agent Nicknames and Branded Emails, two new features that will allow your team to communicate better with users, especially over email. These features are available to every Helpshift customer and are easy to setup.
Agent Nicknames
Were you ever worried about showing your Agents' real names to your users in a conversation? Now you don't have to be, as you can now set Nicknames for your Agents. A Nickname is a user/customer facing name that can be different than your Agents' real names.
Nickname Example
Imagine you have an Agent named Amber on your team, and as company policy, you don't want your users who Amber replies to knowing her real name. The previous solution would have been to rename Amber's Helpshift login name to "Support Agent 1" or give a false name like "Jennifer, Support Rep." While this solved the problem of not revealing Amber's real name to your users, it made viewing Agent Analytics a challenge as you had to document and track who "Support Agent 1" or "Jennifer, Support Rep" corresponded with.
With Nicknames, your Analytics will show Amber while your users see "Support Agent 1."
Setting up Nicknames
If you want to incorporate Nicknames, you'll want to make sure that the Personalize Agent Nickname toggle is set to "Yes." You can find this toggle here:
https://[youraccountname].helpshift.com/admin/settings/email/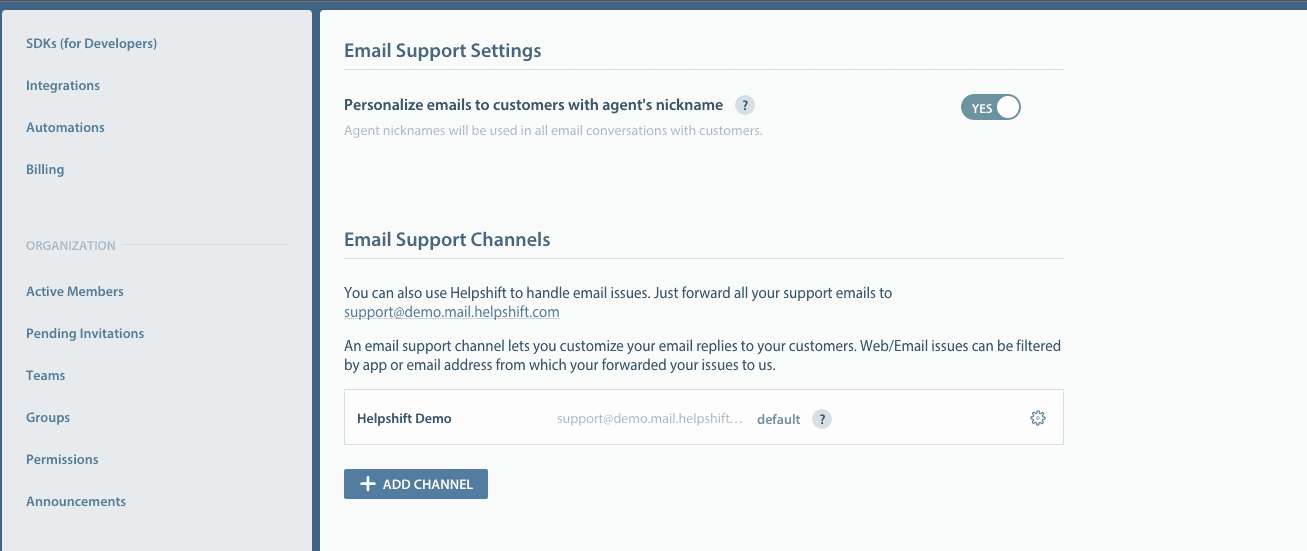 Any Helpshift Admin, Supervisor, or Agent can change their Nickname by clicking on their Account Settings. Then a new Nickname field will be editable, as shown below: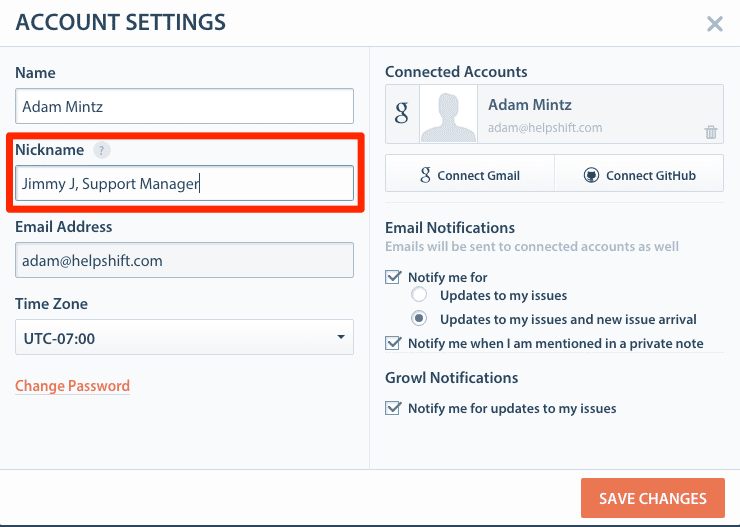 Where are Nicknames Visible
Nicknames are visible in all in-app (SDK) and email conversations as well as automatically applied to all email conversations whether they originated from your Web form or were sent directly via email.
Note: In your team Analytics section, the real Name (internal name) of your Agents will be visible, not the Nickname.
Unique Email Addresses for Your Brands
Many of our customers have multiple brands and apps, and create specific support experiences for each one. Starting today, those unique experiences extend to e-mail support. Now in Helpshift, you can set unique "From" and "To" email addresses for each of your apps.
Branded Email Example
Let's say your company, Turtle, Inc, has two apps, Bowling Green and Candy Slots. If one of your users writes in via the web form or email, then you want to make sure that the branding stays consistent for each app.
Previously, any email sent to [email protected] or [email protected], would get a response from [email protected] (your company's main support email). This may have caused some user confusion as your users only know your brand as Bowling Green and not Turtle Inc. However, our new Branded Email feature allows you to easily setup each unique experience so an email to [email protected] or [email protected], receives an email response from the address support@bowlinggren and/or [email protected].
Setting up Branded Email
Navigate to your Email Settings Page in your Dashboard by going here https://[youraccountname].helpshift.com/admin/settings/email/. Click on the Add Channel button and then you'll be able to configure your Email settings for each app or brand.
Here is what each field controls (see screenshot below)
From Name–What your user will see in their email message as the "Name"
From Email–The email address visible to user where they can reply back
Associate Issues with App–Pick one of your apps that you want all branding to be associated to via Web Form or Email
Forwarding Addresses (Optional)–Associate variations or similar email addresses to have the same brand and From Name/Email
Autorespond Message (Optional)–The autorespond message that will be sent to any Web Form or Email associated to Bowling Green, including any Forwarding Addresses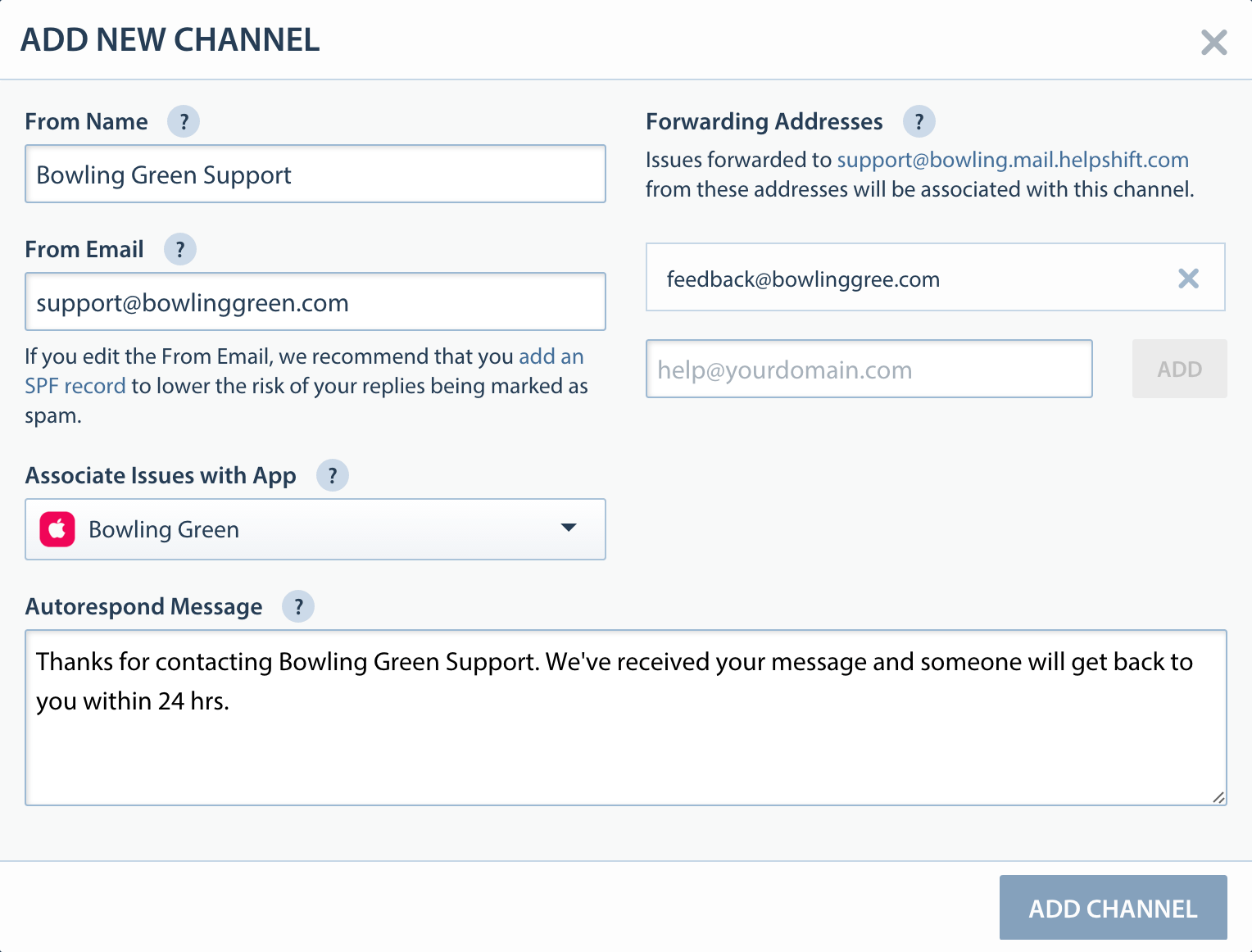 Note: Each Forwarding Address email can only be used in one Branded Email Channels.
More Email Enhancements Coming
This is the first of our email enhancements. We'll be shipping more email-specific features in the coming weeks so stay tuned. We'd love to hear your feedback and learn how you incorporate your Branded Email setup! Email us at [email protected]