In what's sometimes known as the "human/machine hybrid model of customer service," human fallback refers to the option for customers to reach a live human customer service agent when automation fails them. Also sometimes cheekily referred to as the "human escape hatch," human fallback is a critical component of customer service automation for reasons both logistical and psychological.
Why Does Human Fallback Matter to Customer Service?
"There should always be a fallback option to get to a human being. As great as your technology may be, it doesn't always work for everyone." — Shep Hypken, author and customer service expert
Automation and artificial intelligence (AI) have become important factors in customer service today. They're enabling faster, more efficient, more economical, and overall better customer service experiences for organizations and users alike. But automation is not perfect, and it's not ideal for every single customer service scenario.
When a customer cannot get their needs met with an QuickSearch Bot or another form of customer service automation, agile transfer to a human agent is critical. Human fallback must occur in a way that feels natural, seamless, and friction-free to the customer. That means they should not have to re-explain their issue, divulge their descriptive information, or "start all over" when they're transferred to a human agent. In fact, the experience of human fallback should not feel like a transfer at all, but like a seamless transition that furthers the conversation.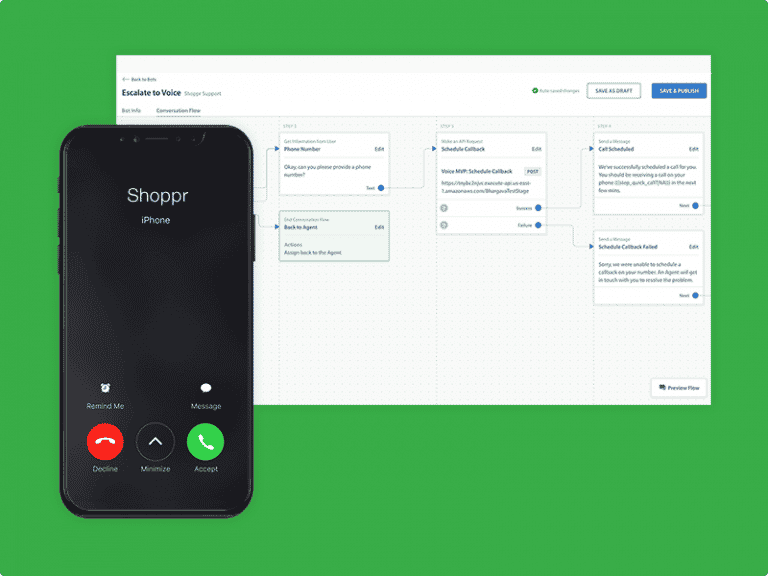 How Helpshift Human Fallback
Helpshift helps optimize the human fallback option of a customer service model with Connected Customer Conversations, a different approach to customer service that empowers brands to dramatically improve the way they serve customers. It's a platform that connects messaging, phone, email, self-service, bots, and AI. Conversations can occur within a single messaging thread, so customers get support instantly through self-service options and bots, but human fallback can occur seamlessly within that same thread.
The intent of Connected Customer Conversations is to drive customers to the channels where they'll get the most efficient support and feel the most comfortable conversing. Context and conversation history are saved within the thread, whether the customer is speaking to a bot or a human. Customers do not have to wait on hold, repeat themselves, or start over — ever.
Connected Customer Conversations embed AI and bots right within messaging conversations. They marry agent and bot-based interactions together within a cohesive context. And they allow for asynchronous messaging, which makes it much easier for brands to scale support in a way that feels natural to customers most comfortable with messaging threads as a means of communication.
Additional Information About Human Fallback