In customer support operations, ticket routing is the process of setting rules around how tickets are assigned to particular departments, agents, and functions.
Why Does Ticket Routing Matter to Customer Service?
While ticket routing is technically a process that happens behind the scenes, it has a profound impact on the customer experience. There is nothing more frustrating than experiencing long hold times and being passed around from agent to agent in an attempt to get a problem solved. If you've had this experience in the past, you know that it leads to a decline in trust for a company or brand.
The more tickets your organization sees, the more critical efficient ticket routing becomes. Your organization's ability to provide fast and frictionless customer support hinges in large part on your ability to assign appropriate issues to the right agents and bots, if you use them. Everything that happens "downstream" — in other words, after ticket assignment — flows from the decision made at the point of assignment. When tickets are assigned slowly or poorly, it results in confusion among team members and ultimately delays customer resolution and, certainly, satisfaction.
Manual issue categorization is expensive for organizations and mundane for agents. But when users are asked to self-choose through an IVR phone system or other self-service functionality, they can also become frustrated or confused if they're not familiar with the choices or where their issues fits in.
Rather than leaving it up to customers or human agents to assign ticket routing, the recommended method is to provide smart classification based on AI and automation to streamline the process.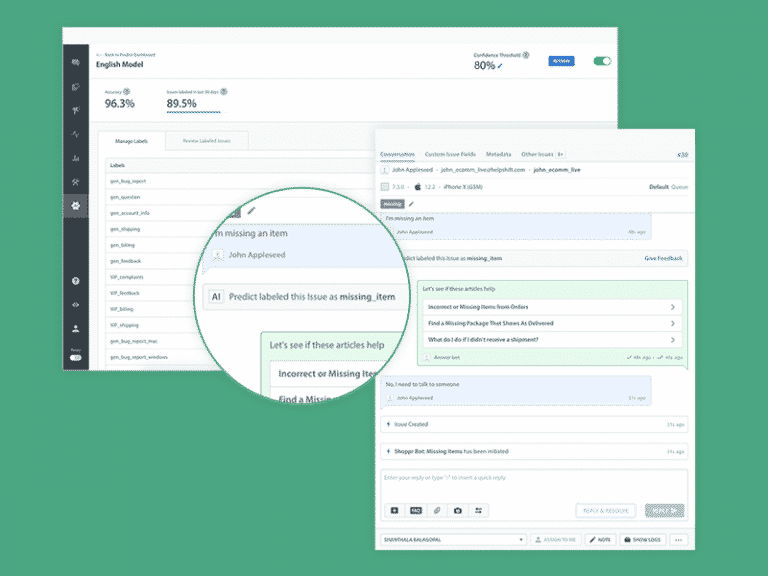 How Helpshift Supports Ticket Routing
Helpshift's AI-powered classification engine enables efficient, expedited, and far more accurate ticket routing. AI models automatically label customer issues, and the Helpshift AI algorithm only needs to be trained once. It typically outperforms standard keyword automation, and it continuously improves over time, based on agent feedback.
The top benefits of using Helpshift's AI-powered classification engine for ticket routing include:
Speed — As soon as the customer conversation begins, so does issue classification. Bots can collect additional information, bring an issue-specific bot into the conversation seamlessly, or route the conversation to an appropriate human agent.
Accuracy — A healthy AI model will outperform a team of agents in both accuracy and thoroughness of issue classification. Ticket routing becomes more precise, with fewer errors.
Skills assignment — With an AI classification engine handling ticket routing, human agents can devote their time to focusing on solving problems, not routing tickets.
Scalability — AI classification engines enable ticket routing to scale way up.
Helpshift's approach to AI and ticket routing is tailored to fit your specific use case. We make open and configurable models as well as turnkey models for self-service that simply work when and where you need them to.
Additional Information About Ticket Routing