A universal app is an app that can run on any mobile device operating system — meaning iOS and Android. Universal apps also work on different types and sizes of devices, including iPhones and iPads. It's a one-size-fits-all scenario designed to work for any smart device user.

Not everyone remembers the early days of app culture, when developers were forced to design HD versions of their iPhone apps to work on the much-bigger screen of an iPad. It was a hassle for developers and also for customers, who often had to download two different versions of an app on two different devices. Additionally, in the beginning, not every app was available as an iPad app, so users could only use certain apps on a smartphone. And later, some apps designed exclusively for the iPad were not available for the iPhone.

Today, because app marketplaces like the App Store allow you to purchase or register for an app once and download it onto multiple devices through your Apple ID, it's highly convenient for customers if apps are universal apps.

Typically, if you're wondering whether an app is universal, you can scrutinize the details in the App Store and look for the app's "compatibility."

Why Do Universal Apps Matter to Customer Experience?

Because your customers are apt to be using all kinds of devices, it's critical today that your app be universal. Universal apps create a better customer experience because they don't require users to download multiple apps on different devices and manage those multiple downloads. Instead, they work seamlessly across all the devices a user employs. That streamlined workflow creates a more harmonious customer experience.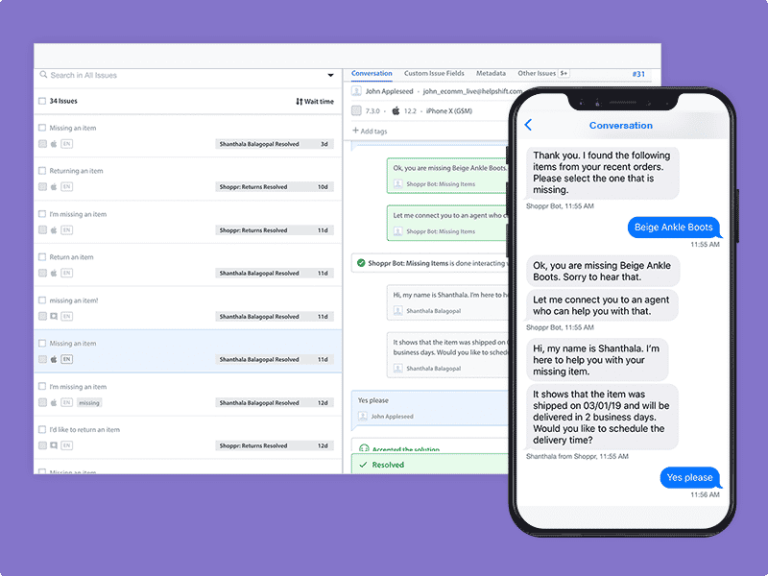 How Helpshift Supports Universal Apps

Helpshift enables in-app support that allows your customers to interact with your customer service team and QuickSearch Bots from right within a universal app. Its familiar messaging interface is easy for customers to use because they're already accustomed to communicating via other types of app messaging services such as SMS messaging, WhatsApp, and Facebook Messenger.

The Helpshift SDK also provides a lot of user information so that your agents are empowered to quickly diagnose and resolve customer queries. Metadata can be customized to segment and prioritize incoming customer issues. In-app support also allows companies to collect immediate feedback at scale and use that feedback to improve your app. In the event that a universal app is experiencing issues, such as screen size rendering or general technical bugs, users can easily report issues from within the app itself.
Additional information About Universal Apps