A contact center is an organization within a company that coordinates and integrates the various ways customers can contact the company for support. Traditional call centers were focused on incoming and outgoing voice calls, but this model is outdated. Modern contact centers can manage customer inquiries and requests via both voice calls and digital applications such as email, messaging, web chat, chatbots, and more.

Why Do Contact Centers Matter in Customer Service?
The old phone-only paradigm has been outsourced overseas to bring costs down, but that's not solving the problem. The Philippines employs over 1 million call-center workers — a system that costs $1.3 trillion for just 265 billion customer service calls each year. That breaks down to about $5 per customer service call. It's expensive, and it's not enhancing customer experience one bit.
Contact centers attempt to bridge the phone-only paradigm and support other channels, but tacking on digital channels without an effective overall strategy often results in large, expensive, disconnected tech stacks, which ultimately drives up the cost per interaction.
According to Forrester, 73% of people say that valuing their time is the most important thing a company can do to provide them with good service, and yet most American consumers say that the phone is by far the most frustrating customer service channel. On average, they spend 10-20 minutes on hold per week. This contact center paradigm could use an overhaul.
And it's getting one, in the form of AI-driven chatbots and messaging.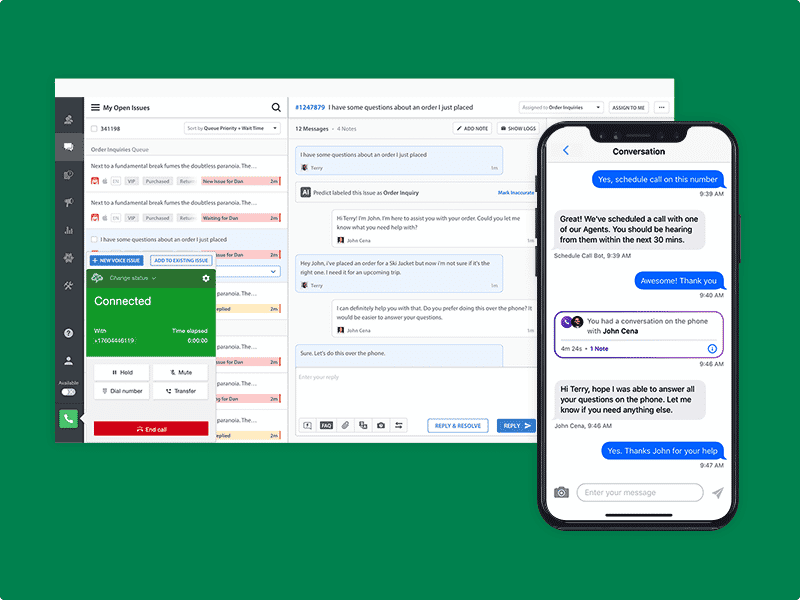 How Helpshift Improves Upon Traditional Contact Centers
Human call center-agents can only handle one call at at time. But the messaging options Helpshift facilitates allow agents to respond to multiple customers at once. When enhanced with AI-driven chatbot technology, the contact center becomes even more integrated and efficient. Supervisors can manage agent time with a real-time overview of queues, prioritizing customer issues and shuffling agents around according to where they are needed in the moment. Because it's a highly efficient system, support interactions average less than $1 per session.
The semi-automated contact center is the simplest, least expensive, and most common-sense solution to a pain point that businesses and customers have long shared. Using chatbots and AI to facilitate customer service instances brings the cost of contact centersdown and the customer experience way up.
Helpshift's contact center functionality also improves upon another common customer pain point: the automated IVR voice-response system that forces a customer to navigate their way through a voice system before they can talk to a real agent. Within a chat interface, this experience is translated to conversation. Although the customer may be interacting with a bot, and may be well aware of this, the overall experience is improved.
Additional Information about Contact Centers