Email support is one of the main channels of customer support for most companies today. The majority of customers (62%) say that email support is a preferred way to communicate with brands.
Typically, customers reach out to brands using email if they can find an email address on the brand's website or via its app, or if the customer has already received an email from the brand that they can simply reply to.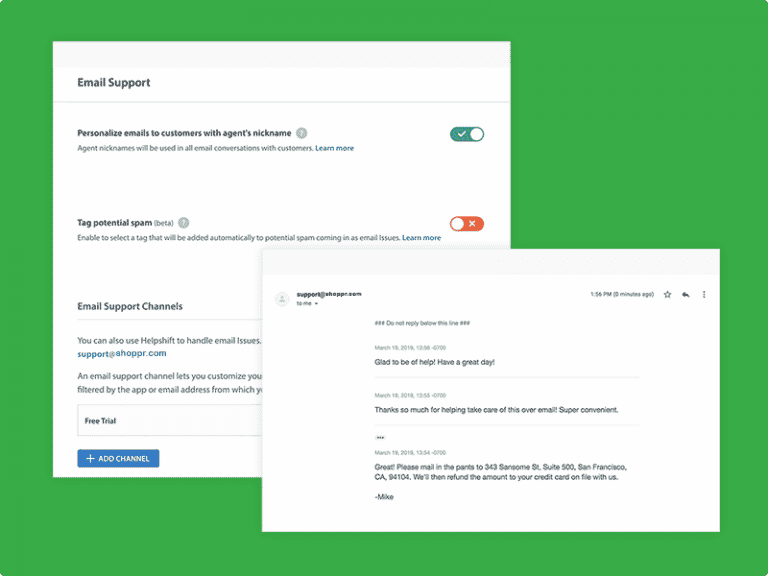 Why Does Email Support Matter to Customer Service?
Email support is convenient for customers because it allows for asynchronous communication: the customer can send an email message at their convenience, and the company responds as quickly as it's able. The customer does not have to wait on hold or endure an inconvenient or aggravating phone conversation. Email support also provides a "paper trail" for both customers and companies, enabling them to manually track issues and refer back to prior parts of a conversation. If one agent cannot resolve an issue, the email can be forwarded to another.
But email support has its limitations, of course. These include:
Email support is difficult to scale because emails are less easily automated than other types of messages. Emails themselves can be automated, of course, but for customer support in particular, the ability to automate responses to individual queries is critical to scale up customer service.
Email costs more than automated messaging solutions. Per contact, email costs between $2.50 and $5, while self-service costs less than a dime, and bot-based messaging costs $1 per contact.
There are language-translation limitations for apps and other global companies that must communicate with customers who speak various languages.
Perhaps most importantly, email support implies a delay. Customers send off an email, then wait in the dark to hear a response. Customer trust erodes as wait times drag on. The average response lag for email is 12 hours and 10 minutes, and 62 percent of companies ignore customer emails altogether.
The Role Email Support Plays in Customer Service Today
While email support is important to customer service, 78% of customers also say they've had an overall positive customer experience with chat, and 77% have had a positive experience with customer service AI assistants.
Email is still a mainstream mode of customer communication, but that's changing quickly as technology advances and the demographics of consumers shift to a younger, more tech-savvy generation. Over 2 billion active users a month on WhatsApp and Facebook Messenger have taught us that today's consumers prefer a messaging interface to email support.
So today, a customer service paradigm that integrates email support with other types of support such as live chat and in-app messaging is critical to reaching and satisfying all of your customers.
How Helpshift Supports Email Support
Helpshift's platform functionality includes email support. Helpshift Email lets you manage email support from the same dashboard as your other channels. Your agents can leverage canned responses and knowledge articles to respond quickly and efficiently.
More importantly, however, Helpshift supports a range of other customer service channels — phone support, live chat, and in-app messaging — that can all be easily integrated so that customers can contact you on their preferred channel and even switch channels mid-conversation. Their customer support experience is always cohesive, contextual, and fluid. They get answers more quickly, in the format they're comfortable with, and your support organization gets the data it needs to better resolve customer issues and queries in the moment and long term.
Conclusion
Helpshift uses intent combined with machine learning to always deliver what customers need and want.
To be good and understanding intent, a chatbot must;
Be programmed well and trained with a useful model involving a lot of training data
Take advantage of machine learning to constantly advance and improve
Additional Information About Email Support