A Help Center is a website where customers can find answers to their questions and solutions to their problems. Designed to resolve many common queries that a brand receives, a Help Center should make it simple for customers to find the answers they're looking for.
Good Help Centers are well organized and carefully presented, making it easy for customers to navigate the site and find what they're searching for.
Help Centers should always be easily searchable, providing customers with an accessible version of a brand's knowledge base that has been created with users in mind. The site will often incorporate FAQs, articles and a good variety of instructions, all of which should be of digestible length.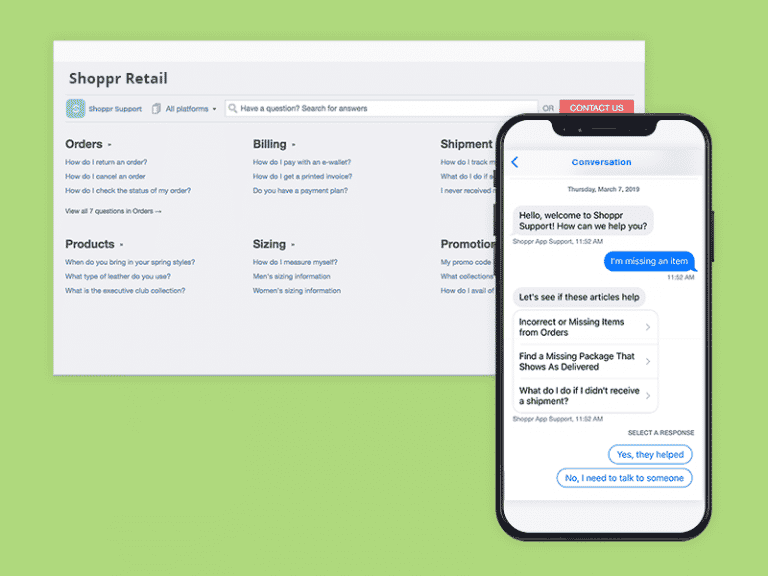 What Does a Help Desk Center Do?
A Help Desk Center cuts the costs associated with customer service, while simultaneously improving the customer experience.
Providing customers with the answers to the questions that get asked all the time, a Help Desk Center makes it easier for consumers to access the information they need, without having to contact a member of the customer service team. Common queries can therefore be dealt with quickly, giving customer service teams more time to focus on the complex problems that need their attention.
With a whole host of resources available to any one that needs them, a Help Desk Center enables brands to improve their offering and optimize the customer journey.
Why Do Help Centers Matter in Customer Service?
Today's customers are increasingly tech-savvy and that means that wherever possible, they like to be able to find solutions to queries themselves.
While dynamic and hands-on customer service is critical to customer experience, so too is the opportunity to get answers to questions quickly. When customers can help themselves to these answers, the customer experience improves considerably. Since many customer service inquiries are routine and repetitive, these are typically the issues that can be handled via a help center, allowing the customer to seek answers independently.
High-quality help center software can provide a platform for you to give your customers a faster, sharper, sleeker self-service experience on your website and mobile app. Enabling your customers to self-serve with a help center doesn't just expedite their experience, either. It also maximizes ticket deflection and ultimately drives down your support costs.
The first step to having a usable and useful help center is to establish a strong, robust knowledge base you can point customers to. Using this platform, will be able to find the answers to a lot of their own questions. When they can't, bots come into play.
Who Uses Help Center Software?
As the technical knowledge of customers improves, so too does the way that they seek customer service help from brands.
Help Center software can be used to make it easier for all customers to find answers to the questions they're wanting to ask, without having to waste time waiting for a response from a customer service representative. Help Center software is now being used by brands in a wide range of different industries, from technology companies to fashion and beauty brands.
Every organisation has a list of questions its customer service teams are asked time and time again, so why not make it quicker and simpler for customers to find the answers to these questions? With this software, it's so easy to do exactly that.
Once your new Help Center is up and running, customers can be directed to it whenever they experience a problem or need to ask a question. In the vast majority of cases they'll find exactly what they're looking for in a matter of moments.
If a customer's query is more complex, they can be directed to contact a member of the customer service team for help. And the opportunities of automation don't stop there. At this point, bots can be used to prioritise different queries, directing customers to a relevant member of the team who will be able to assist them further.
More time critical questions can be separated from those that are less so, enabling customer service representatives to quickly see which queries they need to deal with first.
Want to know more? Schedule a demo to see Helpshift in action and learn how a best-in-class Help Center software could improve the experience that your business offers.
Why Mobile Help Centers Are Important
Today's customer is highly mobile, apt to need quick answers on a smartphone or tablet, and expecting they'll be able to get them quickly. That's why customer service today must be mobile. Help centers have to be optimized for mobile view and UX on any device.
How Helpshift Supports Help Centers
Some customer issues will always require human assistance, so the ideal self-serve software is integrated with your live support options so that the customer's experience is seamless. With Helpshift, customers who begin their journey using your help center may then launch a conversation with a chatbot and transition to a conversation with a real human — all in a seamless way so that the customer does not experience any jarring transitions, hold times, or the pain point of having to start again with a new agent.
Helpshift has found that brands that combine self-service tools like help centers and incorporate automated workflows powered by bots perform better than their industry peers. (View all the benchmarks in our Digital Customer Service Benchmark Report.
Additional Information About Help Centers