New Helpshift Read Receipts Display like iMessage: Know When Customers Received an Agent's Reply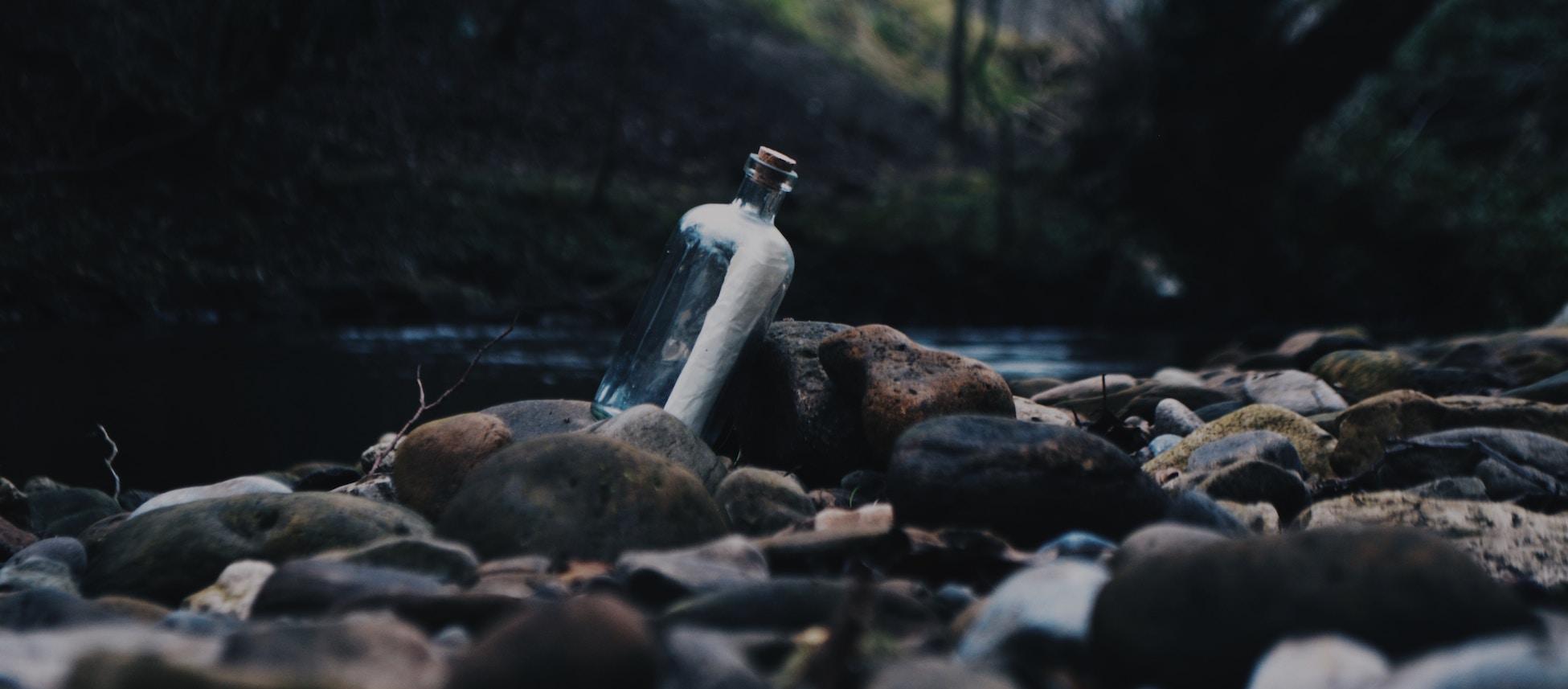 Confirm When Customers Receive Agent Replies with Helpshift's New Feature: Read Receipts
In today's Customer Support world, there's too much time wasted trying to make sure your customers actually read a reply from your Agents. For those of you who are accustomed to email-based solutions, you're all-too familiar with the manual and automatic follow up messages Agents send to customers just to confirm that these customers have received the Agent's reply and offer any additional help. Over time that back-and-forth exchange between Agent and customer can amount to many minutes, hours, dollars, and time wasted by your Support Team.
The Helpshift Team understands how precious time is when it comes to issue resolution and we want to give you that wasted time back..
In our latest SDK releases (5.5 on iOS and 4.4 on Android), now your Support Team will be able to view 'Read Receipts' for all in-app message conversations sent to your users' devices. 'Read Receipt' statuses are updated in real-time. This informs your Agents whether a user has seen a reply, but hasn't had a chance to respond, or hasn't returned to the conversation since the last message to see the latest reply.
What is a Sent Status vs a Read Status?
When an Agent clicks the "Reply" button in an Issue, the text within the Agent's message is immediately sent to the user's device. That Agent will see a real-time update showing the message was successfully sent along with the exact timestamp when that occurred.
All in-app messages with 'Sent' status will show a checkmark (✓) located in the lower right corner of the message.
Agents can uncover the timestamp of a message by hovering their mouse over the 'x time ago' text located in the lower right corner of the message text box. Here's what a Sent message will look like normally as well as when an Agent hovers the mouse pointer over it.
No Mouse Hover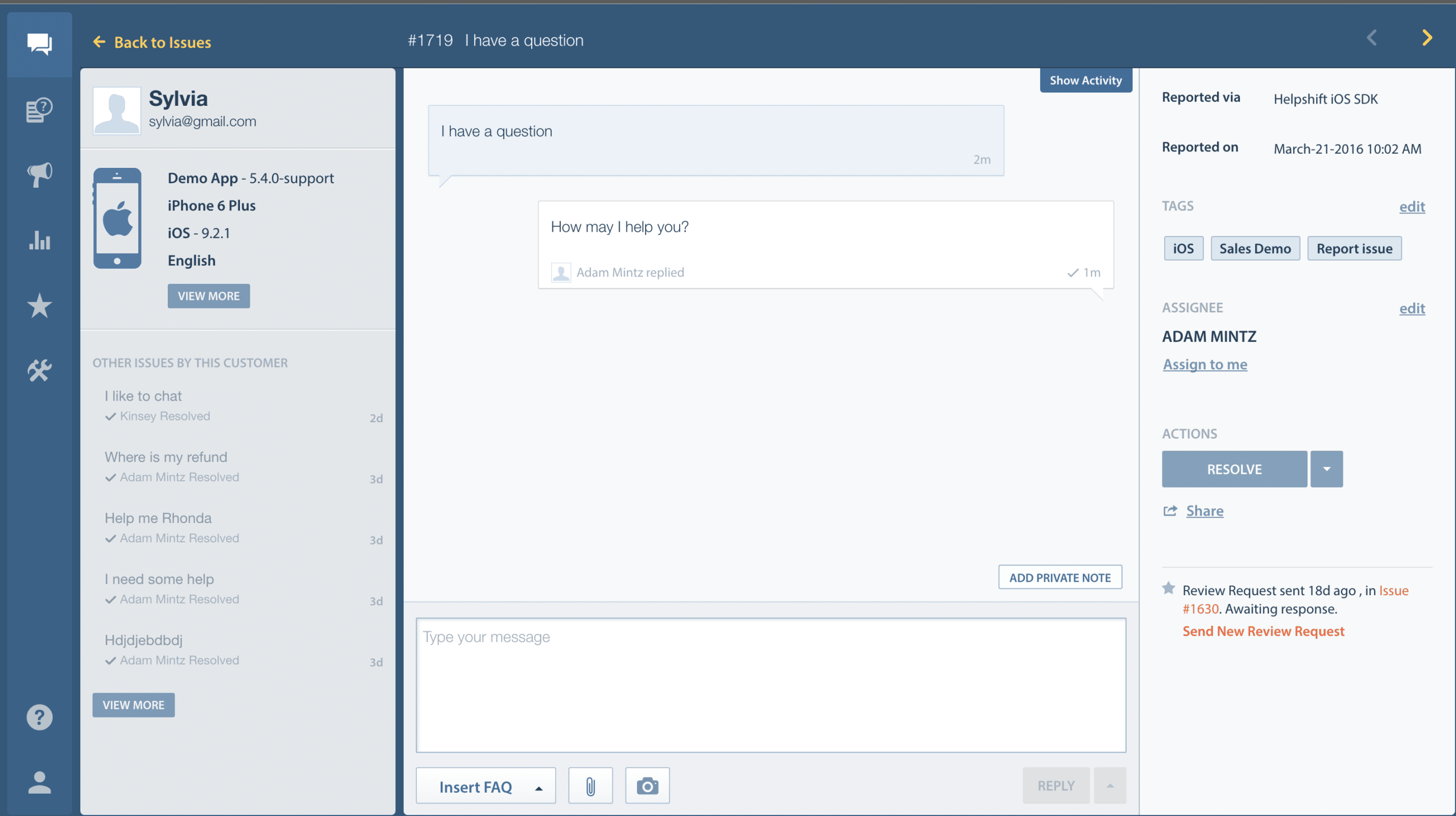 Mouse Hover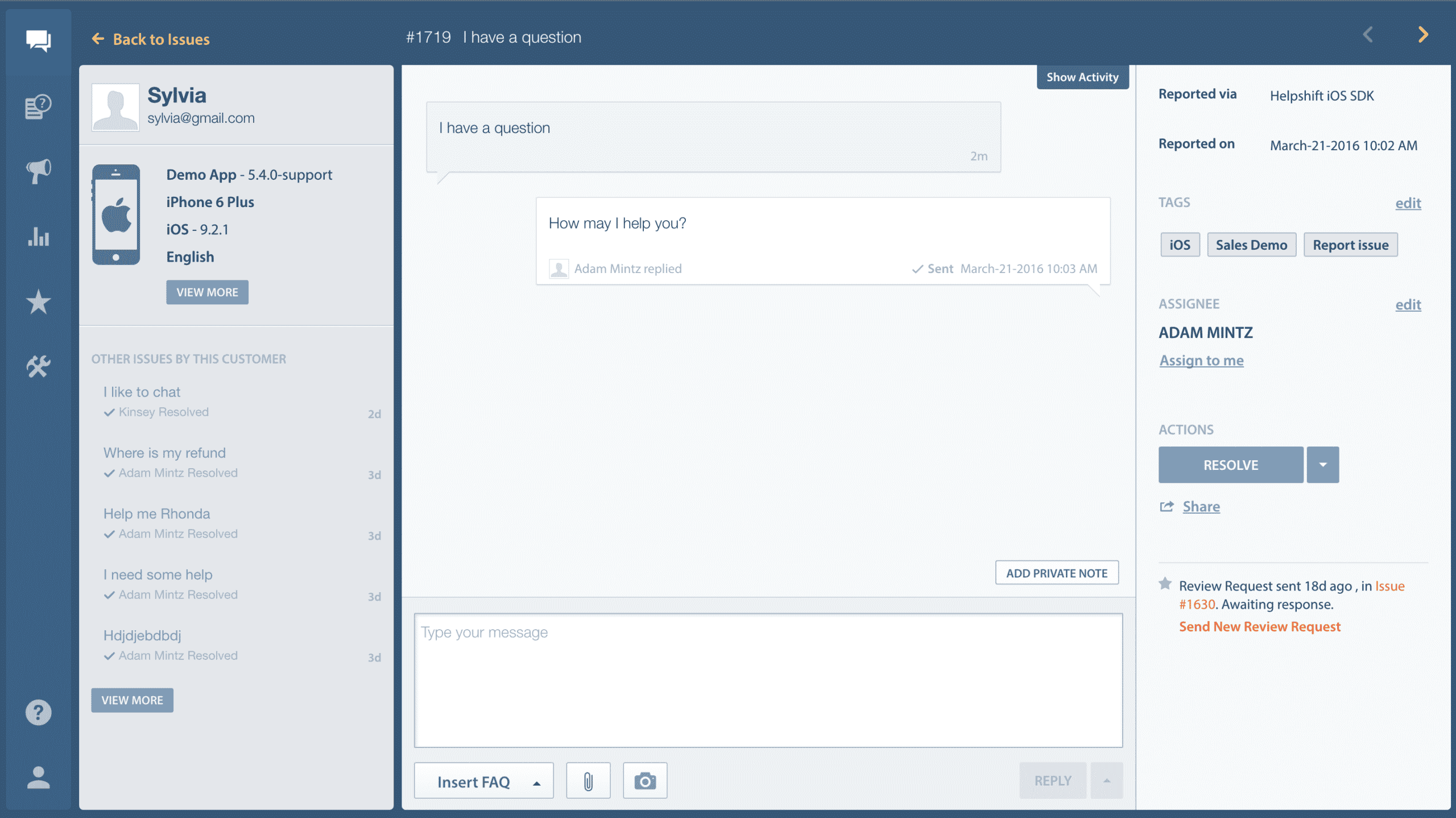 When an Agent hovers over the message, the exact timestamp is displayed for when the message was Sent and delivered to the device.
Read Status
An in-app message is defined as "Read" when the user opens the Conversation screen. In the Dashboard, you'll be able to see timestamps for Sent and Read for each Agent reply in a Conversation.
If the user has the Conversation screen open on his/her device when the message is delivered, then the timestamps for Sent and Read will differ by a second or two. If the user is not in the Conversation screen because he is either in an FAQ article, another section of your app, or outside the app, then the Read status will be calculated and displayed when the user taps the Push Notification or manually returns to the active conversation.
All in-app messages with the 'Read' status will show two checkmarks (✓✓).
Much like the 'Sent' statuses, Agents can view a detailed timestamp by overing their mouse pointer over the text 'x time ago' located in the bottom right corner.
No Mouse Hover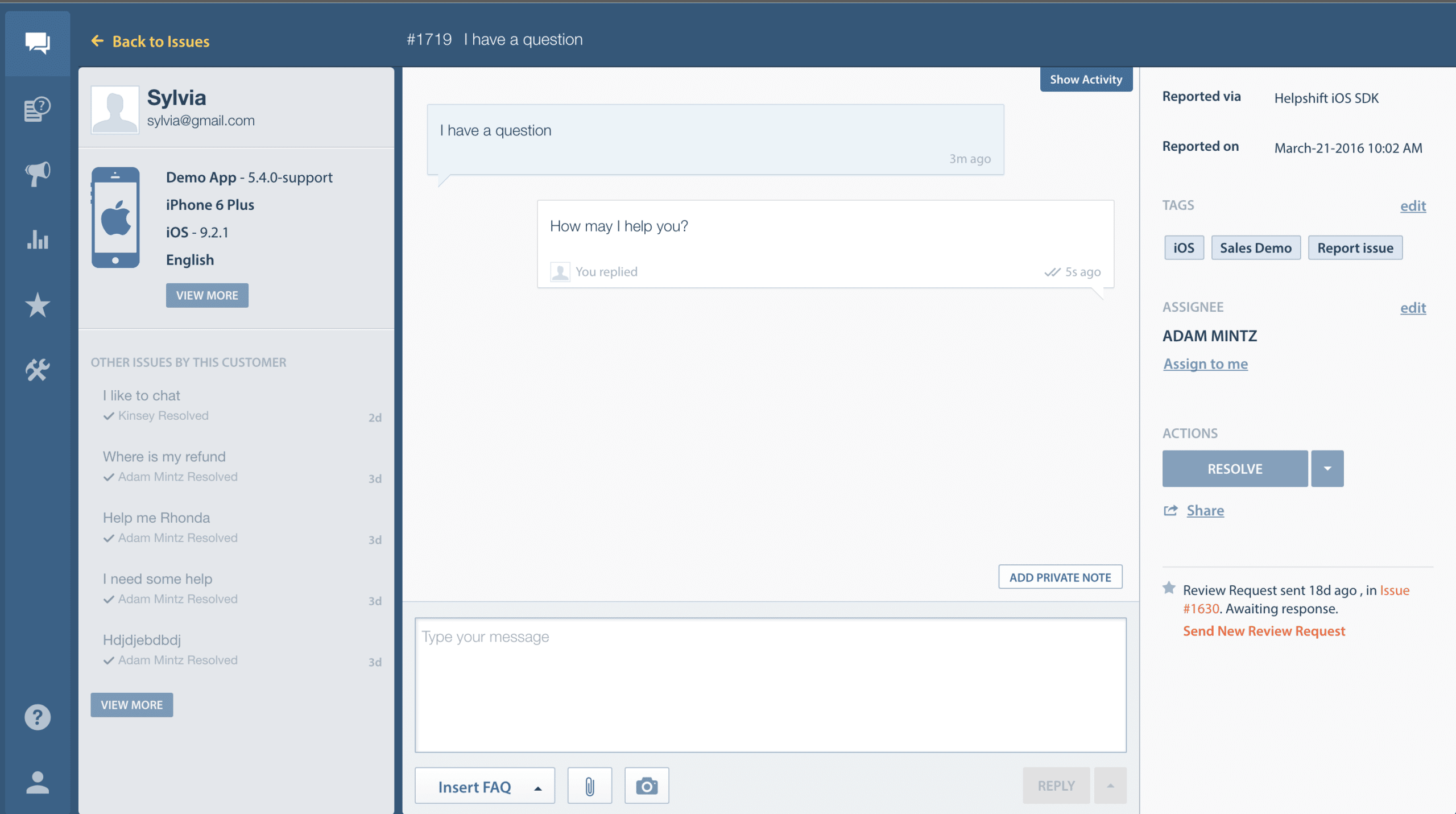 Mouse Hover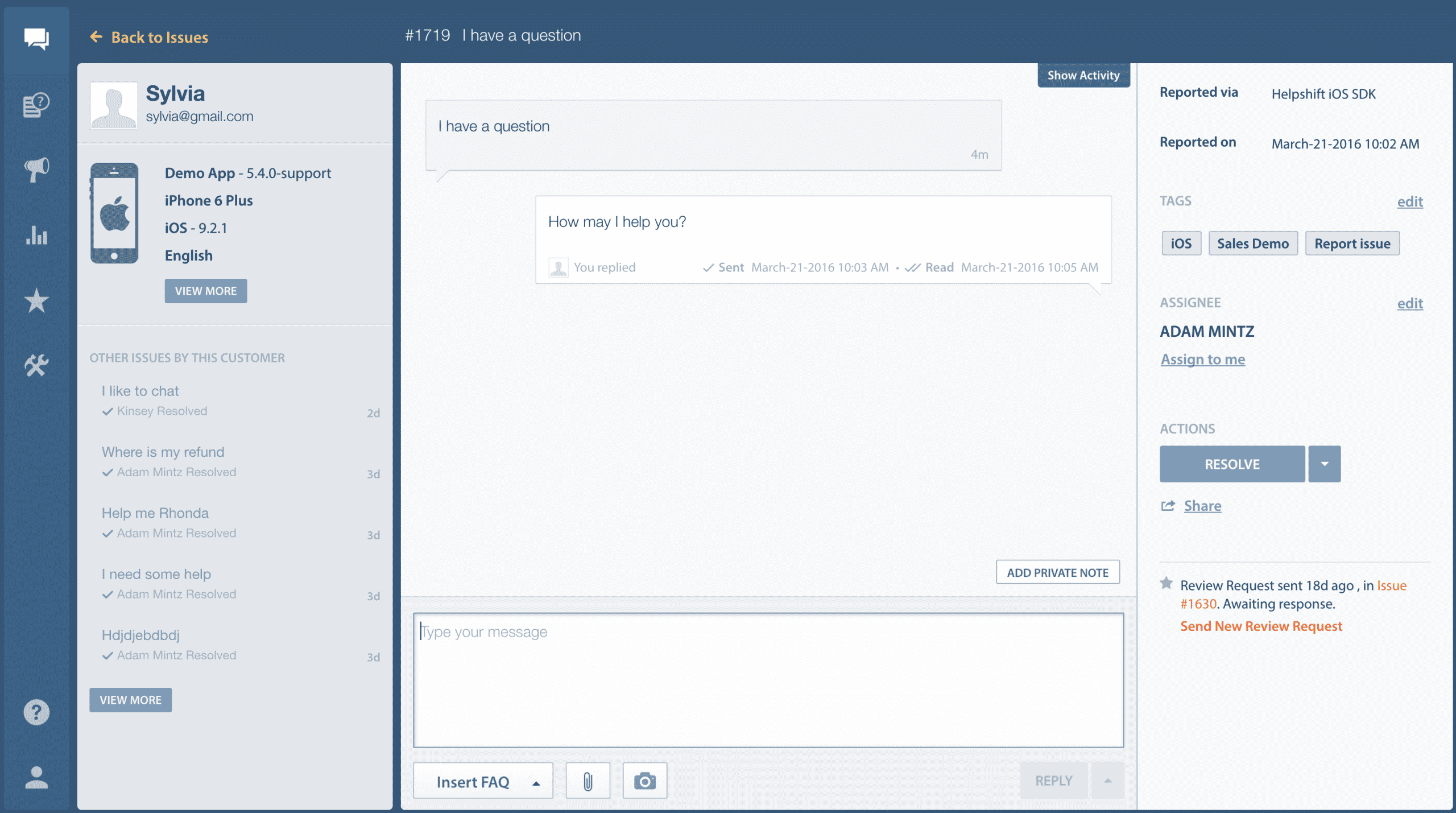 When an Agent hovers over the message, the exact timestamp is displayed for when the message was Sent and Read.
How to Take Advantage of This New Feature
Supporting and marketing your product is centered around the connection you can create with your customer at each stage across their journey. Using Helpshift, you already understand the customer experience by capturing custom behavioral data, location, and device properties. Read receipts are another tool in your arsenal to help you establish your performance goals and deliver help to customers in the best context.
Here are a few ways to turn these statuses into actionable insights:
Agent Staffing:
• Keep track of the time elapsed between the time a message was delivered to the time the message was opened. Now that you know the average time it takes for Agents to send a message and your customers to see this message, you can optimize your Agent staffing times; for example, you can plan ahead and keep Agents online at the times when customers are most engaged in the conversation.
Content Quality:
• Read receipts are a great way to test the quality of your Agent's responses. If you're struggling to improve CSAT on a particular issue, instruct your team to a/b test different copy in their replies. If you find that customers are reading the message, but not responding, this could be an indication that the response provided was not sufficient enough to either resolve the issue or compel the customer to take action.
Promote Self-Service
• Know when to send a follow-up while you interacting with your customers. If you have a high contact rate, as well as a low FCR (first contact resolution), it's time to implement a smarter support strategy using contextual help and self-service. Use read receipts alongside your analytics toolset to understand how customers take action after your team sends a reply. Are they finding a solution themselves without reading your team's response, or are they reading the response but still frustrated?
If you have not installed the latest SDK, talk to your developer about integrating the most recent release of the Helpshift SDK. Developer Docs HERE.