How to Succeed in In-App Referral Marketing in 5 Simple Steps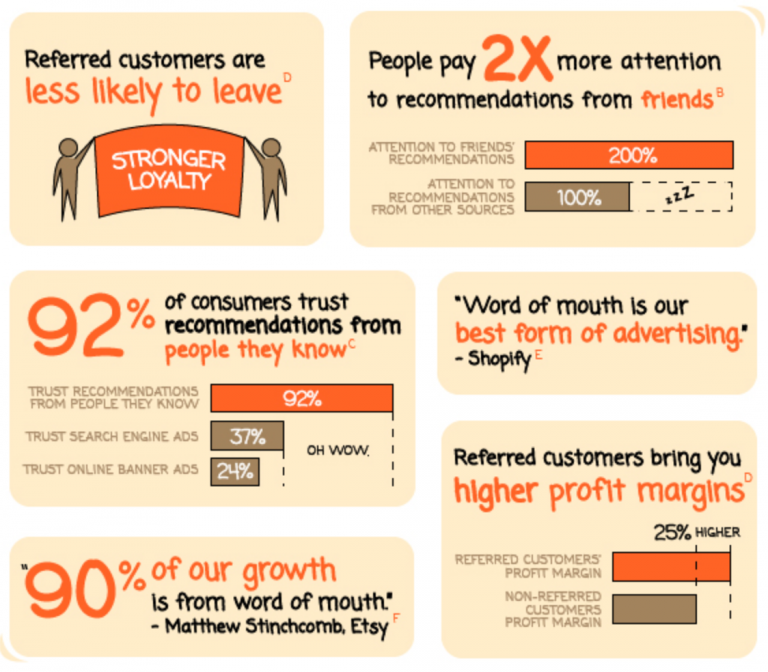 Acquiring mobile users is increasingly becoming a challenge for businesses. But as the digital world moves towards mobile, businesses need to consistently make efforts to remain and grow in the market. And it does not just include increasing marketing budgets.
The modern market does not accept value propositions delivered as ads. What users need is a guarantee from someone like them, and that's where referral marketing comes in.
Simply put, referral marketing is a tactic suitable for the mobile app environment – especially with hundreds of apps getting introduced to the stores every other day. While many businesses have in-app referral campaigns running, very few come close to being as successful as Dropbox, Uber, or Airbnb. In this article, we will look at the most effective measures for making the most out of the app referral program. But first, let's find out what is a referral program and which benefits it will bring to your app.
What is a referral program?
A referral program is a type of cooperation in which a company pays a client to attract new customers. The most common practice is monetary remuneration – a part of the number of transactions made by the involved participants. Each company determines individually the most profitable strategy for a referral program by organizing surveys, A/B tests, focus groups, etc.
Referral programs are designed to perform the following tasks (from the point of view of the company):
Attracting new customers. This is an analog of word of mouth for the online space. A person used the company's services, liked them, and recommended this company to other people. However, unlike word of mouth, the referral program offers additional motivation (invite and get rewarded). The most effective type of program is when a company makes a really high-quality product that you want to share even without monetary reward. The more useful the service or product, the higher user engagement.
Increasing brand awareness. The company does not spend its resources on brand promotion – its clients do it instead. The more affiliates post their referral links, the larger the audience is covered.
Increasing user engagement. Big companies, which already have sufficient demand for their products, arrange referral programs to increase user engagement. The main goal of such programs is not to make a profit, but to improve the relationship with the users. Simple conditions and timely payments contribute to this.
Before launching a referral program, a company should think carefully about what exactly will be the reward. Money is not always the best option. Perhaps it will be much more useful for clients to get:
discounts on subsequent purchases (promo codes, points, discount coupons, etc.);
free access to paid premium features of the app;
free renewal of subscription, etc.
The monetary reward can also be different, such as:
percentage of the number of completed transactions (for example, 10%);
percentage of the new member's future income;
fixed-rate (for example, $20).
Why do mobile apps need referral programs?
Did you know that users are 4 times more likely to buy a product when referred to it by a friend? This is of huge importance because even if you have just 20 people on your app at a time, them sharing your app in their circles can boost your user acquisition strategy.
Some significant numbers pointing to referral program success
28% of millennials will not use a product that someone among their friends has not approved.
Anywhere between 20 and 50% of purchase decisions are driven by word-of-mouth promotion.
Customers that come via a referral program are 37% likelier to be retained.
81% of consumers are drawn towards brands that offer referral reward programs.
Experts say that brands can expect a minimum of 16% higher profits through referred users.
Now let's see how you can make the most out of your referral program in 5 simple steps.
1. Time it right
Let's face it, if an app nudges you to send invites to your friends just as you're starting to explore it, you decline the offer – no matter how good it is. Simply because you don't even know yet what value the app has to offer! If you're too pushy at this instance, you risk even losing the user for being too intrusive or salesy. So when is a good time to 'ask' for referrals? Here are a few strategies that always work:
Engagement first, favors second. While asking is always an important aspect of referral marketing, apps should focus on engaging the users first. If you are not a part of their break time, just how do you imagine being a part of their friend circle? Focus on using in-app elements that will not only help the user understand what your app has to offer, but also keep them engaged for longer and nudge them to come back more often.
Onboarding introductions. Here is the thing about your app's users – they may or may not even discover the feature of inviting their friends. Or it simply might not strike them to do so at any point in time. Including referrals and in-app purchases in the onboarding tutorial does not just make them easily discoverable but also increases the in-app conversions.
Incentivized purchases. When you engage a user actively with your app, it becomes obvious for them to explore all of its features – even those that you have tucked away under your 'pro plan'. But just how many of us are willing to make a purchase in an app? We'd rather look for free alternatives! That's when you should incentivize the purchase – make it free for the user, but after they complete an action you desire. In this case, sending referrals to their circle.
2. Proactively promote the program
The only way to get your referral program discovered by app users is to proactively share it across various platforms. Be it online, in-app, or offline promotions, you need to tap into every platform and make the most out of it to attract maximum participants.
Here are some tactics that must be part of your app referral program:
Send push notifications to existing users
Promote the program on your websites
Share it on your social profiles
Create custom messages for social sharing via the app
Create in-app prompts
Promote the program via emails
Run an SMS campaign
Run mobile ads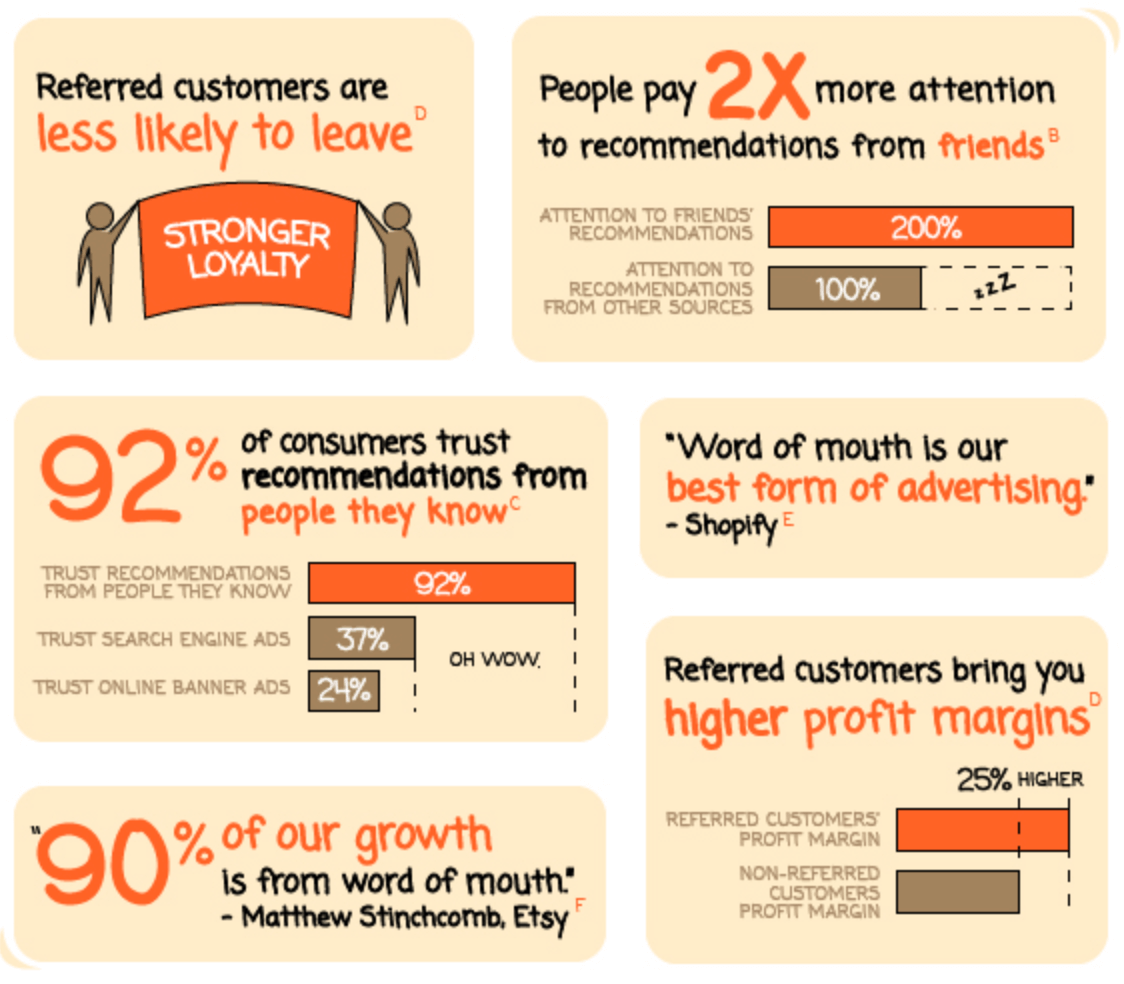 Source: http://www.referralcandy.com/blog/referral-marketing-awesome-infographic/
3. Analyse the campaign results consistently
Digital and offline channels have all sorts of users. While some of them would be your target audience, the others would only participate for incentives. This might get you the numbers now but wouldn't help sustain the growth in the long run.
Here are some quality checks that you must run together with the app referral program:
Number of installs generated
Number of influencers engaged
Status of incentives offered
Fraud detection
4. Remind users about your app referral program
Sometimes it takes a while for the mobile referral program to start in full swing, and it is primarily because credibility takes some time to establish. Even though referral campaigns offer instant rewards along with valued incentives, some users need a bit of convincing to implement the actions associated with the program.
The only way to encourage these users to become a part of your referral campaign is to follow up with them and gently remind them of the offer. But remember, the number of times you notify them of the ongoing offer should be modest enough so the users do not consider your actions as spam.
Here are a few ways to execute a follow up:
An email that reinforces the incentives offered and encourages them to take part in the referral campaign. Also, the one that lets them know whenever a friend onboard.
A push notification every time their friend accepts the invite and joins the app.
An email or push notification about when the campaign is ending and how you'd love them to become a part of it.
Implement live chats and form a community so that users can motivate each other and stay up-to-date with all the news related to the app.
Incorporate activity feeds to liven up your community.
GetSocial allows you to engage your app users in real-time conversations via chat features and to manage your community efficiently via an intuitive dashboard. It also enables you to incorporate activity feeds and social notifications to keep your community lively, motivated, and participating in the app referral program.
5. Engage referred users right from the beginning
While referral marketing is one of the most effective ways for an app to grow, it is important to implement some post referral strategies and hook your new users directly after the installation. The sooner and longer you can maintain the WOW factor, the greater are your in-app conversions from referral campaigns.
Personalize user onboarding. The very first experience with your app defines whether the user will see value in what you offer and engage them with it. This makes their onboarding important. Onboarding is introducing the user to all the features of your app, explaining how they can progress through different levels, and ensuring that they do not miss anything important.
Leverage from user's relationships. A user has just invited their friend to your app. Now assuming that this friend accepts the invite and installs your app, what happens to the relationship between the two of them? In a typical scenario, a user would invite their friends to an app via either social channels such as Facebook, Twitter, etc. or messengers such as WhatsApp, Kik, etc. But after this friend installs the app, they are treated as an individual user. The relation that you acquired a user through gets lost almost immediately and that's where you lose out on engaging them.
The GetSocial Social Graph automatically generates a graph for all the referrals sent from your app. It connects your existing users with the friends they have invited, irrespective of the channel used. Knowing which user is related to the other, app marketers can create gamification and boost group engagement to keep all the users active.
Keep the momentum going amongst users. Don't just let your app referral program die out after acquiring a new user. To keep the momentum going, you need to promote your campaign to this new user as they explore your app. Encourage them to share your app or the levels that they complete in it on social media, to let their circles know what they are trying. The best way to do this is to introduce your referral program during the onboarding, nudge them with in-app popups, or incentivize an in-app purchase instead of invites. It is important to create a viral loop of referrals to keep your app sustainably growing.
Encourage app reviews. If your app referral program focuses on getting a user to invite their friends only, it is time to rethink – the number one way that mobile users discover apps are through search. That's where app reviews and ratings come in handy. Apps that are performing well on the app stores automatically rank higher than the others, making your app the first choice in a specific category. So go ahead and encourage or incentivize app reviews by reminding your users to drop them during an active app session.

Brands that have leveraged referral programs effectively
We've collected some examples of the successful implementation of referral programs in apps.
Farmville

Everyone is familiar with Farmville, a highly popular game that exclusively functions based on the idea of referring the game to friends. The game is fairly simple but surprisingly addictive because, in the flurry of trying to expand their farm or plant more trees, users will turn to referrals to get the perks and benefits that come with it.
Behind the scenes, players aren't the only ones benefiting from this, and Zynga, the mastermind company behind Farmville, has a field day.
Although some players may find the thought of spamming their friends with requests to join Farmville a bit daunting, their only other option to advance in the addictive game is to pay out of their wallet to earn in-game currency, which they can use to buy supplies, etc. When the stakes are this high, most players would rather take a hit to their reputation than actually pay.
Evernote

Evernote's referral program rewards points to users every time they refer their friends. It is possible to exchange these points for free access to the app's premium features. Besides, each time a referee upgrades to Evernote Premium, the referrer receives extra points.
Rover

Rover is an app that connects pet owners and pet owners. When a user invites their friend to join the app, this friend will get a $20 credit on their initial booking, and the user gets $20 after their friend completes the booking.
Angry Birds 2

In the sequel, Angry Birds implemented an indirect app referral program by making the addition of Facebook app invites that rewarded players with gems that they could also gift to friends.
Dropbox

Dropbox makes it possible to earn free space by inviting friends in the following ways:
Users of Dropbox Basic receive 500 MB per each invite accepted by a friend and can earn up to 16 GB.
Users of Dropbox Plus and Professional get 1 GB for each invite accepted by a friend and can earn up to 32 GB.
Airbnb

Airbnb offers its users referral travel credits in the size between $25 and $75. Members can earn these credits under the conditions when:
a referee follows their referral link to create a valid Airbnb account;
the referee completes a Qualifying Reservation.
Neighbors

This mobile app was developed by Ring, a security equipment provider. The app provides crime and safety alerts in real-time, letting people report suspicious activity. The referral program participants can invite their neighbors to join the app, and each of them will get a $10 discount on Ring security equipment.
PayPal

PayPal awards its users $10 per each registered referee who will receive international payments in the size of at least $100 during 45 days after the registration date.
TaskRabbit

This mobile marketplace for freelancers suggests that its users give their friends a $10 credit and get a $10 reward after the friend finishes their first assignment. A link to the referral program can be found everywhere in the app, making it easily accessible.
Duolingo

This language learning app offers one week of free access to Duolingo Plus for each referred friend. In such a way Duolingo exposes its users to its paid version so that they can see all of its benefits.
Uber

The world's leading ride-sharing app was also one of the first apps to introduce referral programs. When a user creates an account with a referral link, they get $2 off their first 3 rides, and the referrer gets $5 for their next ride. The app has a Free Rides tab from which the users can quickly access the referral program.
HelloFresh

In their referral program, this meal kit delivery app suggests that the participants "give" their referees $40 on their first delivery, i.e. the referees get $40 by following a referral link. After that, the participants get $25 after the referee orders their first box.
Candy Crush Soda Saga
The Candy Crush Saga is notorious for ruining friendships as a result of continuous spamming but it's highly effective for the developer and the player. It tops many lists as one of the best referral program examples because of its sneaky strategy. The player receives special bonuses and can move on to the next level while their friends may or may not join them in the game.
The choices that are given to a player when they have no lives left are limited to two: either they ask their friends or pay for it out of pocket (Zynga also actively uses this tactic).
In the spur of the moment, users may send a notification to everyone on their friend list because the thought of paying is much harder to digest.
You need to strike a balance with gripping the attention of those who are highly engaged, regular players with high scores as well as those who play twice a week but really aren't that good. These users are instrumental in your in-app referral marketing process because they incorporate the valuable factor of genuine satisfaction that pulls in more users.
Wrapping Up
Referral marketing is one of the most powerful marketing tools that can bring you hundreds of app installs without spending a fortune on dubious user acquisition strategies. But to ensure its success, aim for making your users constantly engaged and eager to come back to your app over and over again. Spread the word about your app referral program by actively promoting it across your distribution channels. Track your referral campaigns' progress and run key quality checks to help sustain its growth. When your referral campaign starts acquiring new users, don't forget to set up post referral strategies and keep the momentum going.