The 10 Best Mobile Learning Apps of 2021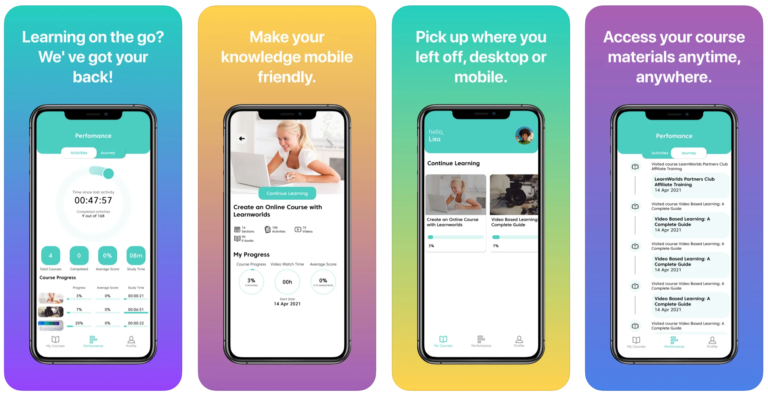 Ever since the Covid-19 outbreak, mobile learning has become more and more widespread, showing that the future of education depends on it.
The pandemic gave the fuel to organizations to invest and the public to use educational apps more than ever before. Year after year, the global rate of educational app downloads grew up to 90% – March 2020, while in the US alone the percentage was much higher than that – at 135%.
The interest in educational apps spiked and showed the way to continuous learning even in tough times. And, since the demand for mobile education keeps growing, by 2024, experts expect that the market will expand by $46.9 billion with a CARG of about 26%.
But, what does this mean for app developers and marketers?
For starters, it stresses the necessity to prioritize the needs of their customers who are mobile learners, offering them the best mobile learning solution that allows them to learn on the go.
A Statista report confirms it: In March 2021, the most popular Apple App Store categories were Games, Business, and Education. Positioned in third place at 8,67%, just before the Lifestyle category, this number shows that education is winning a lot of ground lately and it won't be strange to see more educational apps coming out in the future.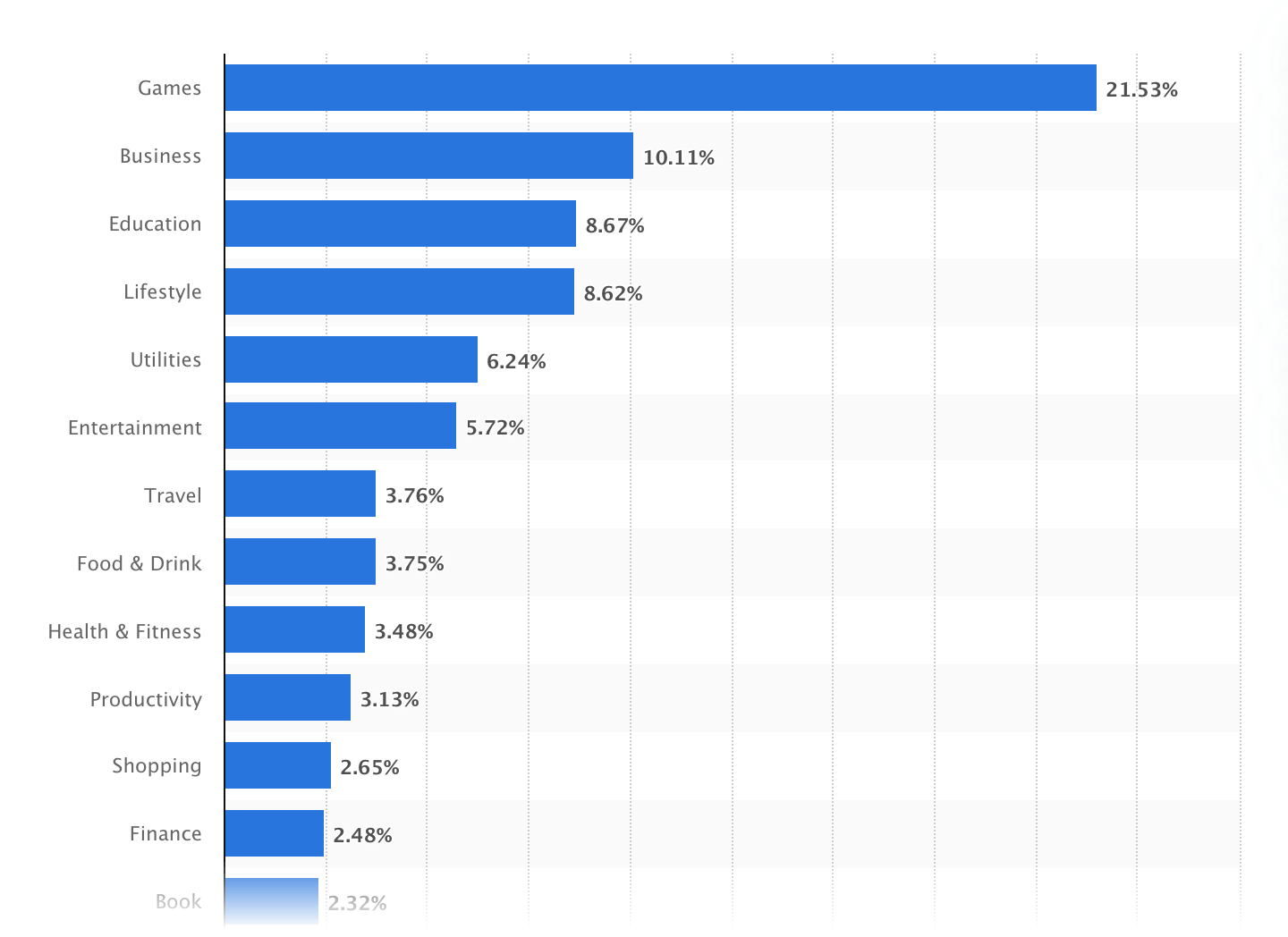 In this article, we will go over the benefits of using an educational app, all the essential features it needs to have, and will refer to some of the best mobile learning apps on the market.
Ready? Let's go!
The Benefits of Using an Educational App
Educational apps always come in handy. When people don't have direct access to education, for example, schools are closed or people can't travel to a physical educational institution, they are here to save the day. But there is certainly more to them.
These are the key benefits of using an educational app:
Better control of one's learning
Personalized learning and attention to learning needs
Increased flexibility in learning in terms of pace, time, and place
Increased communication between educators and learners
Less time-consuming and cost-efficient approach
Reduced paperwork involved
Increased progress tracking
Enhanced engagement through gamified learning
Increased availability and online resources
Educational apps offer a modern learning approach that is easily accessible for people. Within a click of a button, you get a series of lessons or study sessions ready for you to complete, which makes it the ideal choice for education.
Using apps for educational purposes gives space for more self-paced learning, more efficiency in terms of communication, and flexibility in the way people can learn. Young people especially are more likely to see these apps as the go-to place to learn since they like spending most of their time on their mobile phones.
Add gamification elements to it and then learning becomes more interesting and interactive!
Essential Features of an Educational App
Every educational app comes with different capabilities that users need. If you are building an educational app, it's important to think about what type of app it is going to be.
For example, would it be for learning or teaching? This distinction is vital since it tells you what set of features your app should have.
However, there are some features that are a must for any educational app. These are:
The more login options you offer, the better it is for your mobile app users. Some people prefer to use their email address – or Gmail, while others prefer to sign up via a social network like Facebook, Instagram, LinkedIn, or their phone number.
The ability to organize their personal details is paramount so an educational app needs to offer user profiles. A user profile lists a user's account details (subject, age, level of education) and keeps track of any progress made or activities completed so that users know where they are at.
Community/Social Integration
Sharing the progress and achievements with other people is exciting and you wouldn't want to deprive your users of this feature. Also, feeling like they are part of a community motivates them to do better and keep using the app.
Offline viewing is a feature that makes learning and teaching much easier. This means that users don't need to be connected to the internet to access the app or view important data.
An educational app will need to offer learning materials that are proven scientifically. An instructional designer would be the best person to quality that, coming up with activities and learning content that works. There are different learning materials that use video, audio, visual, or a mixture of the two, interactive exercises/activities and online courses.
There is no mobile app that doesn't come with push notifications. These exist to remind users to come back to the app and continue using it. Push notifications are great for user engagement and may come as discount, feature, or course updates.
Make user navigation easy by adding a search functionality button in the app. This should help users find the information they are looking for quicker and in a more effective way, increasing the chances of keeping your app.
Even if the app is free to download, you can offer add-ons, special discounts, or more services that users want to purchase. If that's the case, consider using a secure payment platform like PayPal, Stripe, or 2Checkout.
10 Best Mobile Learning Apps of 2021
Mobile learning covers multiple areas of education. This means there are many types of mobile learning apps that are different in terms of their use and what they can offer.
For example, there are apps that allow you to take online courses, prepare for exams, learn a new language, or improve the way you learn e.g. how your brain functions – brain teasing. Then there are apps that help people build or develop certain skills, offer specialized lessons, learning activities, or games on a subject, or apps that allow you to check the progress of your learners.
Go through the list below to see for yourself and gather some inspiration from the best mobile learning apps around.
#1 LearnWorlds Mobile Builder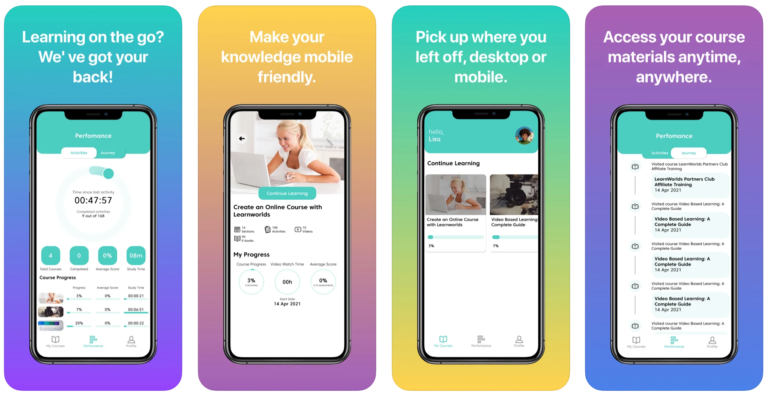 LearnWorlds – one of the best online course platforms for creating and selling online courses, comes with a white-label mobile solution that shapes the way of future mobile education. With the LW Mobile Builder, learners can engage with and read course content, watch educational videos, and take knowledge tests. The app uses React Native Technology and it is trusted by billion-dollar companies around the world. It also lets you pick where you left off when switching between desktop and mobile without losing your progress enabling this way, enhanced mobile learning experiences.
Availability: iOS and Android.
#2 Udemy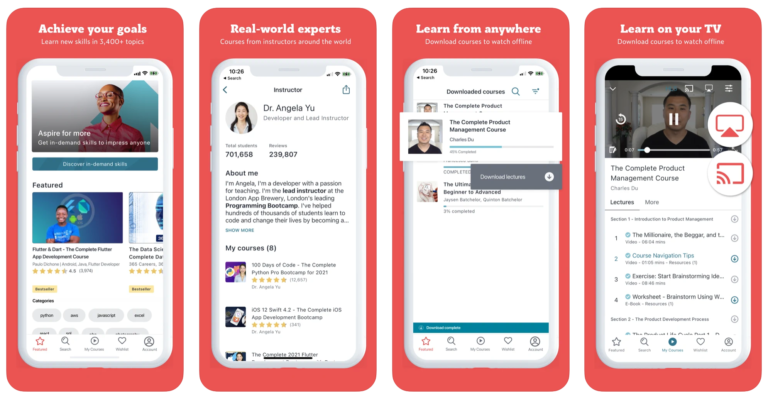 Udemy – the popular online course marketplace, comes with an app that allows learners to browse and learn from online courses on various topics (from web development to painting) using their smartphones. On Udemy's app, users can find free and paid courses which they can get access to by downloading the app through Google Play or App Store. Udemy launched the iOS version in 2013 and then the Android in 2014.
Availability: iOS and Android.
#3 Khan Academy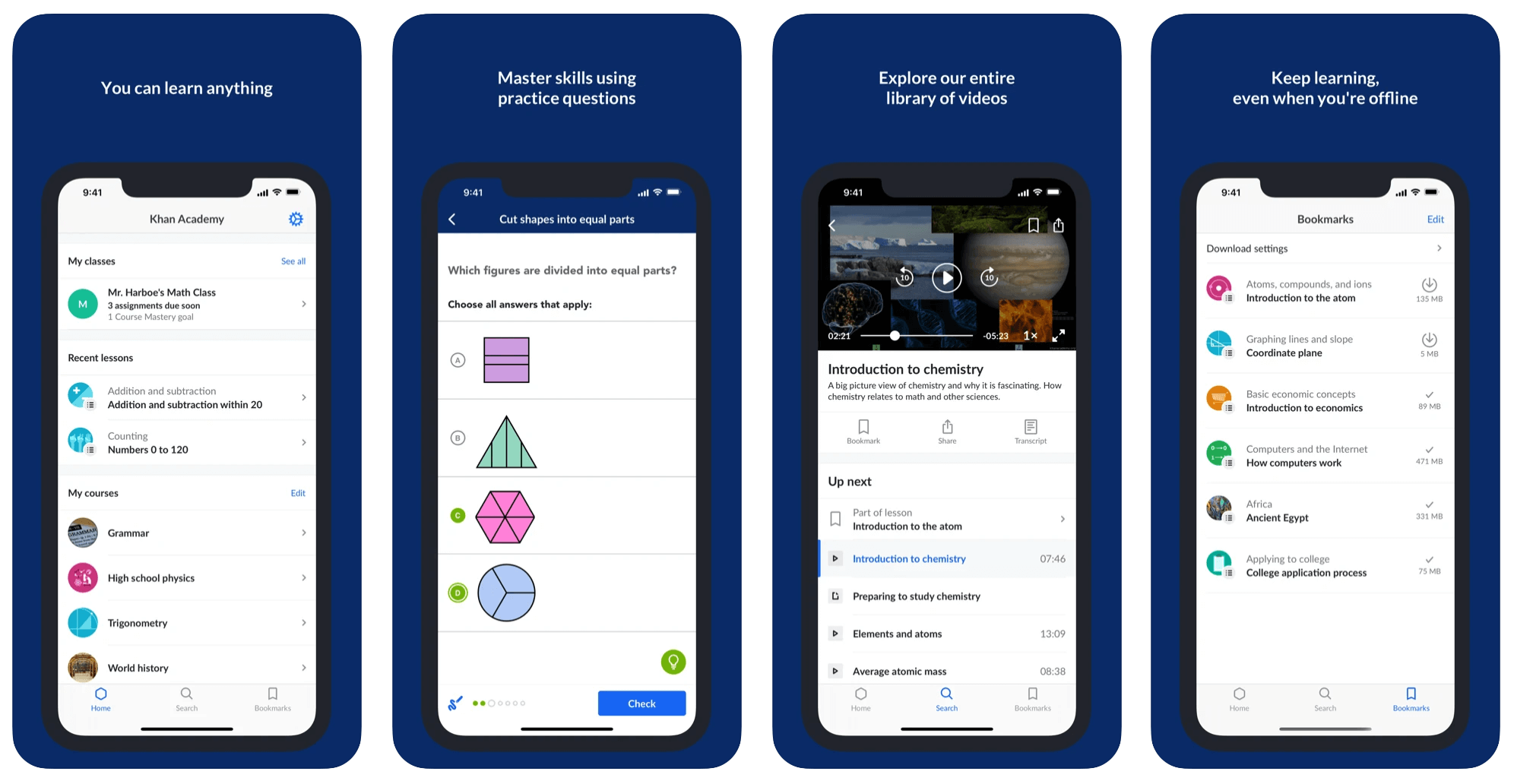 Khan Academy – a non-profit educational organization, is best known for providing free online education for anyone, anywhere on subjects like math, art, computer programming, economics, physics, chemistry, biology, medicine, finance, history, and more. The Khan Academy app offers personalized learning, practice tests, instructional videos, and useful tools for every parent and teacher.
Availability: iOS and Android.
#4 TED-ed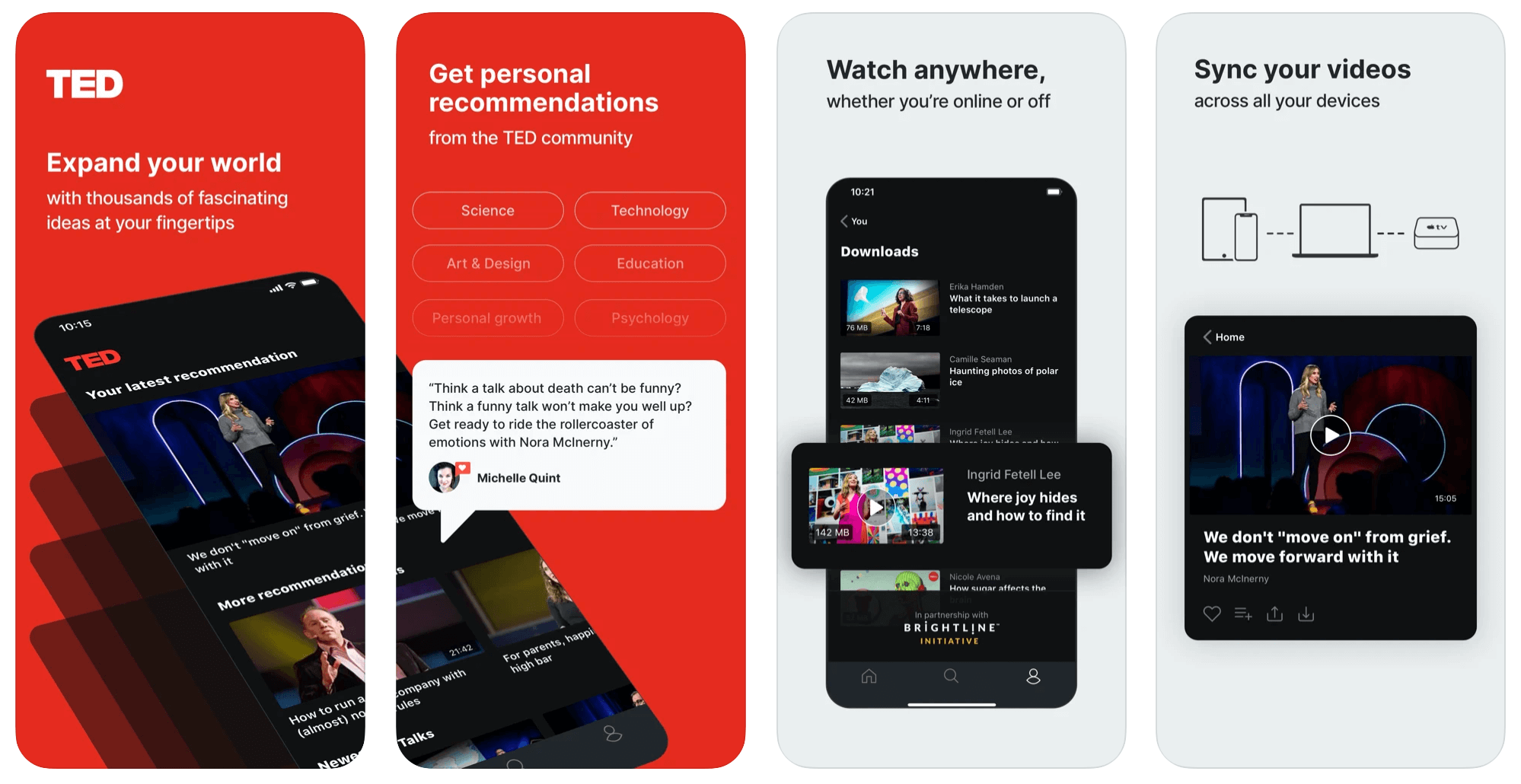 The TED-ed platform offers the possibility to take any TED talk, TED-ed lesson, or educational video and create a lesson plan of customized questions and discussions. Users can then share these lessons publicly or privately and track their impact whether this is for a community, a class, or a single student.
The TED app allows you to access your favorite talks in over 100 languages and save them to watch them offline. For teachers and educators, TED also comes with the TED-ed Educator's Hub app that is worth checking out.
Availability: iOS, Android and Amazon.
#5 SoloLearn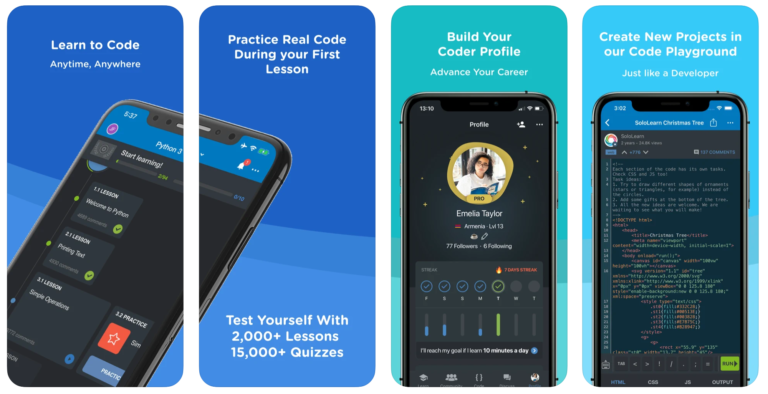 SoloLearn is the best app to download if you want to learn how to code. The app offers online courses in every programming language for free and users get to test their skills through a series of interactive lessons that make up a fun learning experience. Through the app, you get access to a powerful community that offers a peer support network that allows you to ask questions, get tips and advice or simply exchange opinions.
Availability: iOS and Android.
#6 Let's Read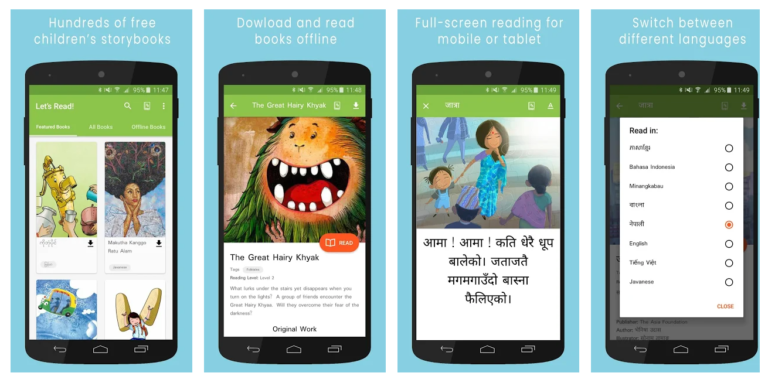 Let's Read, is one of the best book reading apps available for children. Through the app, you get an extensive selection of children's books, that parents, grandparents, or teachers can choose from and read to kids. As a free digital library of colorful storybooks, Let's Read promotes reading skills, and presents books for local authors and illustrators that are available in many under-represented languages and English.
Availability: Android.
#7 Coursera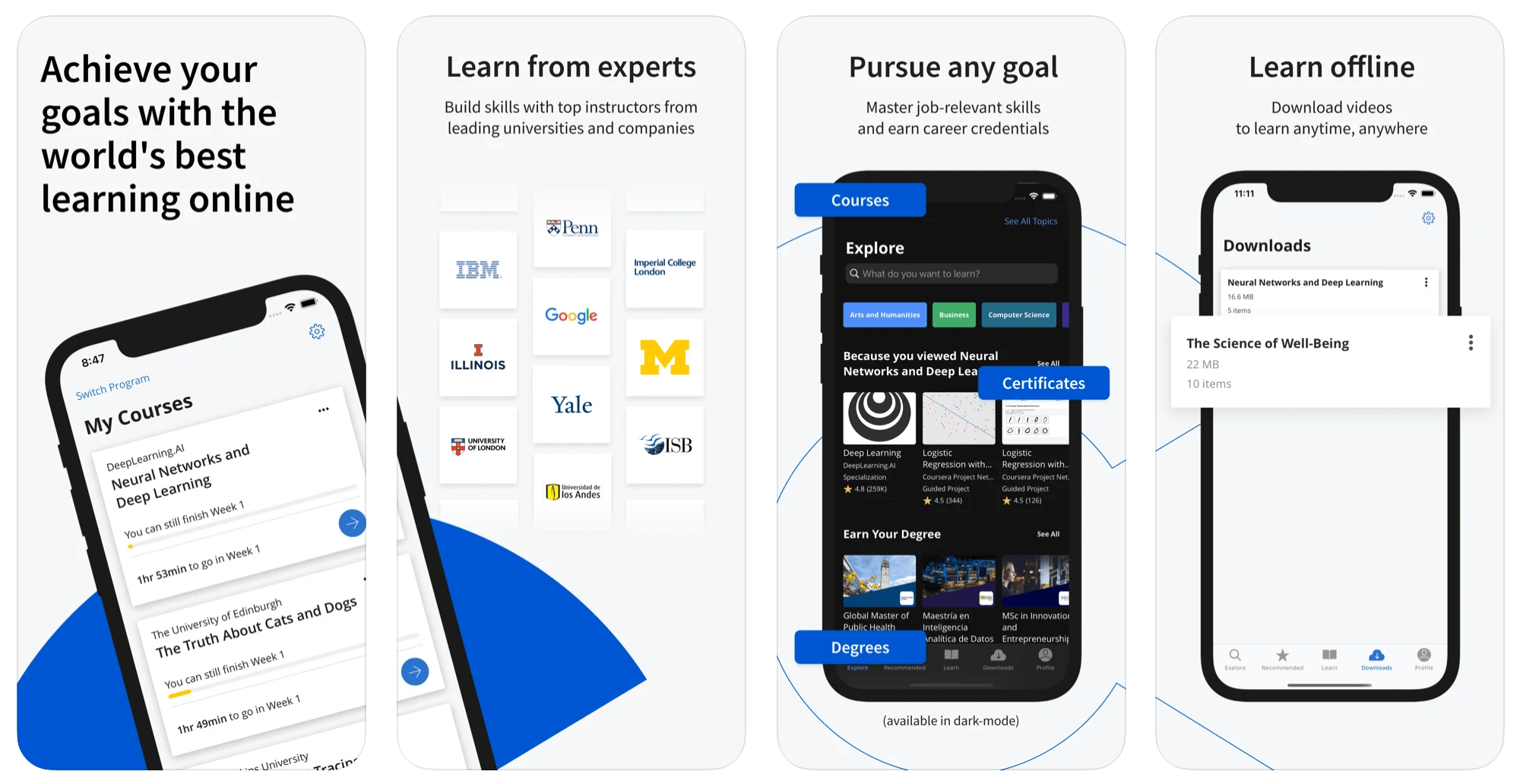 Coursera – the online learning platform offers online courses that can help you advance your career, and get certificates from prestigious universities that can land you a job in companies like Google, IBM, and Facebook. Through the app, you get to browse and enroll in courses on subjects that range from business, computer science, to music, art, and design.
Availability: iOS and Android.
#8 Duolingo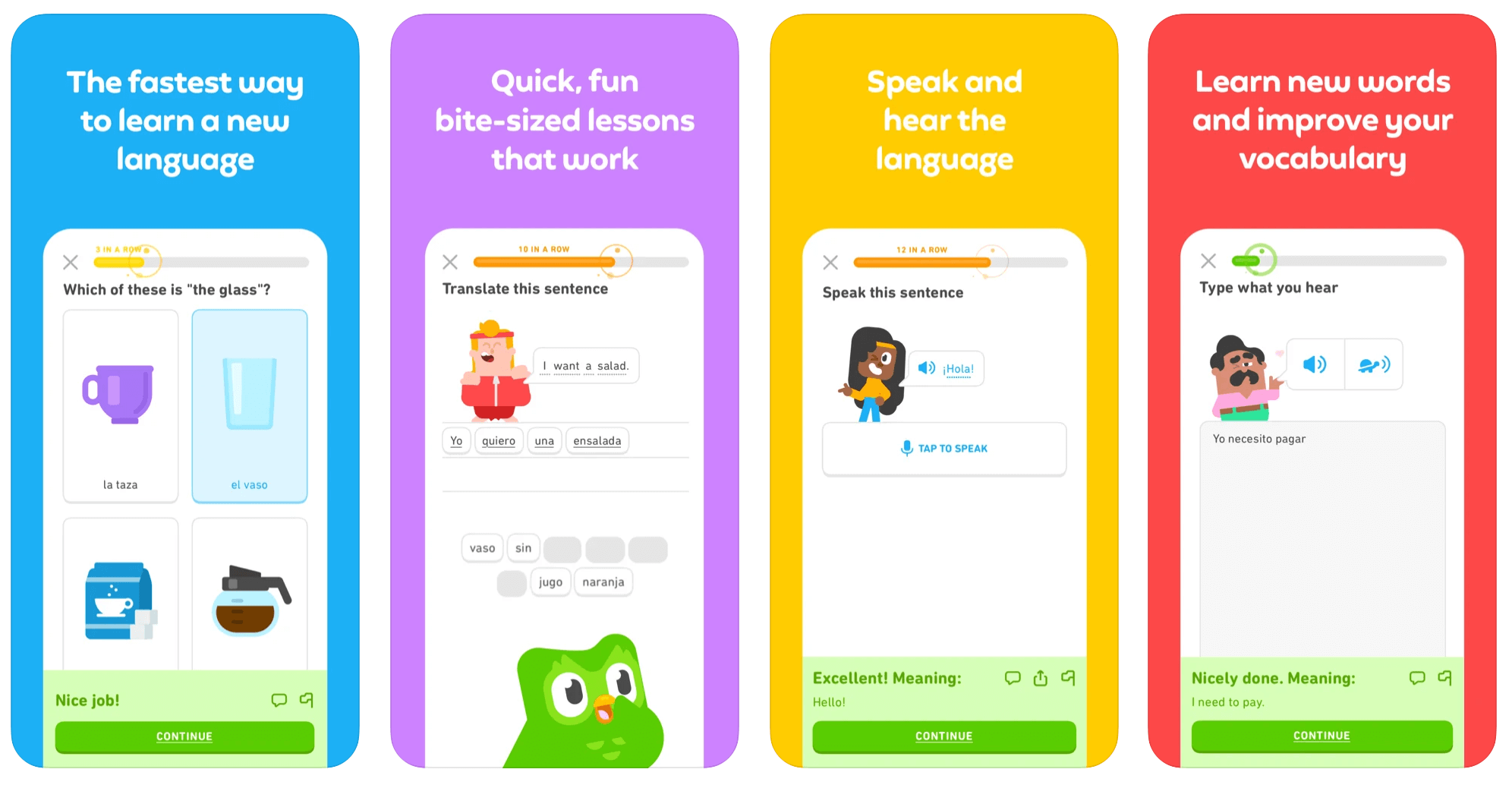 Apps like Duolingo are great because they offer a fantastic way to learn a new language. What's exceptional about it is that it makes learning fun through game-like exercises and bite-sized lessons that are addictive and easy to follow. While using the app you get to earn virtual coins, unlock levels and improve your score as you learn new words and phrases.
There is also an app from Duolingo that helps younger users learn how to read – Duolingo ABC.
Availability: iOS and Android.
#9 Quizlet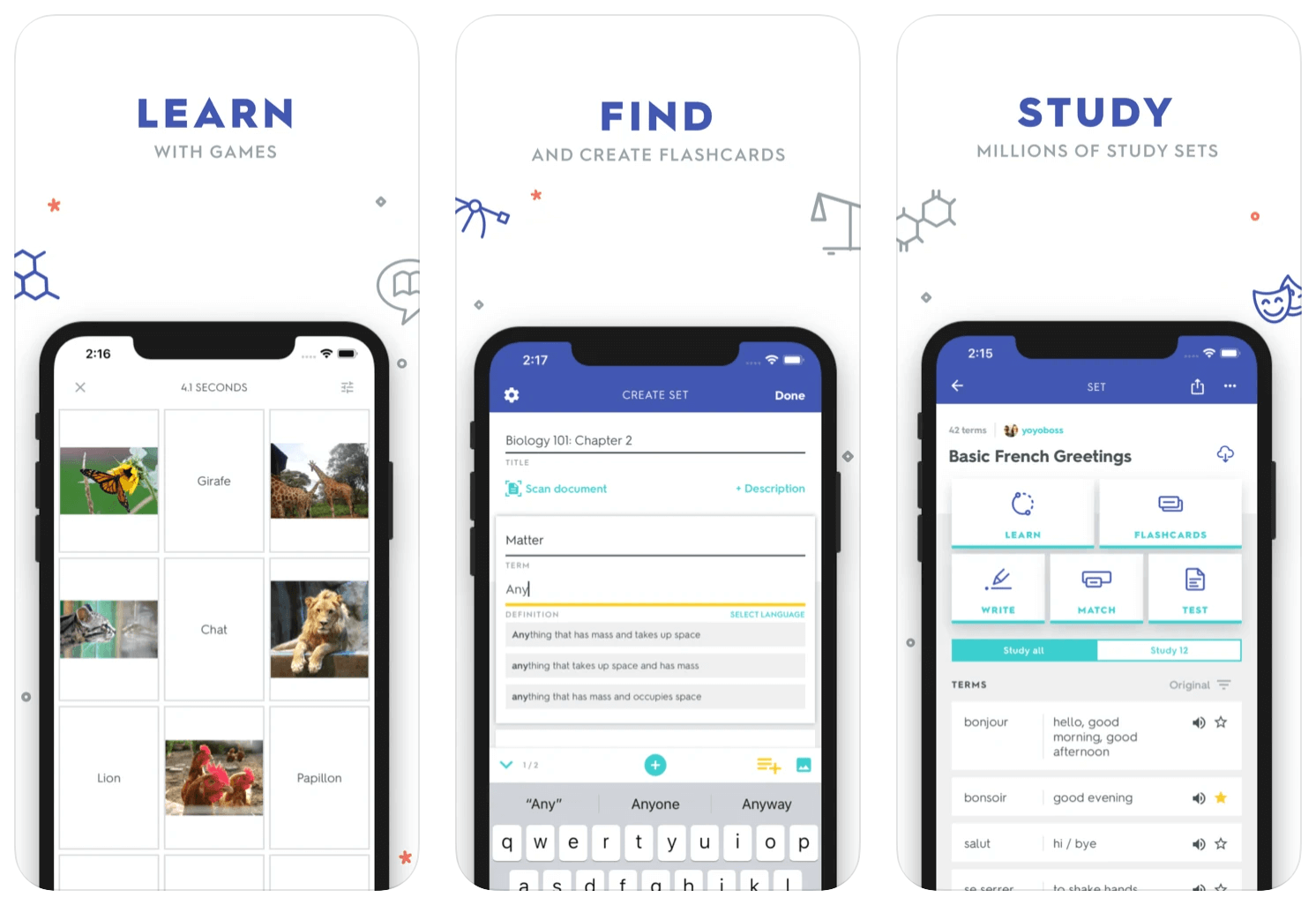 Quizlet is another great app that helps you develop your knowledge in arts and humanities, languages, math, science, social sciences, and other categories like sports, and hobbies including cooking, trivia, traveling, and video games. Learning is easy and enjoyable through the use of online flashcards, diagrams, practice tests, study guides, which you can access for free.
Availability: iOS and Android.
#10 edX

Another non-profit organization – edX, offers easy and cost-efficient access to education. EdX comes with an app that allows users to study online courses in trending subjects like computer science, business, data science, engineering, and design amongst many others, from the world's top universities.
Through the app, you can test your knowledge with quizzes and exams, view course announcements, and get handouts. The app's advanced search makes the navigation more efficient allowing you to search for the subject that interests you.
Availability: iOS and Android.
Are You Planning to Use an Educational App?
As one of the most popular e-learning trends, mobile learning is showing the way forward.
Entrepreneurs, educators, and marketers who are not using a mobile app for educational purposes are missing out on the opportunity to grow their business and offer the best to their learners, employees, or customers alike.
So if you have not yet considered using an educational app – or better yet building one, it is prime time to do so.