Customer case management describes the process any customer service organization uses to handle, route, resolve, and report on customer issues — "cases" that have a tangible "open" and "close" point. It's a typically collaborative process, not just between employees and customers but involving technology, content, and databases — a complex mix of factors that can complicate how customer case management is handled. The ultimate effect of customer case management is a gamut that runs from customer loyalty on one end to scorn on the other.
Why Does Customer Case Management Matter to Customer Service?
Case management typically relies upon a customer service technology platform to help coordinate the flow of work around each particular customer case. Since resolving customer service issues can often involve multiple people and departments, software that seamlessly integrates the entire realm of customer case management possibility is essential to a positive customer experience.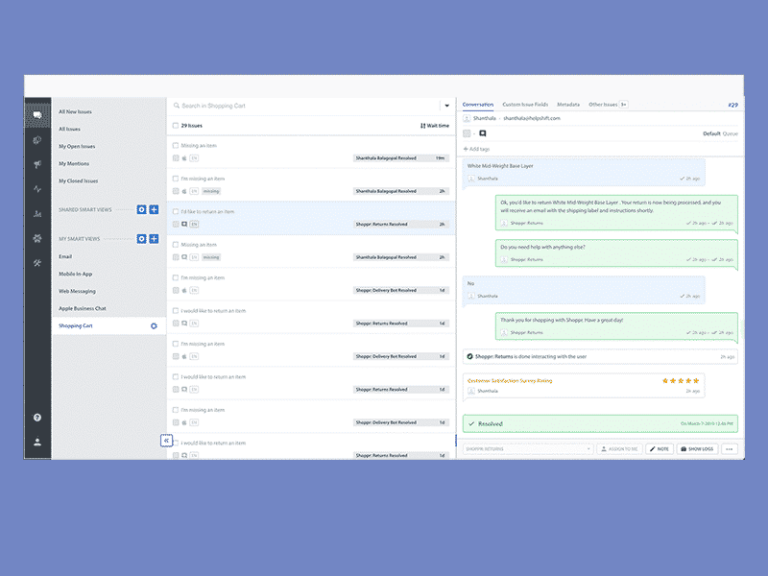 A great customer case management experience can result in 5-star ratings even if the customer started with a problem. A bad experience can result in the loss of a customer and a ripple effect as that customer takes to social media to complain about your company.
Customer case management connects customer service agents and bots to knowledge bases full of relevant information. This enables customers to self-serve, in some cases, and particularly when guided in the right direction by automation. In other cases, customers need the expertise and assistance of a real-live agent. A customer service organization practicing evolved customer case management expedites the routing and flow of incoming customer queries to move the case through the most effective and rewarding channels.
How Helpshift Supports Customer Case Management
Helpshift's unified dashboard makes comprehensive customer case management possible, with intelligent routing, queues, and segmentation to help your agents prioritize the most important customer issues.
Agents get contextual views of customer account, call, and issue history with detailed information available in the dashboard view regardless of the path the customer took to talk to a particular agent.
And Helpshift's intent classification engine further enhances customer case management by leveraging AI to automatically classify and triage issues to the right agents. Agents can be organized into teams and groups based on skill sets and expertise, so you can manage agents at scale and ensure you get the right agent on every case the first time.
Additional Information About Customer Case Management
Products: Comprehensive Case Management