Customer service is a vital part of brand operations that provides customers with an avenue to get their problems resolved and questions answered. Great customer service involves not only answering questions, but also giving the customers an experience that will make them want to stay loyal to the company. To ensure satisfaction and retention, customer service agents usually respond to customer issues that may involve: difficulty with completing a purchase order, questions about the specifications of a product or service, comments about a glitch in a website or app, etc.
Why Great Customer Service is Important
When consumers have a positive customer service experience, they know that they are valued by that company. Reviewing customer service tickets and dissecting the mentioned problems helps employees truly understand how to fix issues for consumers. A deep analysis and corresponding communication lets consumers know that their issues are being taken seriously.
It is more expensive to find new customers than it is to retain them, which is why existing customers should continually be assisted and engaged by businesses. By working diligently to respond to tickets and answering customers' questions to the fullest extent, employees show customers that they are being looked after when purchasing items or using services. Knowing that they are valued will keep consumers engaged and loyal to their chosen companies.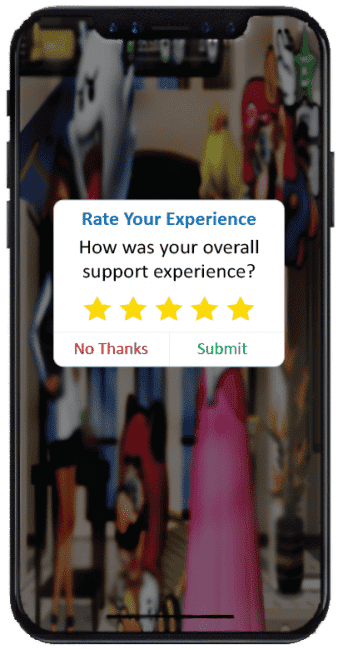 What Businesses Can do to Deliver Great Customer Service
Delivering great customer service requires addressing customer tickets in a time-efficient manner. When customers are kept on hold for too long or wait for days for a reply they may feel ignored or discouraged from continuing to use that product or service. Responding to an inquiry within a certain time frame lets customers know that their issues are important to the company, and that employees are working to find solutions.
Frequently asked questions, or FAQs, are a good resource to have on business websites since most people prefer self-service. Displaying solutions to common problems helps customers sort out their issues faster without needing to contact customer support. This feature also benefits customer service agents because they will spend less time responding to frequent problems, and more time focusing on specific, more complex issues.
How Helpshift Helps Companies Deliver Great Customer Service
Having an efficient customer service platform that is convenient for the end user allows companies to serve their customer base better at scale, while at a lower cost. Rather than requiring users to call customer support, companies can utilize Helpshift's AI-powered platform to instantly respond to users via bots, and connect them with an agent when necessary. Brands that use Helpshift also benefit from AI-powered case management, NLP-based self-service, business intelligence, and cross-channel messaging. With this platform, customers will be helped much faster and employees will be given the information they need to support each individual to the best of their abilities.
Additional Information to Learn More About Great Customer Service
To learn more about how to provide great customer service visit the following blog posts: