Issue classification means assigning customer service issues to the appropriate teams, agents, and channels in order to ensure the most effective and speedy outcome. Issue classification makes customer service organizations more effective by optimizing resource utilization.
Why Does Issue Classification Matter to Customer Service?
Being transferred among numerous agents and forced to wait on hold multiple times is extremely frustrating for customers. IVF phone systems have long been a mainstay of customer service, enabling customers to "route themselves" by choosing the correct option. But customers hate them. They require patience and are often lacking the options the customer wants. Even when the customer makes a choice, they're often eventually transferred to another agent or team altogether.
Agents don't love handling issue classification manually, either. There's a better way: smart issue classification uses artificial intelligence (AI) to classify issues automatically. It's a solution that works at scale and takes a degree of human error out of the situation.
The Benefits of Using AI for Issue Classification
Speed — AI-powered issue classification is instant, so issues are classified as soon as the conversation starts. The issue classification engine can route conversations, collect additional information from customers, and even bring an issue-specific bot into a conversation. This speeds up the time to first response and also frees up agents to handle more complex elements of the customer service process.
Accuracy — AI-powered issue classification imparts accuracy at scale. A healthy model will outperform a team of agents in both accuracy of issue classification and thoroughness. And issue classification engines constantly learn from input, so they get more and more accurate over time.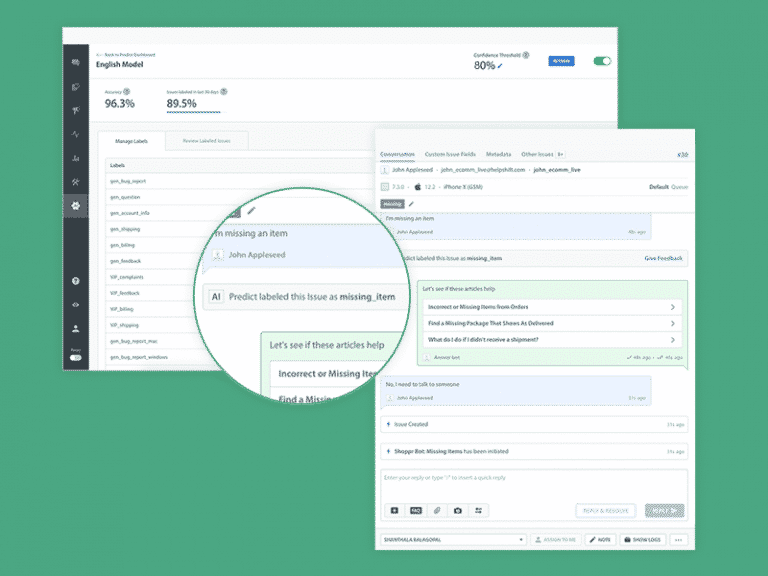 How Helpshift Supports Issue Classification
Helpshift's issue classification engine applies machine learning and AI algorithms to accurately predict the category of an incoming customer issue. A routing engine then assigns the categorized issue to a relevant agent or QuickSearch Bot. The issue classification engine learns and improves over time, leaning into AI to tweak and perfect its actions.
Admins of customer service organizations have insight into analytics of the issue classification engine's performance and accuracy. At a glance, they can see the number of issues that were correctly categorized and the average accuracy of those categorizations. Routine agent feedback on categorization improves the accuracy over time as well.
Additional information About Issue Classification