How Do You Market & Monetize Hyper-Casual Games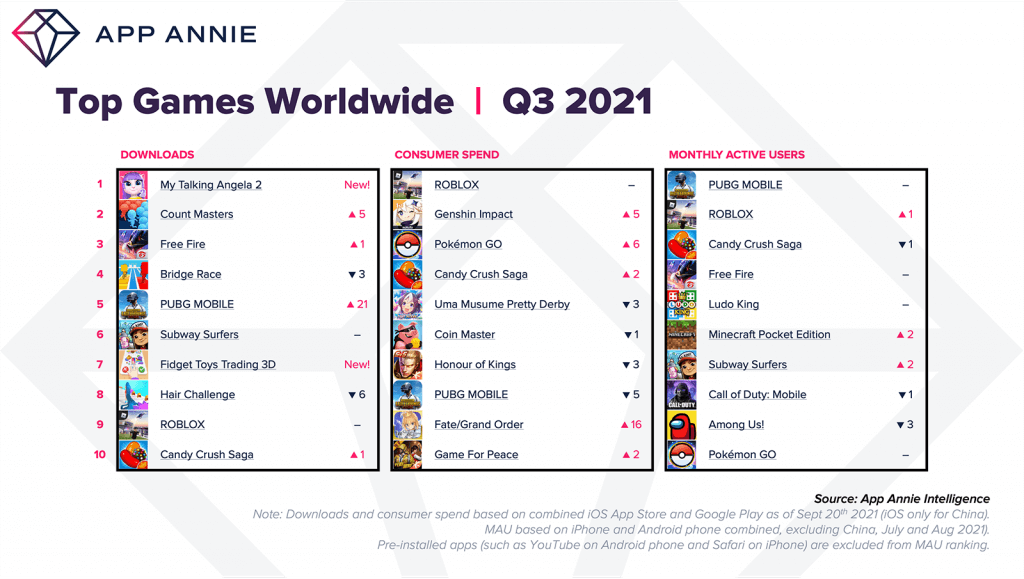 The term "hyper-casual games" was introduced only a couple of years ago. According to Google Trends, it first appeared as a search term in February 2017, with the popularity peak in August 2018.

What caused such a surge of interest? We guess that the impressive success of Voodoo's Helix Jump played a significant role in this. Helix Jump eventually became the most downloaded game of 2018 with 334 million downloads, overtaking Fortnite and PUBG. Coincidence or not, but this game's popularity preceded the appearance of a new favorite phrase in the lexicon of game designers, according to the report by Sensor Tower. In addition to Helix Jump, other hyper-casual games, such as Love Balls, Rise Up, Snake vs Block, and Hole.io topped the rating.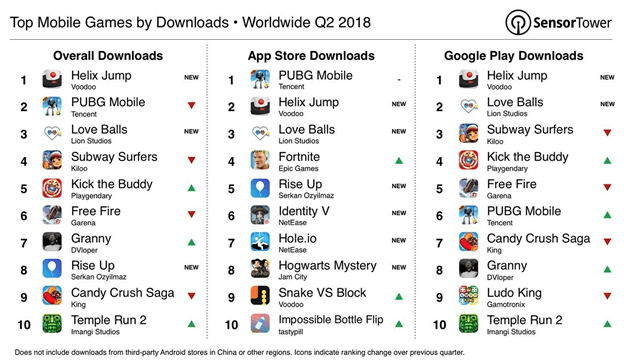 What Are Hyper Casual Games?
The term "hyper-casual" first appeared in 2017 in a series of articles by Johannes Heinze titled The Ascendance of Hyper-casual. In the articles, the author defines the main features of hyper-casual games:
Instant access to content. Without any plot inserts, preloading, level selection, or a lengthy tutorial, the users immediately find themselves at the epicentre of the game. Thanks to the simple gameplay, the player can understand what is happening in just a few seconds. And the short game loop allows you to play anywhere, anytime.
Minimalism in gameplay and design. The gameplay is often as simple as it gets. The rest of the game's components also match it: the visual component, controls, and audio – nothing should prevent the user from fully focusing on the gameplay. Besides, hyper-casual games are so simple that only a single person can design and develop them.
Simple monetization model. The games do not encourage the user to pay for the content; instead, they "pay" with their time. More than 70% of the game's income comes from advertising: banners, video ads, and motivated ads.
Hyper casual games have an alternative name that appeared long before the "new trend" – super-casual. The earliest mentions we can find lead to the 2015 App Annie Index: 2014 Retrospective. App Annie is most likely the first to use this definition. And then it was interpreted very simply: one-tap games with a short game session. The first game that "tried on" this term was Flappy Bird with more than 50 million installations and 6th place in Google search trends.
In 2018, big companies finally noticed "small games" and started pouring impressive budgets into them:
Zynga buys Gram Games (creators of the Merge! Franchise) for $250 million.
Goldman Sachs invests $200 million in Voodoo to develop a publishing business.
Peak Games (creators of Toon Blast) are selling their casual card games to Zynga for $100 million.
Zynga acquires a one-man startup studio Harpan LLC for $ 42.5 million.
According to App Annie's recent report, hypercasual games were responsible for around 33% of mobile game downloads in Q3 2021, reaching 3.6 billion downloads, 2x almost twice compared to the same period two years before. Leaders of the third quarter of 2021 worldwide are:
by the number of downloads – the pet (simulation) game My Talking Angela 2,
by the consumer spending – the creative sandbox (simulation) game ROBLOX,
by active users – the shooting game Battle Royale.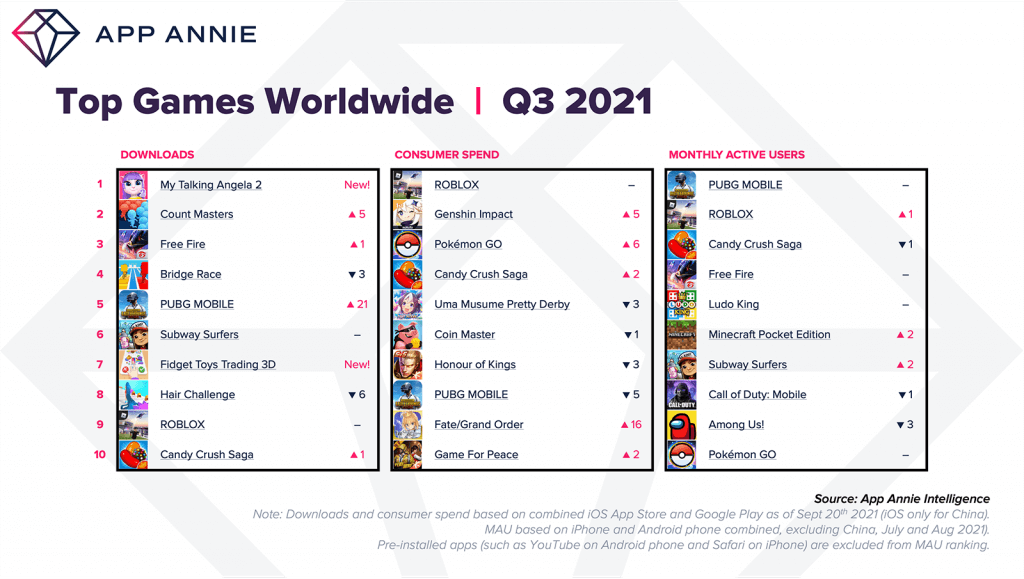 Why Hyper-Casual Games are Popular?
Hyper casual games are designed for a wide range of users, characterized by simple rules, and do not require perseverance or any special skills from the user. Unlike casual games, players of hyper casuals spend much less time on a game session.
A common reason for the success of hyper-casual games is the minimalistic game design that completely distinguishes them from other genres. Hyper casual games are mostly puzzle games, so they do not necessarily need a story. However, the popular game "Love Balls" has its own simple story, which says: "Help two balls in love to reunite." Many hyper-casual games may look incomplete and without much thought, but in fact, they are designed with a lot of care and planning. Let's look into some types of hyper-casual game mechanics that make them so addictive.
Hyper-Casual Game Mechanics
Aim Puzzle. The player sets the characteristics of an object's movement. The object then moves by itself. (Sand Balls, Rope Rescue, Crazy Kick, Mr Bullet, Dig It).
Tap Runner. The game object moves by itself. By tapping on the screen, the player changes its movement. (Subway Surfers, Square Bird, Perfect Slices, Jelly Shift)
Swipe Puzzle. The player moves an object or interacts with a moving object to solve a puzzle. (Collect Cubes, I Peel Good, Polysphere, Neon Splash)
Race. The player sets an object in motion to avoid obstacles and collect bonuses. (Fun Race 3D, Traffic Run)
Swipe Evolution. The player sets an object in motion. As it moves, the object changes its properties. (Dinosaur Rampage, Train Taxi)
Puzzle. The player performs actions in an exact sequence to reach the goal. (Wordscapes, Sandwich!)
Exactly these simple mechanics keep the users engaged despite being so easy to learn.
How Do You Market a Hyper Casual Game?
There is no special category for hyper-casual games in the app stores yet, but it is just a question of time. Because of the genre's growing popularity, this is going to happen very soon. Therefore, developers of such games can plan marketing strategies beforehand. Here's how you can market your hyper-casual game:
1. Define the target audience
To sell a product, you need to understand who will be interested in it. Draw a portrait of the target audience: age, gender, location, language, websites that they visit, etc. For hyper-casual games, you need to segment the audience at a very detailed level, because almost everyone can play them due to simple mechanics. The more details, the easier it is to decide on the format and placement of your ad.
2. Conduct competitor analysis
Evaluate competitors and their strategy. Keep in mind that the hyper-casual games market is overcrowded, so you need to add something unique to your game that the competitors' games are missing.
3. Announce the game
To get attention, you need to talk about yourself. At the very beginning of the promotion, it will be enough to post information about yourself on such resources as Product Hunt, Hacker News, Medium, etc. This is how you attract the first users and form your audience.
4. Add the game to the Google Play and/or App Store
Get the most out of the ASO (App Store Optimization). This will help you to boost your game's rating and organic downloads. The icon is the first thing that catches the user's eye. A properly selected icon will be able to pull out even a weak product. Describe the product as much as possible: talk about the game features, bonuses, describe a couple of game moments – the more details, the better. Add real and interesting screenshots of the game.
5. Localize the game
This is also a matter of customer focus. If the game is available in several countries, then the languages ​​must match. The availability of the game in several languages ​​will decently expand the horizons.
6. Conduct a soft launch
A soft launch is a perfect way to debug all processes within a game in a "real world" environment and get feedback. The trick of this stage is also that you can determine the core of the target audience.
7. Contextual advertising
Advertising in app stores is highly dependent on the keywords in the title, the title of the game itself and its description, and the rating. Google makes it possible to promote through AdWords, creating the so-called "universal campaigns". Artificial intelligence spins ads on Google Play itself as well as on YouTube, Gmail, Google Display Network, and Google search. Keep in mind that casual gamers want games that are free. However, they do not mind watching ads in exchange for in-game rewards.
8. Make sure that the game is present on social media
This allows you to adjust the ads most accurately if there is a clear portrait of the target audience. Social media platforms have their own user database. You can also create your own group on social media and form a community. Inside, you can conduct contests, polls, receive suggestions, reviews, and ratings.
9. Leverage referral marketing
The word of mouth marketing is one of the most powerful mobile marketing strategies that drive the most organic traffic. Encourage the users to tell their friends and family about the game by using GetSocial Smart Invites. Smart Invites allow the users to send invites through all social media platforms and chat apps quickly and easily.

10. Send push notifications
But do not overuse them, it is best to use daytime notifications and only alert the players about the most important things.
How to Monetize Hyper-Casual Games?
There are two main ways to monetize hyper-casual games: through advertising and through in-app purchases.
In contrast to casual games, the life cycle of a player in a hyper-casual game is very short, so it is harder to monetize hyper-casual games with in-app purchases. They also have a lot less content that can be sold for money. In a typical hyper-casual game, 97-99% of revenue comes from advertising. But it does not mean that you do not need to work with iAP. A competent approach to introducing iAP and creating content that can be sold can increase income, so it is advisable to use every opportunity. Sometimes a 5% difference in income can be critical for the game.
The most common types of ads in hyper-casual games are banners, rewarded videos, and interstitials.
Banner ads are used in almost all hyper-casual games. In general, in larger games, banner advertising is used much less often than it was a couple of years ago. However, it fits perfectly in hyper casuals and still brings a significant percentage of income.
Interstitials and rewarded videos are the main ad types that will generate most of your revenue. An interstitial is an ad that you can skip after a few seconds of viewing. A rewarded video is an unskippable ad, up to 30 seconds long. For watching a rewarded video, the player usually receives a bonus, such as lives or coins. The player watches the rewarded video voluntarily by clicking on the appropriate button.
To generate more views of rewarded videos, you need to solve the following problems:
UI/UX. The looks, location, and color of the video playback button matter a lot.
Reward value. The higher the value of the reward, the more motivation to watch the ad.
Game mechanics created specifically for rewarded videos. In hyper-casual games, most mechanics are developed for extra monetization, including those through rewarded videos. When coming up with a mechanic, you can decide in advance how to monetize it. For example, players can watch ads to access certain challenges or get in-game rewards.
To pay for ads, ad networks use the following models:
For impressions. The developer gets paid for showing ads. The more impressions, the more money. The CPM metric is used to estimate the cost per 1,000 impressions.
For ad clicks. The money is credited for each click on the ad. The more clicks and conversions on the ad, the more money. The ratio of clicks to impressions is measured by the CTR metric. The more attractive the advertised game and the ad itself, the higher the CTR.
For installing the game. The developer receives money if the player has watched the ad, clicked on it, and installed the advertised product. This model is currently the most common among ad networks.
For targeted actions. This is a relatively new model, but it is quite effective for an advertiser. The developer receives money if the player has installed the advertised product and performed a targeted action in the installed product, for example, launched the product or completed the tutorial.
What are the Best Hyper-Casual Games?
In this section, we have collected the 15 most popular hyper-casual games for Android and iOS as of September 2021.
Join Clash 3D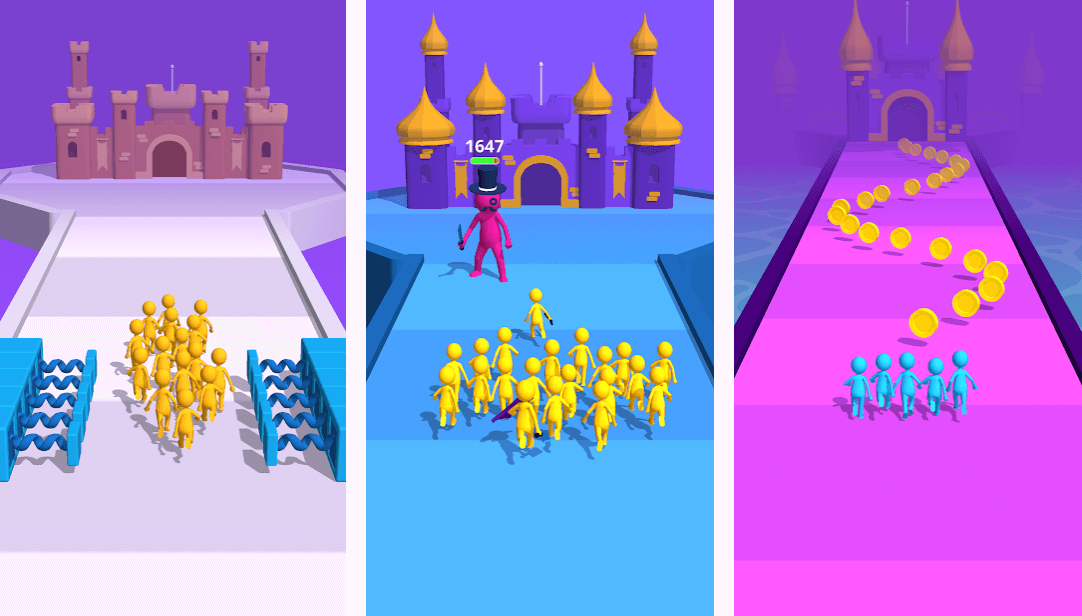 Players must gather a large crowd and figure out ways to keep them all alive. The journey will be filled with gaps, traps, and enemies that threaten the lives of everyone in their path. If players can get past these obstacles without losing too many people along the way then they'll have a chance at taking over the castle which is guarded by dangerous foes on every side.

Bridge Race
In Bridge Race, players compete to build the best bridge and cross over a river. There are many ways you can collect bricks along your way: trade with other players, race against them, or steal from someone else's territory!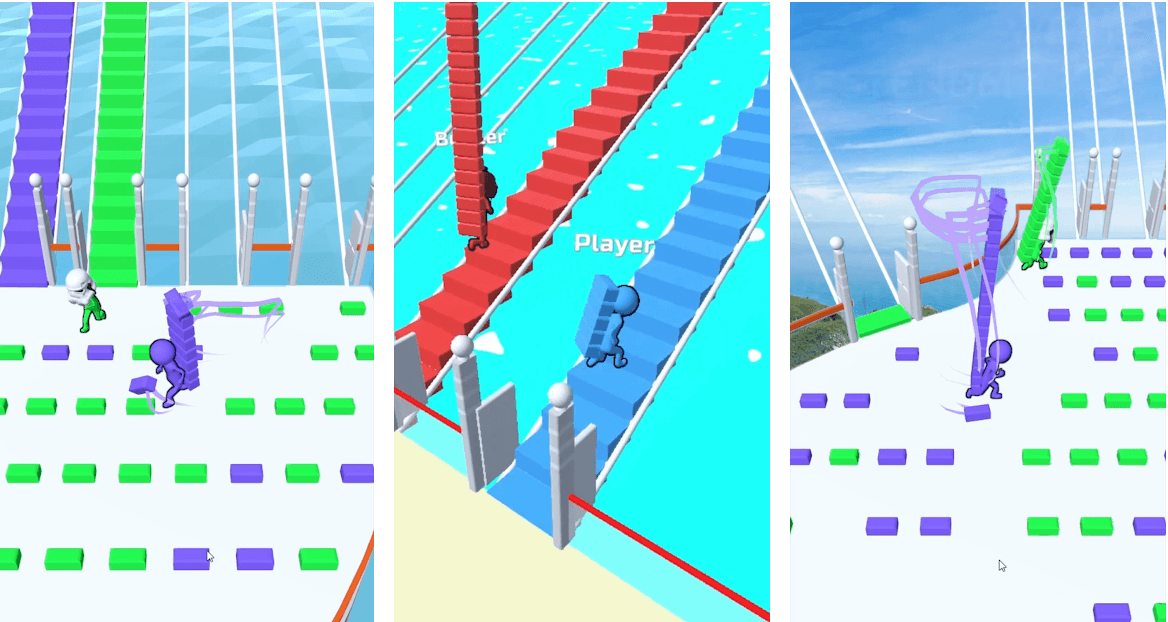 Run Rich 3D
The more money you collect, the better your outfit will look. In contrast, if you collect too many bottles, trash cans or bills, you will get poorer and risk losing all your points.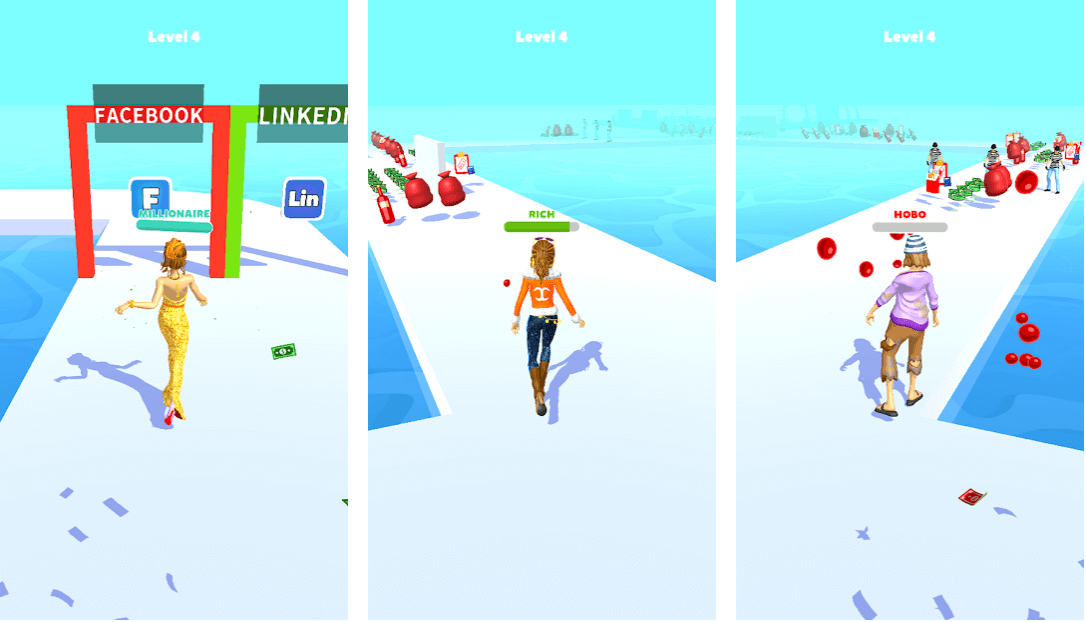 Fat 2 Fit!
In this game, you try to help overweight people get in shape by avoiding unhealthy food and opting for vegetables instead.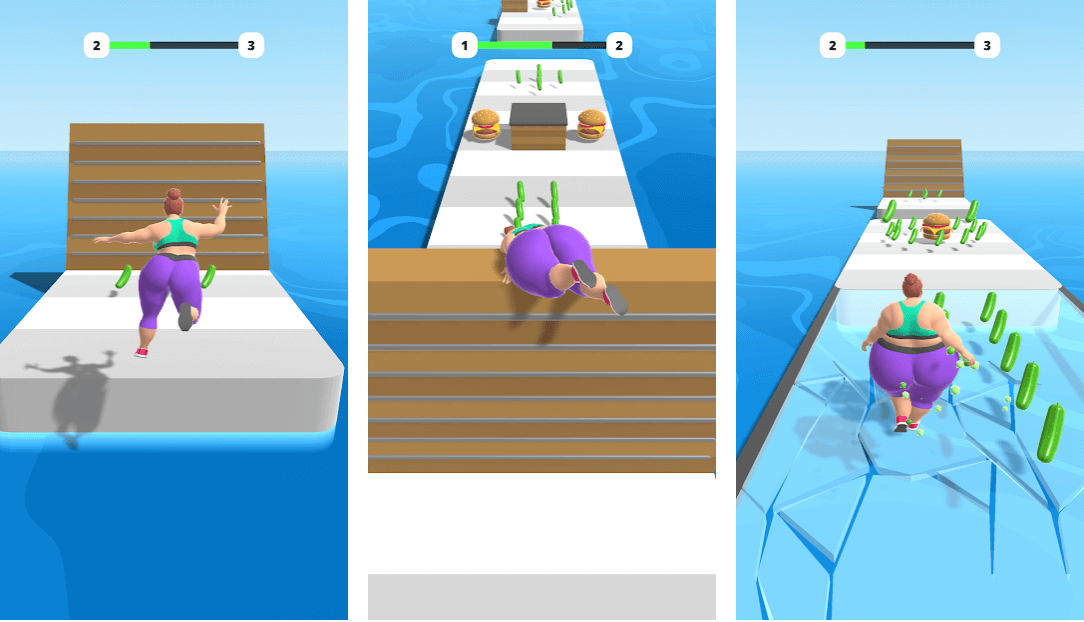 Hair Challenge
In Hair Challenge, players race through obstacles to see how long their hair can grow. Each obstacle will cut a part of it off so players need to make sure to avoid them. To get longer locks, one should collect the wigs along the way.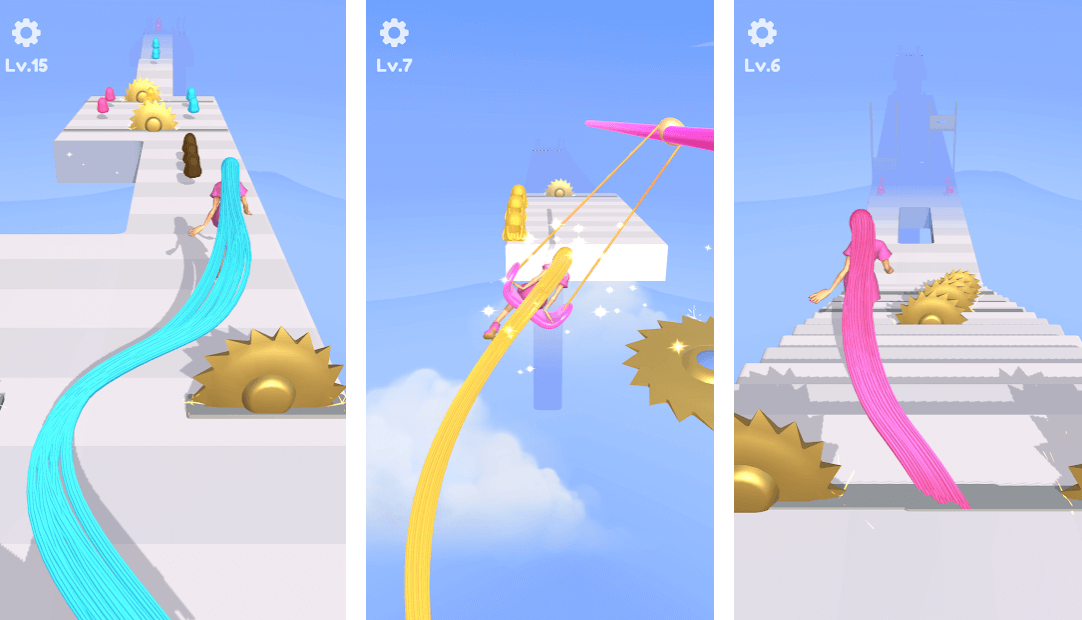 DOP 2: Delete One Part
DOP 2: Delete One Part is a puzzle game where players have to make quick decisions about what part of the picture should be deleted. The controls are simple and easy to use; all one has to do is tap on the screen until each character achieves their goal at every level.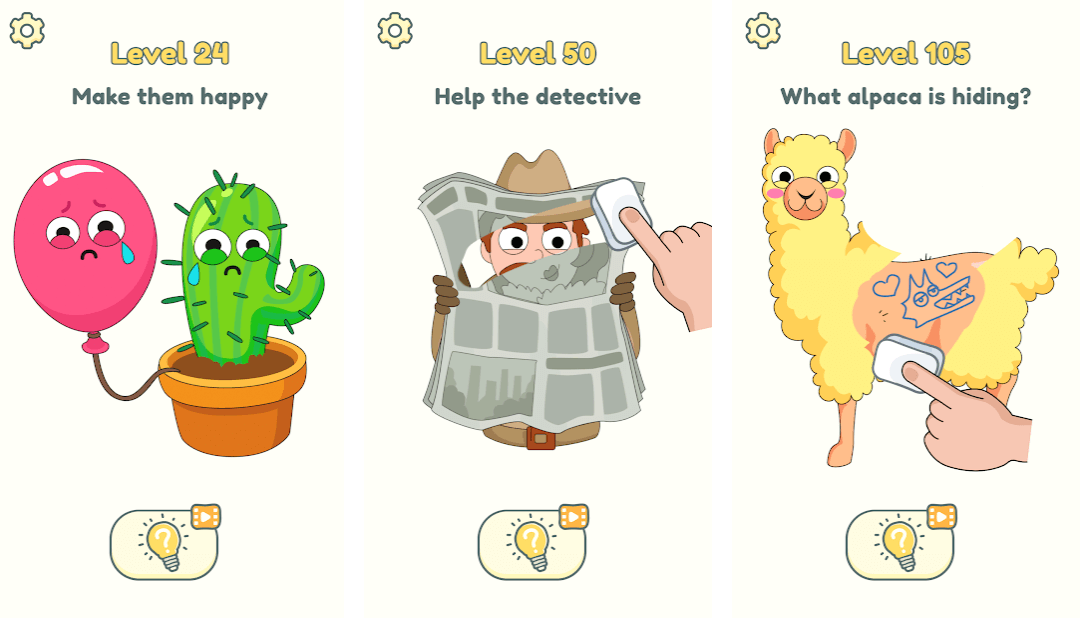 Stacky Dash
In this game, players need to dash their hero across the mazes by swiping a finger and stacking up tiles higher to reach for the skies.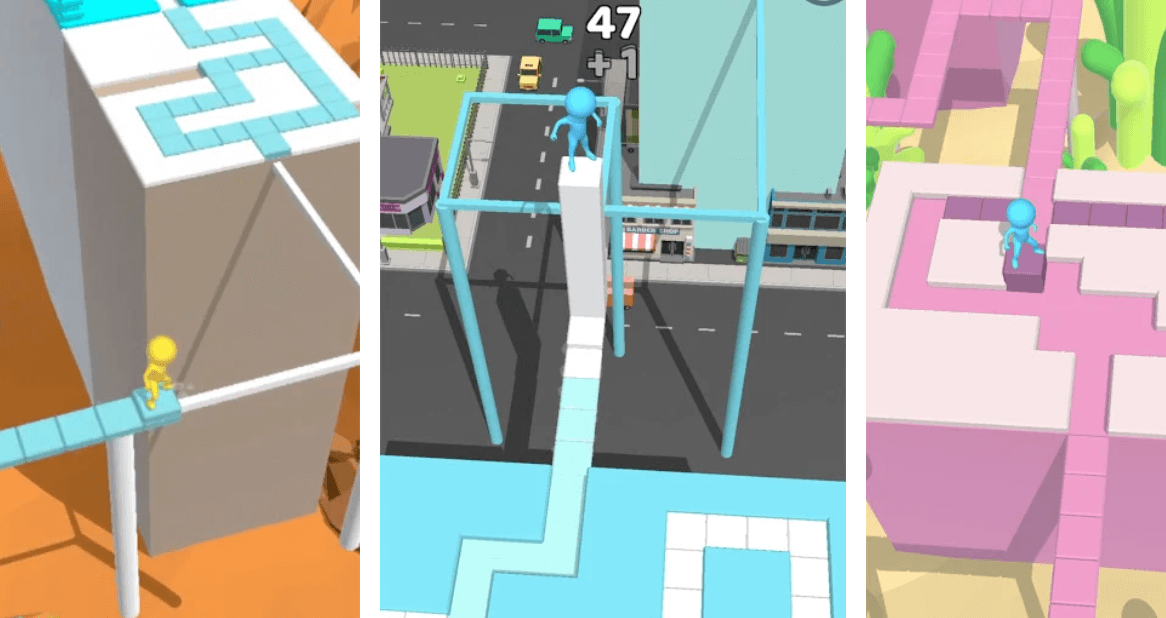 Giant Rush!
In Giant Rush!, players have to reach the end of the level by running through a variety of obstacles and growing their character into giant size. They can do this only when they collect the same color characters on way.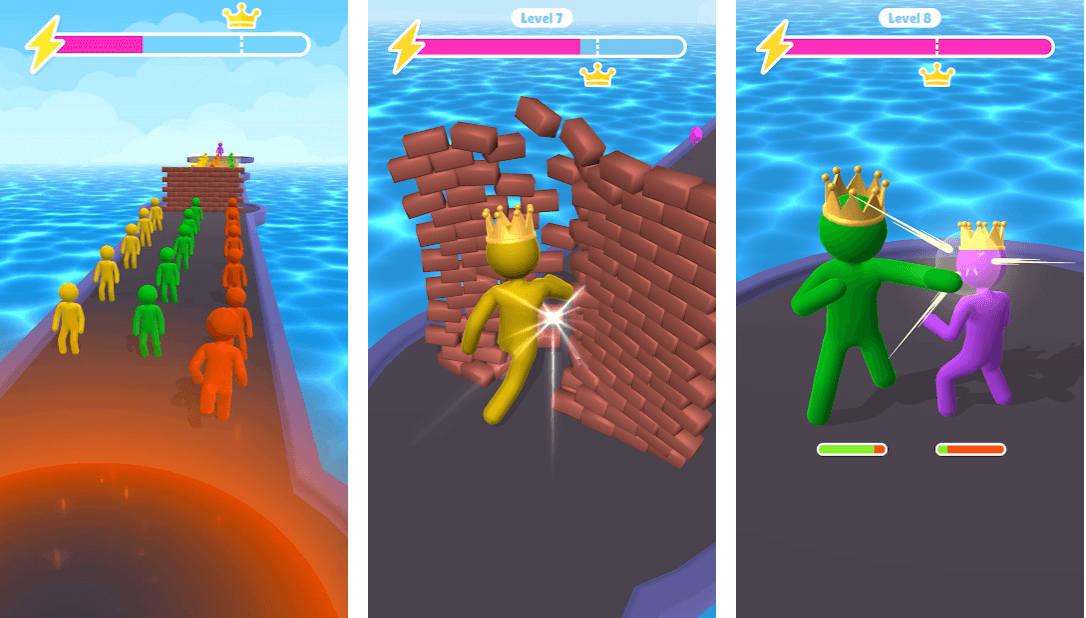 Going Balls
The game Going Balls is about guiding a ball down an obstacle-filled maze by swiping in the direction a player wants it to go. To avoid pitfalls, bypass swinging hammers and succeed at this difficult task, players must use their concentration skills!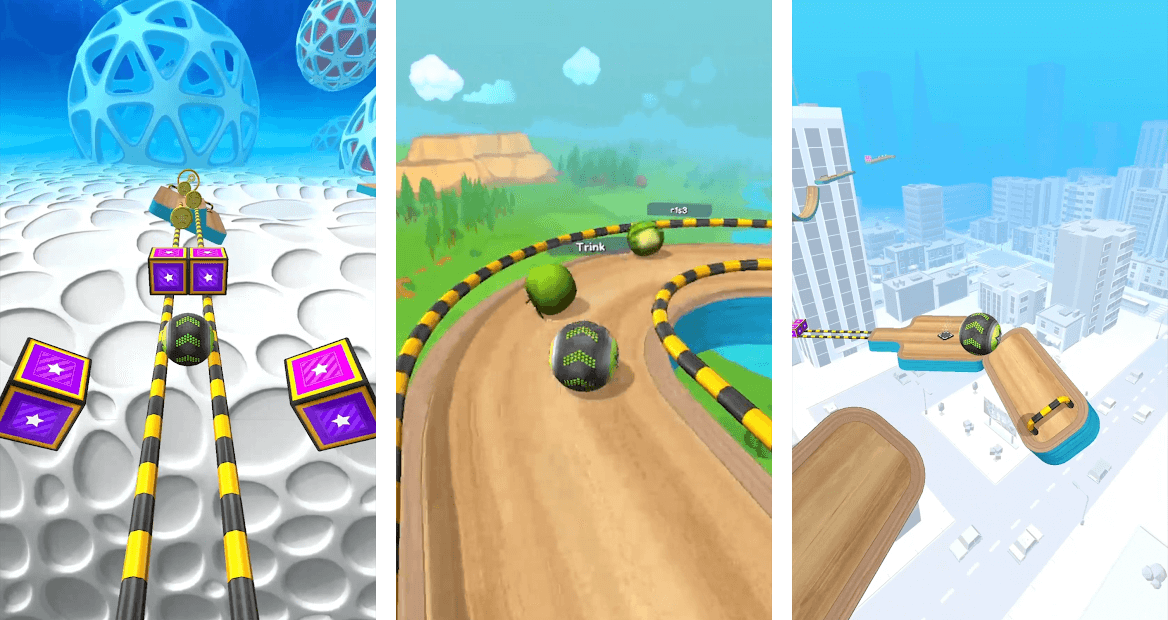 Blob Runner 3D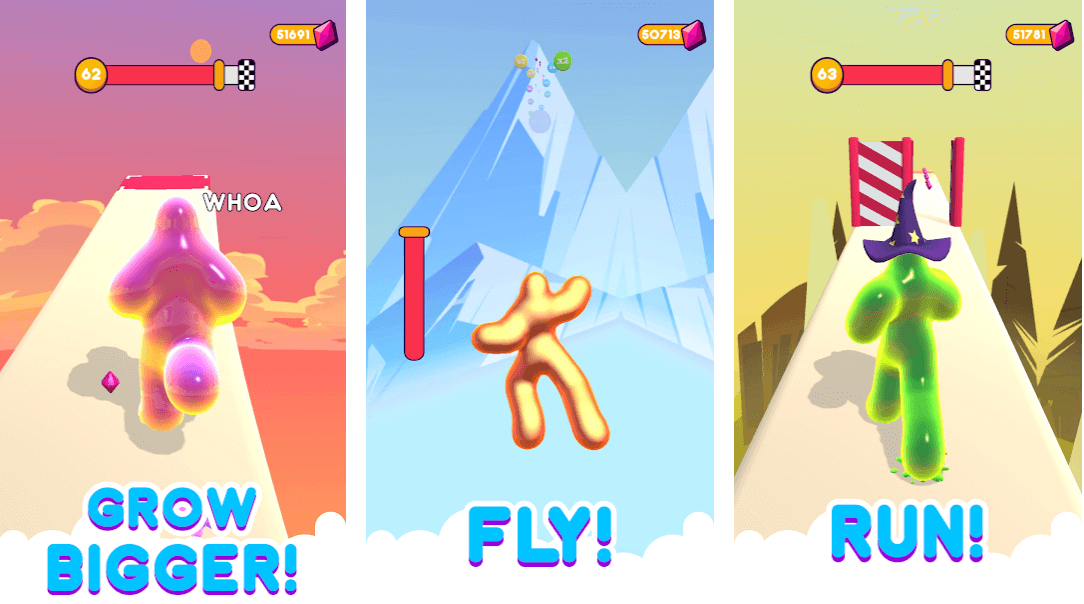 Blob Runner 3D is a game about running through obstacle-filled runways and avoiding getting sliced to pieces. You're made of goo, so it's more difficult than you might think.

Save them all – drawing puzzle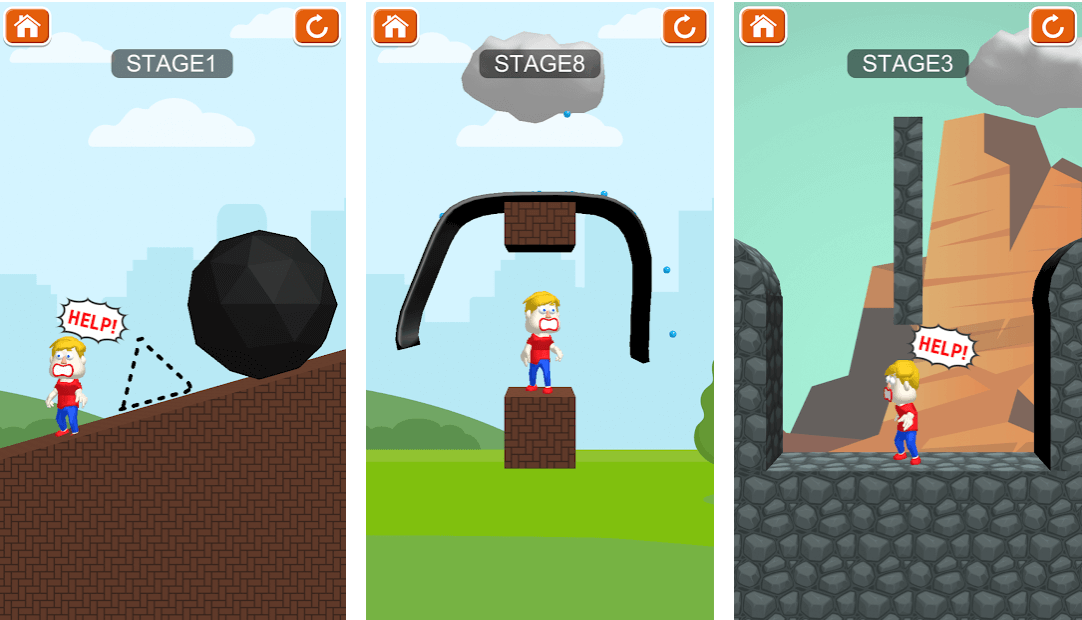 In this puzzle game, players need to draw lines to save the world. Fight against bombs and rocks that are attacking by drawing well, causing them to unravel! There are more than 600 levels to explore.

Happy Glass
In this game, there's a glass that is sad because it's empty. Player's job is to draw a line so the glass filled up with liquid and smiled again!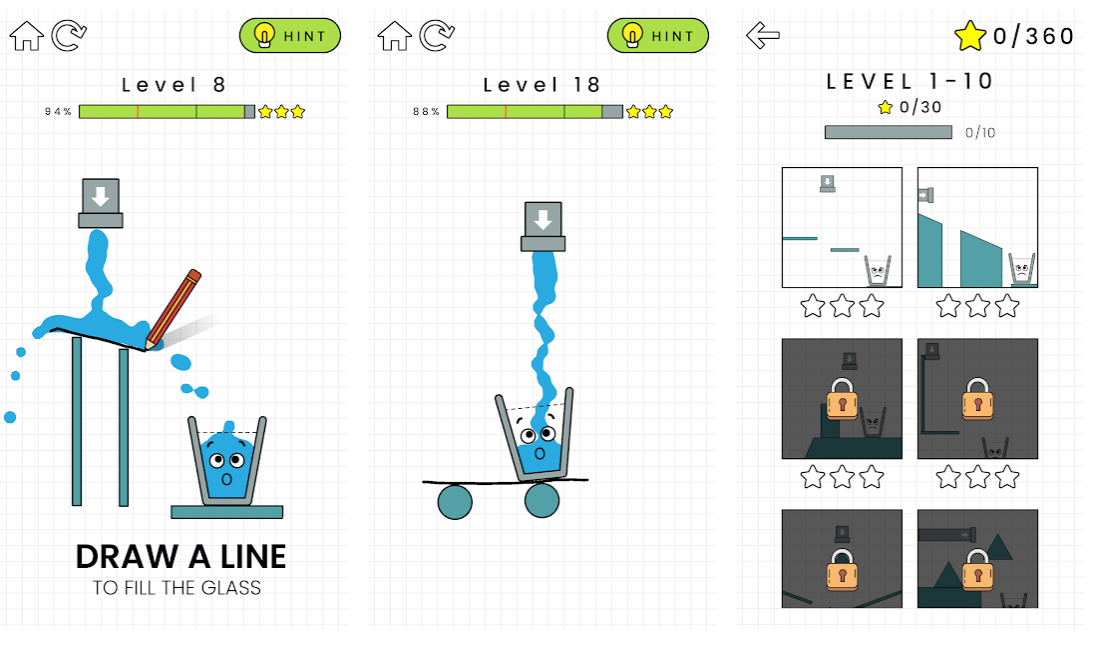 Color Bump 3D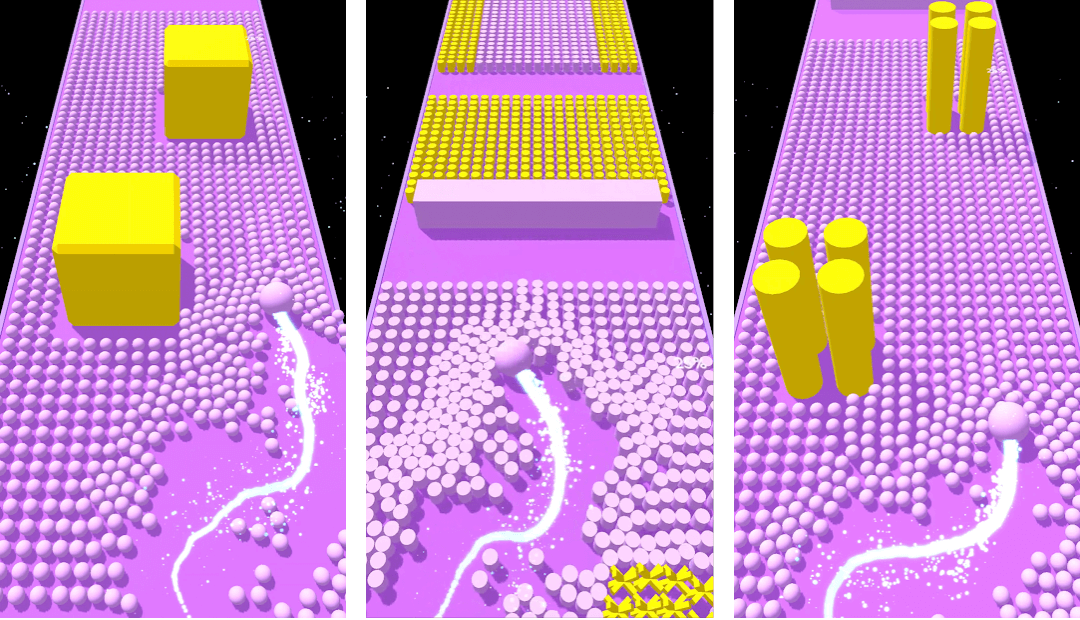 In this game, player must control a ball and try to avoid hitting any objects. The speed starts off slowly but as you progress, it becomes quicker – swiping actions are required to move the ball.

Collect Cubes
In this game, the user is faced with 3d towers made of cubes. They need to use a scooper to "destroy" the towers and gather as many cubes as possible. As the player progresses through the levels, the towers become more complicated, and it becomes more difficult to collect the cubes.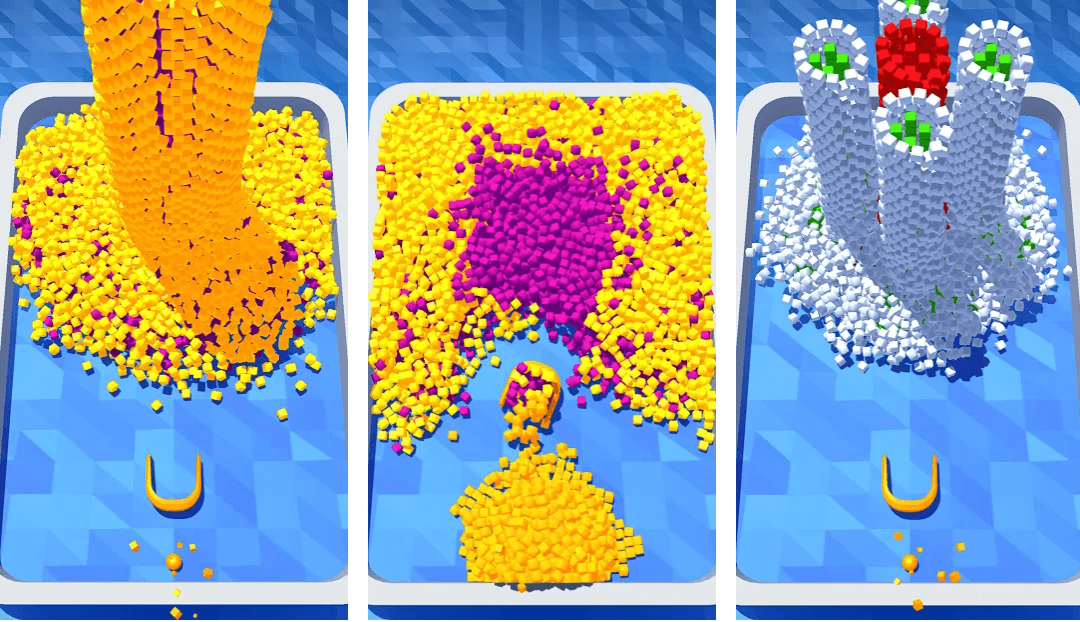 Fun Race 3D
Fun Race 3D is a game that has players racing against other players and trying to beat them. The catch is dodging obstacles, which could make the race unpredictable until it's over because one mistake could cost someone victory.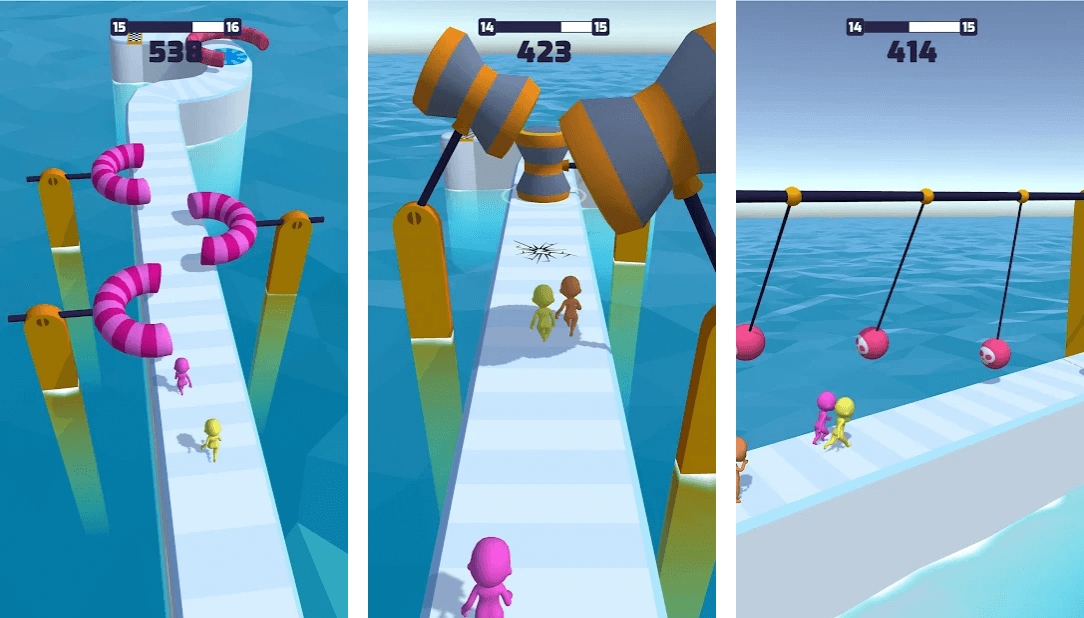 The Bottom Line
Hyper casual games are very easy to play and intuitive mobile games. Having first appeared in 2014, they gained the most popularity in 2018, when the Helix Jump game by Voodoo was released and continued to be popular in 2020. Due to simple mechanics, the games are very addictive. Most of them are available offline, so it is possible to play them anywhere and at any time, without any advanced gaming skills.
To market a hyper-casual game, it is important to know the target audience and make a thorough competitor analysis, as the modern market is loaded with this genre of mobile games. However, there is no such category in the app stores yet, so it is important to include the keyword "hyper-casual games" in the app store description for better ASO and discoverability. The most effective ways to monetize this genre of games are banner ads, interstitial ads, and rewarded videos.