Strategies for Establishing a 'Good' Mobile App Retention Rate

It's never been more difficult to find success at app stores. Competition is fierce, consumers are spoilt for choice and apps are having to pull out all the stops to entice users to sign up. And that's why customer retention is more crucial than ever.
While users may be incredibly loyal to a handful of their favourite apps, on the whole today's consumers tend to flit between apps regularly, often uninstalling and downloading new releases to try out the full range of services on offer.
Users now expect the very best service, and they won't part with their hard-earned money, or time, for something that doesn't meet their expectations. Did you know that it's now normal for apps to lose 80% of their customers? For apps, retention curves are steep – and they're getting steeper by the day.
It's not all bad news, though. There are a number of inventive retention strategies that can make a real difference, particularly for apps that are relatively new, or those that are looking to name for themselves amongst previously unexplored audiences.
Take a look at some of our go-to retention strategies to see how you could start turning the tide on customer retention. 
Eight of the Best Mobile App Retention Strategies
Mobile apps are now being designed and built with retention in mind, as developers begin to make full use of the huge range of strategies and tools at their disposal.
Top retention strategies take advantage of innovative technology and automation tools to learn from their customers and adapt in ways that best suit existing users. For example, mobile-native customers are being offered a more seamless experience by never having to leave an app to get help from customer service teams. Instead, mobile apps are using in-app chatbot technology to provide faster customer service, without taking the user outside of their app screen.
Of course, mobile app retention rates also continue to benefit from more traditional tactics. Promotions, discounts and reward schemes still play a pivotal role in boosting retention rates even amongst the most popular app as 84% of customers say they're more likely to stick with a brand who offers a loyalty program.
With these in mind, let's take a look at some of the most effective retention strategies below
Eight of the Best Mobile App Retention Strategies
Listen to feedback and adapt your offering
Some software companies are famed for innovative new releases that seem to solve problems customers never even knew they had. They're able to do this because they listen to what customers are telling them.

Start asking your users what they want. Then incorporate their feedback into how your app works. Consider new updates that might solve issues customers are having, making sure you're always thinking about different ways of keeping their attention. 
Don't forget, there are now over seven million apps out there for customers to choose from, for both iOS and Android. And that means that customers need something special to pique their interest. By taking note of feedback, learning from it and adapting your offering to suit your customers, you'll be able to set your app apart from its competitors and keep users coming back for more.
Personalize customer interactions
Personalized communication is brilliant for engagement. Customers respond far better to information that's designed just for them. Use segmentation and personalization to send customers more relevant updates, at a time that they're most likely to engage with them.

Carefully targeted information shows customers how valued they are by your company. It's also better from an ROI viewpoint, as interactions will be more successful, whether you're hoping to improve awareness in a new service, entice users to sign up for add-ons or simply keep them engaged with your app. In fact, research has shown that 91% of consumers are more likely to make purchases if offers and content are personalized just for them.
Interactions can be customised further for the most loyal customers. Recognise those who return frequently and provide those customers with a fully personalised experience, with access to a collection of features that are just for them. This might include VIP perks or a separate customer support menu that might include an option to connect directly to a member of the customer service team.
Introduce mobile-native customer experiences
App users have come to expect mobile-native customer experiences and an ability to accomplish everything they need to right within the app… including receiving lightning quick support responses. Today's users can easily be left disappointed if an app's support offering doesn't live up to these expectations.
Keep support services mobile-native and prioritise speed to keep customers on board. Focus on improving the customer support you offer, keeping all features a customer might need accessible from within your app.
If a customer requires assistance, make sure they can receive automated help and/or chat with a support team member without having to leave the app and go to a web browser, an email application, or dial a phone number.
In an ideal world, customers should be able to resolve any queries or problems they have without ever needing to exit the mobile app. 
A report from Forrester Research, Inc. and shared in an article published in Mobile Marketing Magazine explores this in more detail. In the report, researchers revealed that "companies that deliver superior CX grow revenues five times faster on average than their competitors with inferior CX. … companies with superior CX have customers who are willing to pay a higher price for products and services." (Taken from Transform Customer Processes and Systems to Improve Experiences by Forrester Research, Inc.).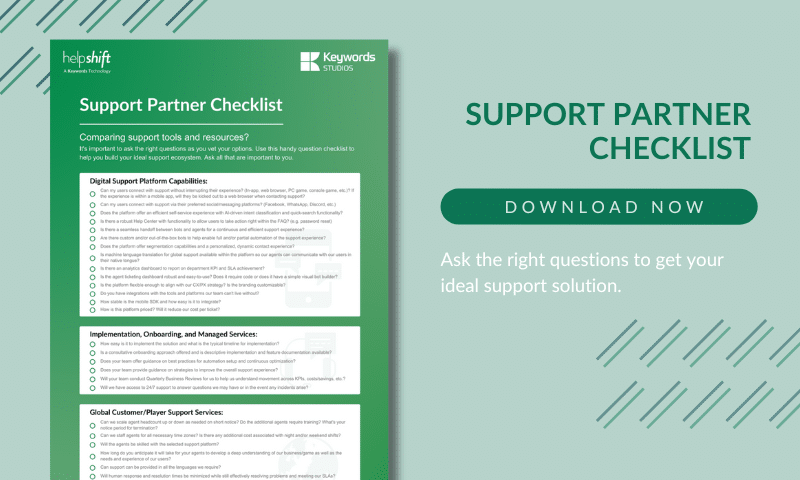 Don't be afraid to shout about what you do
The number of apps available at the Google Play and Apple App Stores is mind-boggling.
Recent figures released in the second quarter of 2022 show that Android users have 3.5 million apps to choose from. Apple users are not far behind with 2.2 million options to pick from. 
It's a competitive world out there, which is why it's never been more important to boost awareness of your app wherever you can. And loyal customers can help you do this in a brilliantly effective way that's far more affordable than a wide scale advertising campaign. 
Encourage current users to post positive reviews. Use promotions and discounts to get users talking about your app on social media. Maximise your reach with the help of those who've already discovered how brilliant your app is. 
Alchemer found that reviews, in particular, play a huge role in determining how likely users are to download an app. In fact, analysis of the data revealed that "90% of customers consider star ratings an essential part of their evaluation of a new app." And that's not all, the same research also found an undeniable link between a brand's app store rating and its reputation amongst customers, with "71% agreeing that a four or five star app store rating positively impacts their view of a brand."
Customer support should be holistic and rich
Anything that makes life easier for customers will only improve app retention rates. So think about what you could do to enhance your customer support offering further.
Rich customer support options allow both customers and support staff to embed images, video and other information into conversations to answer questions and solve problems with ease. 
52% of users will stop using an app after experiencing an issue with it, while only 44% will seek out help. Making customer support easy, accessible and instant is therefore incredibly important for keeping users on your app. Another related factor is speed. 90% of customers rate "immediate" responses as essential when contacting customer service. The most effective way of solving this is having a help desk or live chat option available within your app. This lowers the risk of losing user attention by making them switch to a different screen in order to reach support. Leveraging automation will also help to secure faster response times (but we'll go into this in more detail later).
Holistic experiences provide further improvements, allowing customers to leave a conversation and be notified when a response is ready, avoiding any time spent waiting around for a reply while an agent works on fixing their issue.
Be proactive in your communication
Apps are constantly competing for customers' attention. So even if sign ups are climbing and customers are raving about your app, you can't take your foot off the pedal.
Never stop thinking about how you could improve communication with customers. Interact with your customers in a proactive way, to show them how much they're valued by your app as you remind them of the great services you offer. 
Introduce automatic interactions at certain points, for example after a new user signs up or if a previously active user hasn't opened the app in a while. The opportunity to improve engagement here is huge. Users are 50% more likely to open such notifications than email marketing, and the open rate of in-app messages is an incredible 75%.
Introduce automatic interactions at certain points, for example after a new user signs up or if a previously active user hasn't opened the app in a while.
Proactive communication shouldn't be limited to promotion. Apps face user churn when bugs or other technical issues arise. As apps improve quality of experience or address major bugs, proactive communication via in-app support can be leveraged as a way to bring previously active users back into the app. Looking to the future, apps can proactively reach out to customers for account issues such as an expired card before that obstacle affects the in-app experience.
Make full use of automation
Growth strategists agree retention of users is critical to the long term growth of any app. All successful apps turn new customers into retained customers by establishing various core habit loops within the app experience. These loops can be protected by ensuring that the experience in-app is as frictionless and as rewarding as possible.
When a customer faces a problem in the app experience the positive habit loop is interrupted. Poor, insufficient, or slow support can further derail the experience enough to undermine the habit loop an app needs to keep the customers engaged and returning to the app.
By automating the most common customer issues, self-service and guided support can shorten the interruption of a customer's in-app experience. Not only keeping customers in-app, but getting them back on track to complete the rewarding habit loop.
With automation, it's easy to make real improvements to the customer experience. Those improvements will inevitably translate into smoother habit loops and better retention rates.
AI and automation provide endless opportunities to improve the customer experience and boost retention rates. Start collecting valuable data, then put it to use in ways that customers will soon notice.
Automation can be used to optimize all kinds of workflows, saving lots of time and improving the service you're able to offer.
Use AI to provide customers with self-service options, point them in the right direction for tutorials and FAQs and explore how automation could enhance the experience you offer your users.
Use push notifications wisely
Push notifications can be helpful in improving retention rates, but only if you use them with care. A well-timed push notification may just encourage a user to open your app, but overuse of these notifications can feel like spam, turning users off completely.
Give users the power to decide how often they'd like to be contacted via push notifications, by providing options that let users pick which notifications they would prefer to receive. 
Push notifications boast impressive engagement rates, and the vast majority of users opt-in to such interactions. The 2021 Push Notification Benchmark report from Airship revealed that opt-in rates for app push notifications on Android devices range from 49% to 95%, with a medium of 81%. When iOS devices were analyzed, opt-in rates were found to be between 29% to 73%, with a medium of 51%.
So, for most apps making use of push notifications means interacting with the vast majority of users in a way that really suits them. Explore the full potential of push notifications by ensuring that content is always personalized according to the known preferences of specific customer groups, and give full consideration to different time zones and customer preferences when you plan your push notifications strategy.
—
A good mobile app retention rate is key to finding success, given the enormous volume of apps being released every day.
Focus on strategies that boost retention rates and prioritise turning current users into loyal advocates of your app. The more customers rave about your services, the better your retention rates will be.
For more tips and tricks on how to improve mobile app retention rates, take a look at our customer service resources.